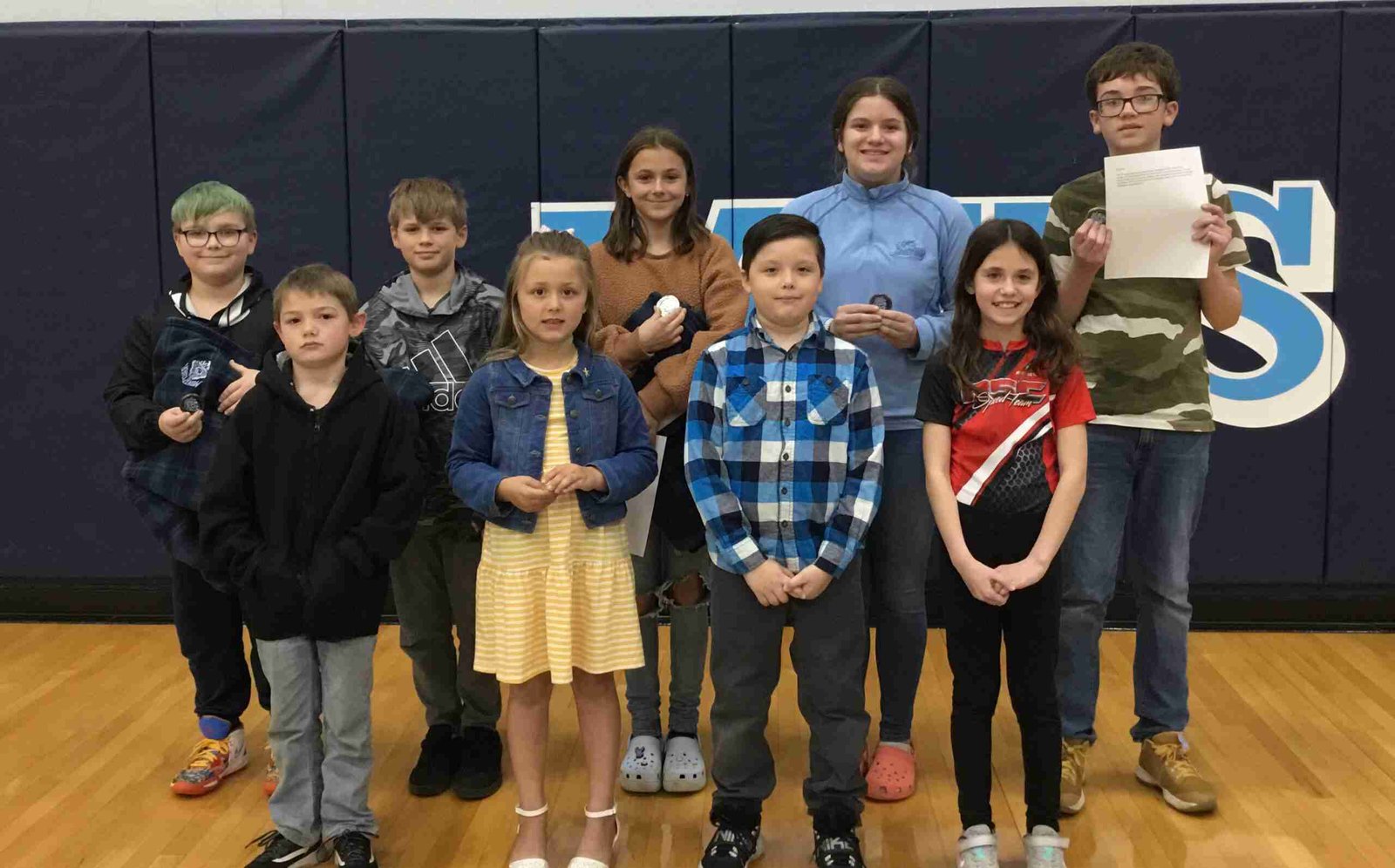 APRIL STUDENT RECOGNITION … Montpelier Schools recognize students each month at the School Board meeting. During the April 19, 2022 meeting, the following students were honored and given LOCO gifts: Kindergartner-Holden Cavill, Sutton Rau-1st grade, Cole Ortega-3rd grade, Sophia Tomaszewski-4th grade, Bentley May-4th grade, Joshua Hawkins-5th grade, Sessiey Underwood-6th grade, Hannah Martin-7th grade and Colton Nofzinger-8th grade. Not present to accept their gifts were Breilynn Wortkoetter-4th grade and Jacee Altaffer-High School. (PHOTO BY REBECCA MILLER, STAFF)
---
By: Rebecca Miller
In the Legislative report given at the Montpelier School Board April 19, 2022 meeting, Mrs. Patti Rockey informed the board of three specifics…
1. House Bill 126 GA was approved on April 6, 2022 and sent to Governor DeWine with some changes (prohibits BOE from filing residential and agricultural complaints; permits BOEs to file commercial complaints only when the property was sold in the year before the tax year for which the complaint was filed, and the sale price was at least 10% and $500,000 more than the auditor's value; adjusts the $500,000 value to be indexed to inflation each year after tax year 2022; requires BOEs to provide notice and pass a resolution for each parcel, with the notice going to the tax address and mailing address at least seven days in advance of when the BOE plans to vote on a resolution authorizing a valuation change; eliminates notice to BOEs by county auditors for counter complaints; bans private pay settlement agreements entered into after the effective date of the legislation; provides that the BOR must dismiss a case if it is not decided by the BOR within one year of its filing; and prohibits BOEs from appealing a BOR decision.)
2. Senate Bill 11 makes changes to paid leave for Juneteenth by requiring school districts to grant regular non-teaching school employees employed on an 11-12 month basis paid leave; removes the requirement that districts grant paid leave to regular nonteaching employees who are employed on a 9-10 month basis. Effective 6/10/22
3. House Bill 616 to prohibit a BOE from teaching certain divisive or inherently racist concepts in public schools; prohibit a BOE from training or administering professional development to employees that promote or endorse divisive or inherently racists concepts; prohibit K-three students from being provided any instruction on sexual orientation or gender identity; prohibits 4-12 students from being provided any instruction on sexual orientation or gender identity in any manner that is not age appropriate or developmentally appropriate in accordance with state standards; allow complaints to be filed with the SBOE and withhold funding for noncompliance with the bill's provision. As introduced on April 4, 2022.
In his Elementary report, Principal Lance Thorp shared the following information:
-Math Counts was a competition held at the NWOESC on March 30 and the Montpelier team place 2nd overall, with Rowen Saneholtz getting 3rd place for Sprint Round. The team was made up of Lily Owen, Jayce Feeney, Rowen Saneholtz and Tyce Fleurkens
-State testing began on April 5th. All language arts tests are complete. They will finish with math tests next week for grades 3-8
-On March 23rd, they introduced the new Boomer Logo to the public on various social media platforms. He thanked Mrs. Colley and Mrs. Coleman's Multimedia class for putting together the introduction video.
Upcoming activities:
-Interim reports for 4th quarter are on April 22
-Some Preschool tours will be held on April 22
-Roy Rozelle will be at the school on April 22 to plant a new tree in the school orchard, dedicated in honor of Mrs. Melanie Sutter
-The district art show will be open the weekend of April 29 during the JH musical
-K-2 Grandparents Day is scheduled for May 5 at 8:45
-Various field trips are coming up
-Right to Read week begins Monday, May 9. There will be a guest author, Teresa Bertke to read her book Sushi's Journey Home, as well as a performance and various classroom activities. The theme this year is Surfing into Reading.
-The state has said that preliminary state test results for some subjects will be released on May 10.
In her report for the JrHigh/High School, Mrs. Su Thorp informed the school board of the following:
-On April 4th the National Honor Society inducted six new members to make a total of eighteen members.
-On April 4-6 the Robotics team went to Nationals and learned a great deal from the experience. They also have a visit planned to Triton Metal Products. (During the meeting, a few of the students and their teacher came in to demonstrate their hockey playing robots.)
-EOC testing began on April 5
-Roster Verification began on April 19 for the teachers
-Summer School will run June 6-17 for 9-11 grades from 8:30- 11:30 each day. Letters will be going home to students that are required to attend. If anyone is interested in their child attending, contact the HS office, and there will be no cost to the students.
-April 27 – Jr. and Sr. students will be attending the Mock Crash at the fairgrounds
-April 19 and 30 at 7 p.m. is the JH Musical, Annie Jr.
Art will be on display for Elementary and High School students
Upcoming events:
-May 2 -Senior Scholarship Night at 6:30
-May 5 JH students attend a Mud Hens game
-May 6 Blood Drive held at Rec Center from 10 a.m. to 4 p.m.
-May 7 Jr/Sr Prom at the school and Post Prom at Combat Ops in Ft. Wayne
-May 13 Signing Day for Seniors
-May 18 Baccalaureate Ceremony in auditeria at 7 p.m.
-May 20 Classroom Academic Awards for HS in the a.m. and JH in the p.m.
-May 23 Senior Trip
-May 24 Graduation rehearsal
-May 25 last student day
-May 26 last teacher day
-May 29 Graduation at the Football field at 2 p.m. followed by a parade through town
Treasurer Carla Rice gave her treasurer's report on investments, expenditures including the new chillers and said that she is working on updating the five year forecast and is preparing salary notices over the next month.
In the Financial Report, the board approved the report for the month of March; accepted a donation of $6666.66 to Athletic Trainer Fund from Community Hospitals and Wellness Centers and $614.80 from Athletic Boosters to Softball fund; increase to the amended certificate and in appropriations; and application and depository agreement with Premier Bank dated April 2, 2022 to October 24, 2023.
Also approved were the following employment of certificated staff:
-Resignation of Marjory Snyder, 1st grade teacher, effective end of 21-22 school year
-Certified contracts for 22-23 for
a. 2-Year limited contracts – Jill Altaffer, Bess Cooley, Bailey Graber, Stephanie Kirkum, Lauren Rickenberg, Katie Thiel, Jayme Balasko, James Gee, Megan Hill, Kyle McCarley, Wesly Rickenberg, Brock Thorp, Noelle Chester, Bailey Gerken, Bryan Hopper, Kendra Michaelis, Andrew Robinson and Kaley Thorp
b. 3-year limited contracts – Jennifer Carpenter, Sarah Torres, Kaylee Fortney, Leslieann Wheeler and Lester Orndorff
c. Continuing contracts – Blayne Bible, Fara Neff and Jimmie Phillips
-Increase of contract days to 195 for Bernard Davis, Skilled Trades Specialist and a base salary of $50,000 for 22-23
-Move Bobbi Miller to Masters +24 and Kyle McCarley to Masters for 22-23
-David Bauer and Lester Orndorff as summer technology assistants at $15.45 per hour, not to exceed 300 hours for each, effective June 1 – August 12, 2022.
In Employment of Classified Staff, the board approved:
-Resignation of Adrianna Martin, custodian, effective March 25, 2022
-Classified contracts for: a. Continuing contracts for Kristyl Fleurkens, Kaitlin Tippin and Trent Shoup, b. 1-year limited for Susan Cliffton and Michael Frisby, and c. 2 year limited contracts for Courtney Bice, TaSondra Harrington, Randy Luke, Jamie Motter, Joseph Stephanelli, Alisha Birdsall, Kaitlyn Harter, Matthew Meyer, Jacob Nobis and Thomasina Zuver
-Employ Susan Cliffton, Jamie Motter and Gloria Reader as summer custodians
-Troy Christman as a summer school tutor at $21.00 per hour from June 6-June 17, 2022
-Add Kaitlyn Tingle to the substitute aide list for 21-22
-Classified salary schedule and one time bonus payment
-Unpaid medical leave of absence for Alisha Birdsall, paraprofessional, beginning April 1 through May 25, 2022
Approved for purchases and contracts:
-Bid from Cardinal Bus and Sales through META purchasing co-0- for the purchase of one 72 passenger Blue Bird all American bus including REI Camera System, in the amount of $101,537 less trade in of one bus. $60,510 of the cost will be paid by the state school bus purchase program with the balance from the general fund
-Resolution and Ranking Professional design firms and authorizing the execution of an agreement for architect services.
In other business the board approved the withdrawal of the wrestling program from the NWOAL (Northwest Ohio Athletic League) and to have Teacher Appreciation Week Proclamation.
There was some discussion concerning the withdrawal from the NWOAL, with comments made on what a positive effect withdrawing in other sports has had on other sports for Montpelier students.
Before adjourning, the board went into Executive Session for the purpose of discussion concerning the hiring of an employee.
Following the session, there was action taken in that the board voted to approve the employment of Briton Moore, 8th Grade Social Studies teacher on a 1-year contract for the 22-23 school year.
Rebecca can be reached at rebecca@thevillagereporter.com
---