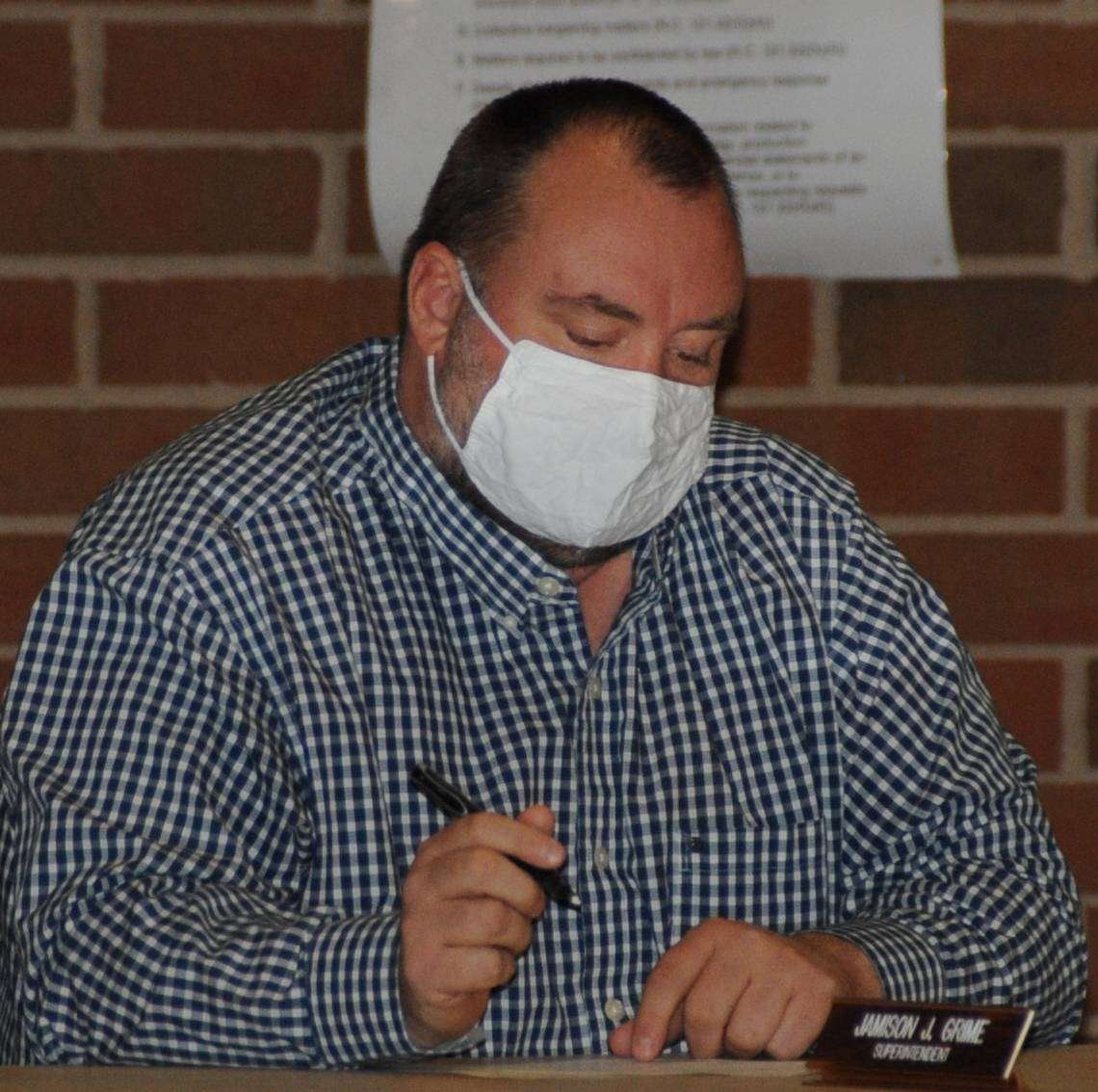 UP NEXT … Montpelier Superintendent Dr. Jamison Grime introduces the next item on the Board of Education meeting agenda. (PHOTO BY TIM KAYS, STAFF)
---
By: Tim Kays
At their March 9 meeting, members of the Montpelier Exempted Village Board of Education heard the report of a proposed significant financial allocation in the works.
In December of 2020, Congress passed legislation to provide an additional $54.3 billion to the ESSER (Elementary and Secondary School Emergency Relief) fund. $1.99 billion of that new grant funding was earmarked for Ohio, with $3,452,071.93 of that amount proposed to be allocated to the schools of Williams County. That portion weighed heavily in the report of District Treasurer, Carla Rice.
"Dr. Grime and myself are currently working on the ESSER II grant application;" Rice said, "…actually, we just submitted it tonight, so we got that done. Our total allocation with this grant is $642,689.44."
"Current plans are to use these funds to cover some cafeteria costs, some athletic fund costs, and technology purchases. Also, costs to the general fund due to COVID will be covered."
"We're hoping to cover the leave time that we paid out for staff that had to be quarantined during the last year. Maintenance and transportation supervisor salaries and benefits for the year will also be then applied to this grant, and our supplemental contract costs related to spring 2020."
"Since we paid those out in the fall, we'll be using that grant money to cover those costs; it will be like a transfer out of the general fund."
The Board accepted donations of $110.00 in the memory of Jim Fackler to the Athletic Department, $575.00 to Boys Golf and $300.00 to Girls Golf in the memory of Delmar Karnes, and $50.00 to the Accelerated Reader Program from Debra Allman.
In personnel actions, the Board accepted the letter of resignation of Steven Brancheau as assistant high school principal at the end of the 2020-2021 school year, and extended him a 2-year contract for the 2021-2022 school year as a high school math teacher.
The Board agreed to accept the resignation of Michael Martinelli as an aide at the end of the 2021-2022 school year. Martinelli had been with the Montpelier School District for 14 years, serving as an educator and coach.
The Board hired Eric Stantz as JV softball coach, and Dakota Benner as a volunteer baseball coach for the 2020-2021 school year.
In other actions, the Board ratified the service agreement with the Northwest Ohio Educational Service Center (NwOESC) for services for the period of July 1, 2021 through June 30, 2022 at a cost of $467,130.58.
Tim can be reached at tim@thevillagereporter.com
---