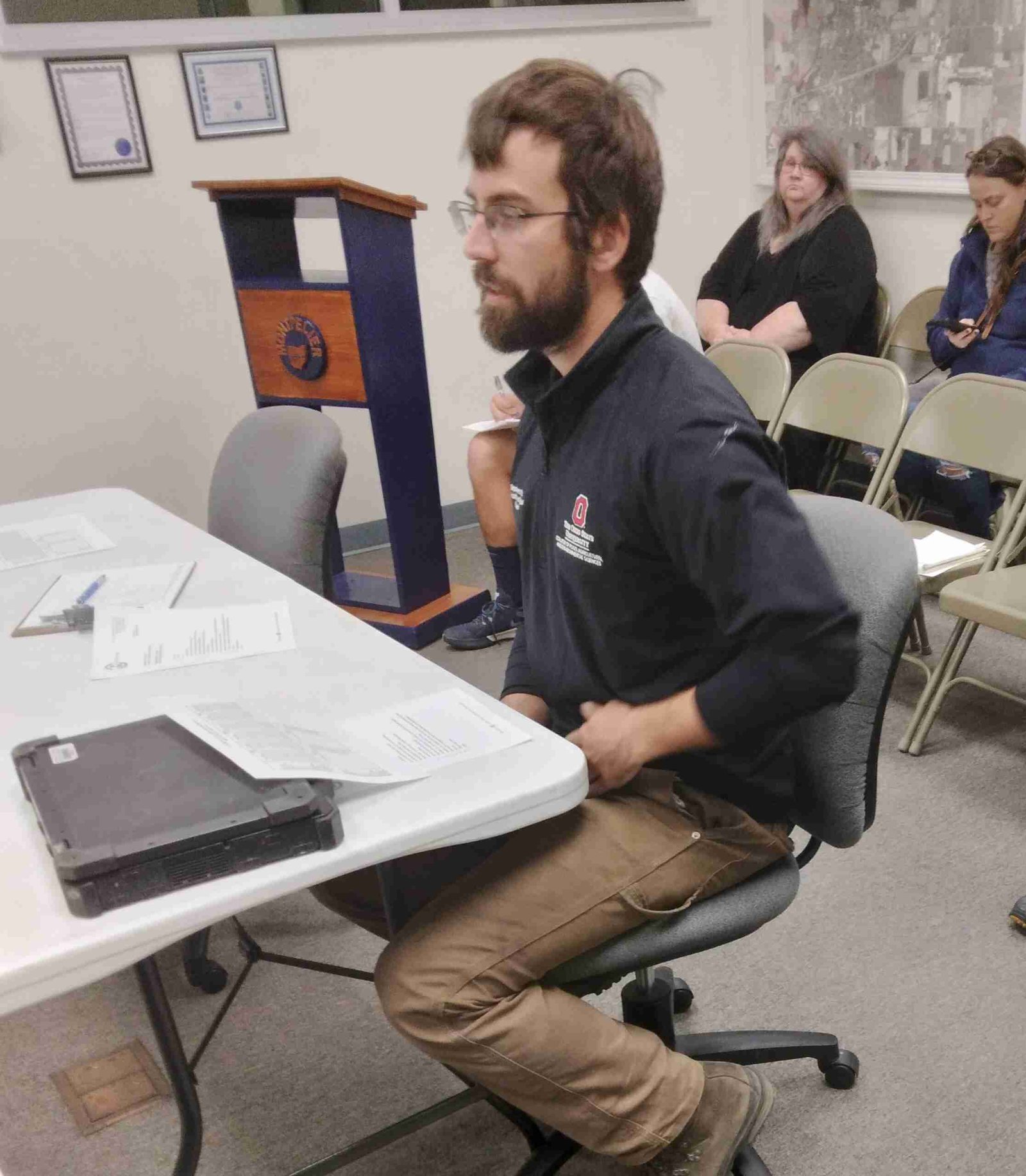 WETLANDS PROJECT … Nathan Stoltzfus, from the Ohio State University, discussed a new wetlands project, located on County Road 10 and State Route 107. He said they hope to begin construction for the project, by next summer. (PHOTO BY DANIEL COOLEY, STAFF)
---
By: Daniel Cooley
The Montpelier Village Council meeting of November 8, 2021, began with the call to order, followed by roll call. Five of the six council members, Kevin Motter, Chris Kannel, Melissa Ewers, Nathan Thompson and Dan Willis, were present. Don Schlosser was absent.
Following roll call, there was a prayer, followed by the Pledge of Allegiance. Next, council unanimously approved both the November 8 agenda and the minutes from the previous council meeting, held on October 25. Next, village council unanimously approved the October 2021 financial report.
That was followed by a guest, Nathan Stoltzfus, from the Ohio State University,. Stoltzfus spoke about a planned wetlands project, just outside of Montpelier, located on County Road 10 and State Route 107. Stoltzfus met with the Ohio Department of Natural Resources (ODNR).
"They thought the wetlands area was a good candidate and have ordered the funds for it," Stotzfus said.
"Once the proposals come back, hopefully, by next summer, we can begin construction. I met with a nearby farmer and he is fine with the project. We will get with him to work on a (specific) area, or compensate him."
Next, audience members talked about a dangerous intersection problem at Jonesville and Main Streets, as well as a cat problem within the village. Council members said that they will get together with the chief of police to discuss both matters.
Next, Ewers put together general recommendations regarding current committees. In it, Ewers put on paper three committees and their responsibilities. She wanted the council to look it over, so that it could be talked about at a later date.
Next on the agenda, council approved the second reading of Resolution 1327, on appropriations, for health care insurance for village employees.
Nikki Uribes, Director of Finance, stated that the village is switching to Paramount Company, for its health care finances. Uribes said that there will be a meeting to discuss the matter on Wednesday, at 9 a.m., at the fire station.
In addition, also to be looked at in the second reading is a proposal for job evaluations, for as much as an increase of 3% for good evaluations. The second reading was then voted on and passed by council.
Next, Resolution 1329, authorizing the use of village owned land for the Westlands Project, was then unanimously approved.
That was followed by council unanimously passing the third and final reading of Ordinance 2257, regarding, according to the November 8 agenda, "amending certain sections of the codified ordinances."
Uribes then reported on income tax. She stated that there was an increase to just over 1.8 million. That's an increase of 15% over the previous year.
Next, Jason Rockey, Village Manager, reported that Unified Company is putting in a new phone system for the village and they hope to get the new system of phones completed by next week.
Rockey also reported that Northwest Ohio Rails to Trails (NORTA) has turned over the Wabash Cannonball Trail, from county roads 13-17, to the Village of Montpelier. The meeting was then adjourned, by unanimous approval.
Dan can be reached at publisher@thevillagereporter.com
---