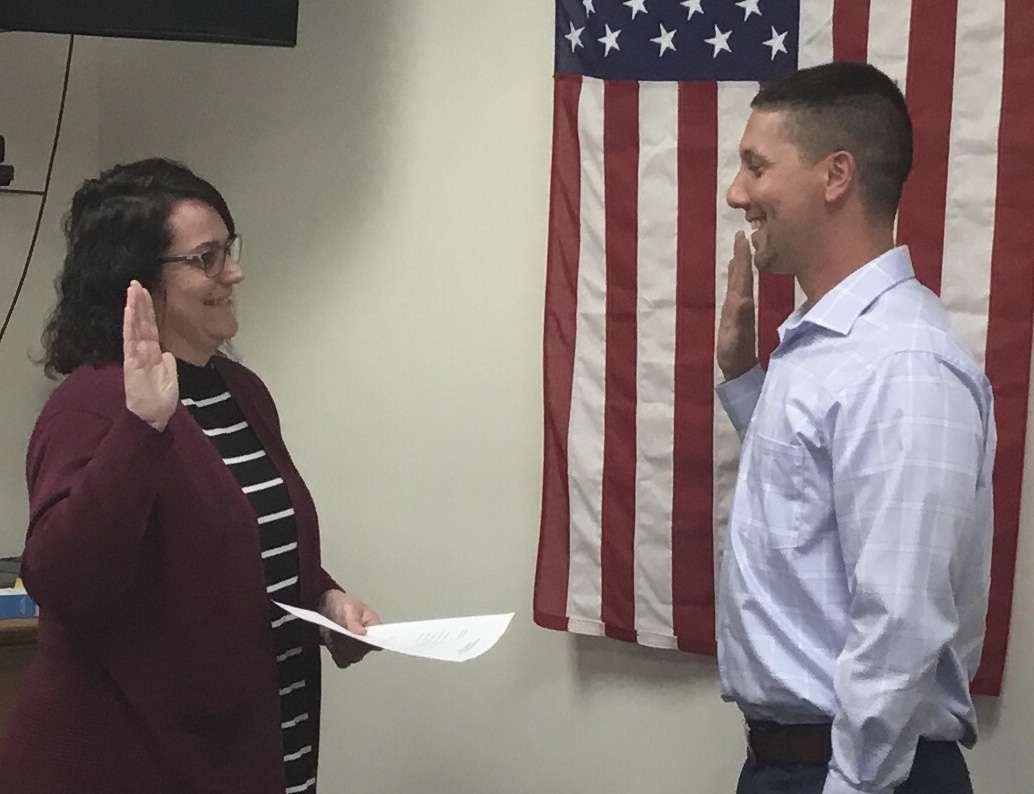 DEPUTY MANAGER … Montpelier Clerk of Council, Jessica Apple, administered the Oath of Office to newly hired Deputy Village Manager, Justin Houk, at the April 11, 2022 Council meeting. (PHOTO BY REBECCA MILLER, STAFF)
---
By: Rebecca Miller
The April 11, 2022 Montpelier Village Council began promptly at 6 p.m. with a few HS Government class students present, and one council member absent. Justin Houk was seated at the council table, joining the governing body for their business.
Following the Pledge of Allegiance, Houk joined Clerk of Council Jessica Apple near the flag, to be sworn in for his new position as Deputy to the Village Manager.
Mayor Steve Yagelski read two proclamations, the Arbor Day Proclamation for April 29th, and one from governor Mike DeWine and Lt. Gov. Jon Husted (who is from Montpelier), commending the village for being chosen again for having the best tasting U.S. tap water. This is the fifth time that Montpelier has gotten that award.
Council voted to approve the Amended agenda, the minutes for March 28, 2022, and the March 2022 Financial Reports.
Mary Beth, who prayed to open the meeting, informed council that a Good Friday service would be held at the Montpelier Church of Christ at 1:30, but that there would not be a Cross Walk for Easter this year. She hopes they will have something planned or next year.
With no comments from Council, or any committee reports, they moved on to the legislative items. Village Manager Jason Rockey explained each one before council voted to approve them.
First, he recognized the Montpelier Electric Department who is a recipient of the 2021 APPA Certificate of Excellence in Reliability and First Place Safety Award.
Rockey said that this is something he is very proud of for the village and states how important they take their safety record.
He then recommended that council Accept and Award the bid for the Brown Rd/CR K, and Airport Rd/CR13 reconstruction project to M&M Asphalt.
There was some discussion in which council members asked if there are any concerns in hiring them as there was a problem in the past with M&M.
Rockey said that the county has a Construction Engineer that will be onsite to make sure that things go well. Council made a motion to accept and award, and voted to approve the motion.
Also approved were Resolution 1344 "Amended appropriations" and Resolution 1345 Authorize Village Manager to enter into an agreement with Dmytryka Jacobs Engineers, Inc. to make SCADA Upgrades at the Water Treatment Plant, with both resolutions having readings suspended and passed.
Rockey shared that part of the amendments to the appropriations will raise the uniform allowance from $200 per year to $300 per year and will make sure that in the future the council has to approve it every three years.
Council President Chris Kannel asked if $300 is enough, and Rockey said that in the future they can raise it again if they determine it is needed.
Concerning Resolution 1345, Rockey informed Council that getting the water plant upgraded is a necessity as the SCADA system, which is "the brains of the plant" is obsolete.
There was some discussion on this and council heard that this will cost $140,000, split into two segments.
In the Income Tax Report, Director of Finance, Nikki Uribes reported that the accumulated tax collection through March of 2022 was $729,805.00.
For 2021 it was $544,103.52, and 2020 was $467,777.70, making the Village up 34.13% from last year.
Rockey added in his report that they are still taking applications for Seasonal Workers. They are pretty well staffed at the park, but they only had one applicant for street crew. He is hoping that more students will apply as the age eligibility is 16, with a driver's license.
With no further business, Council voted to go into Executive Session to discuss the appointment, employment, discipline, promotion, demotion or compensation of a public employee, with pending litigation.
There was no action taken and the meeting adjourned.
Rebecca can be reached at publisher@thevillagereporter.com
---