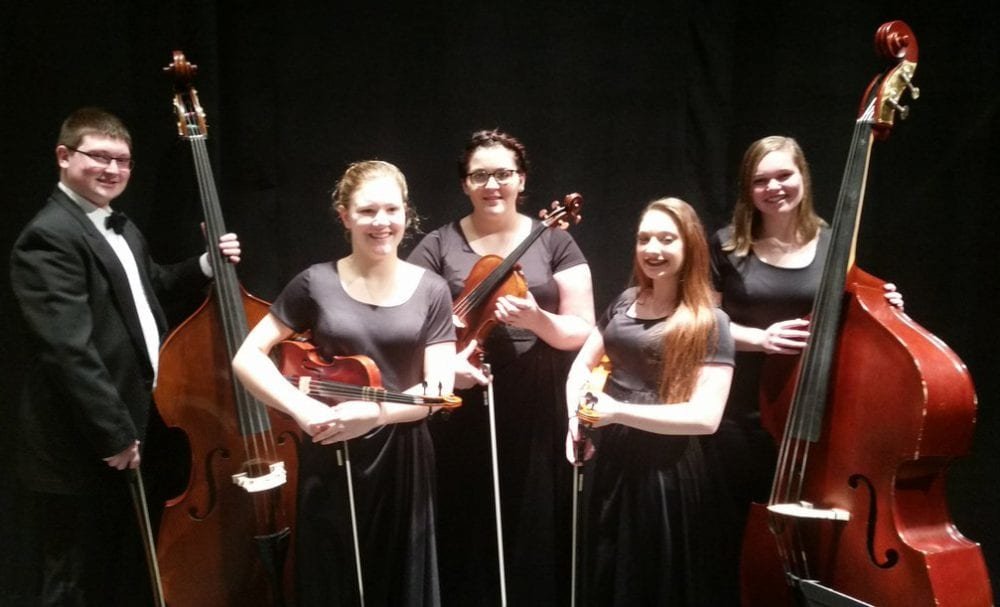 ---
Each year the finest student musicians in northwest Ohio gather, where in less than 12 hours, they pool their craftsmanship to create a spectacular performance to delight, both visually and audibly, the senses of spectators who fill the seats of the Stranahan Theater (Toledo, OH) to witness the one night extravaganza.
The 2017 Ohio Music Education Association's District 1 Middle School & High School Honors Festival was no different. Over 600 students from 75 different schools and six counties showcased their musical ability in either the band, choir, or orchestra honors ensembles, directed by highly skilled guest clinicians, all either musical directors at secondary schools or universities. All students were chosen through a highly selective audition and director recommendation process.
Dozens of young musicians were chosen from Fulton and Williams counties to perform with the ensembles with immense pride from each of their directors.
From Archbold Area Schools:
Participants were Sara Bilen (Alto I), Hannah Bowers (Alto II), Jeremiah Hartman (Bass II), Malinda Lugbill (Soprano II), Marin Parsley (Alto II), Austin Penrod (Bass I), Cameron Short (Bass II), Hayden Weber (Tenor I), and Mackenna Whitacre (Soprano II) in the High School Honors Choir. While Ali Bickel (Soprano), Skyler Day (Tenor), Andrew Francis (Tenor), Kate Nofziger (Soprano), Nate Richer (Baritone), Malik Qaimari (Baritone), and Lydia Whiteman (Alto) represented for the Middle School Honors Choir.
Archbold Area School District has been named a Best Community for Music Education by the National Association of Music Merchants (NAMM) Foundation annually since II0I3. This is a national designation and it demonstrates the the commitment that that Archbold community has to music education—including this honors festival," said Kent Vendock, Archbold's Director of Choral Activities.
Band participants, selected by Director Beth Voll, included Isabella Francis (Tuba), William Nofziger (Trumpet), and Abbie Short (Euphonium) in the middle school and Kenzie Short (Percussion) for the High School.
From Bryan City Schools:
Choral participants were Emerson Alyanakian (Tenor), Mitchell Derks (Tenor), Scott Sanders (Baritone), Rachel Spiess (Alto), Jessica Wernsing (Soprano), and Jonithin Westin (Tenor) in middle school, and Wesley Boylan (Bass I), Austin Harding (Bass I), Kollin Klingler (Tenor II), Donovan McClary (Tenor II), Justin Santiago (Tenor II), Austin Teegarden (Bass I), and Ryan Wittler (Bass I).
Lucas Will (Ist Chair, Baritone Saxophone, Middle School Honors) was the sole band selectee. Lexi Alspaugh (Double Bass), Dominick Blankenship (Cello), Kyla Day-Hemenway (Violin), Max Eckhardt (Violin), Karina McDougle (Violin), Parker Rosebrook (Violin), Katie Seaman (Violin), Alisyn Shaffer (Violin), Michaela Shell (Violin), Mallorie Staup (Violin), Parker Rosebrook (Violin), Sofia Wilde (Violin), and Emma Woolace (Violin) represented the middle school orchestra.
Representing the high school orchestra were Morgan Bauer (Double Bass), Teran Ericksen (Double Bass), Caitlin Kammeyer (Viola), Maggie Rettig (Violin), and Bayli Sanders (Violin)
Bryan High and Middle Schools sent a fantastic group of intelligent, thoughtful, and well-rounded musicians. I am proud of their contributions to the group and look forward to seeing many of them perform at the Stranahan again next year," said Brandon Gordon, Bryan's Orchestra Director.
From Edgerton Local Schools:
Heather Vollmer (Trumpet) and Quayde Combs (Percussion) represented the junior high and high school bands, respectively. Melody Cheek represented the high school choir, while Abbigail Herman (Soprano), Toby Jaggers (Tenor), Cole Tackett (Tenor), Jordan Warner (Baritone), and Brenna Whitman (Soprano) represented the middle school chorus.
"All the students had a great time learning from their respective conductors and singing with students from around the area," said Tim Booth, Edgerton's Music Director.
From Edon-Northwest Local School District:
Selected by Director Cathy Frastaci, Thor Dunkle (Bass I) and Hunter Hodapp (Tenor II) sang in the the high school festival, and Alyssa Lautzenhiser (Soprano) and Tiara Mills (Alto) sang in the middle school festival.
Trinity Altaffer (Trombone) was selected for the middle school honors band, while Melody Nofziger (Flute) represented the high school.
"I know I speak on behalf of the community when I say we are proud of Melody and Trinity for representing Edon's Music Program at this event. These students practiced hard to be a part of these groups and are bringing their refined talents and knowledge back to their home bands here in Edon," Christa Perry said of her students.
From Evergreen Local Schools:
Kara Floyd (Soprano), Harley Schwarz (Baritone), Gina Silvestri (Soprano), Corryn Willson (Alto) were selected as part of the middle school choral festival. Claudia Cromly (Soprano I), Ian Davoll (Tenor I), Sydney Fillinger (Alto I), Brandon Hassen (Tenor I), Hannah Prentiss (Alto II), Leah Schwan (Alto I), Cecilia Silvestri (Alto I), Delaney Smith (Alto II), Addy Worline (Alto II) represented the high school.
"I really appreciate the opportunity that my students have to perform in the District Music Festival! The students come back from the rehearsals and performance with such energy and drive – it's great to have them bring that back to our school choirs. Not only is it an honor for these talented students, it's also a great learning experience for them," Choral Director Kristen Woodard said.
Representing the band, under the direction of Chris Lyons, was Tyler Ackerman (Alto Saxophone) and Joe Miller (Trumpet) for the middle school and Ryan Eckhart (Clarinet) for the fourth consecutive year with the high school.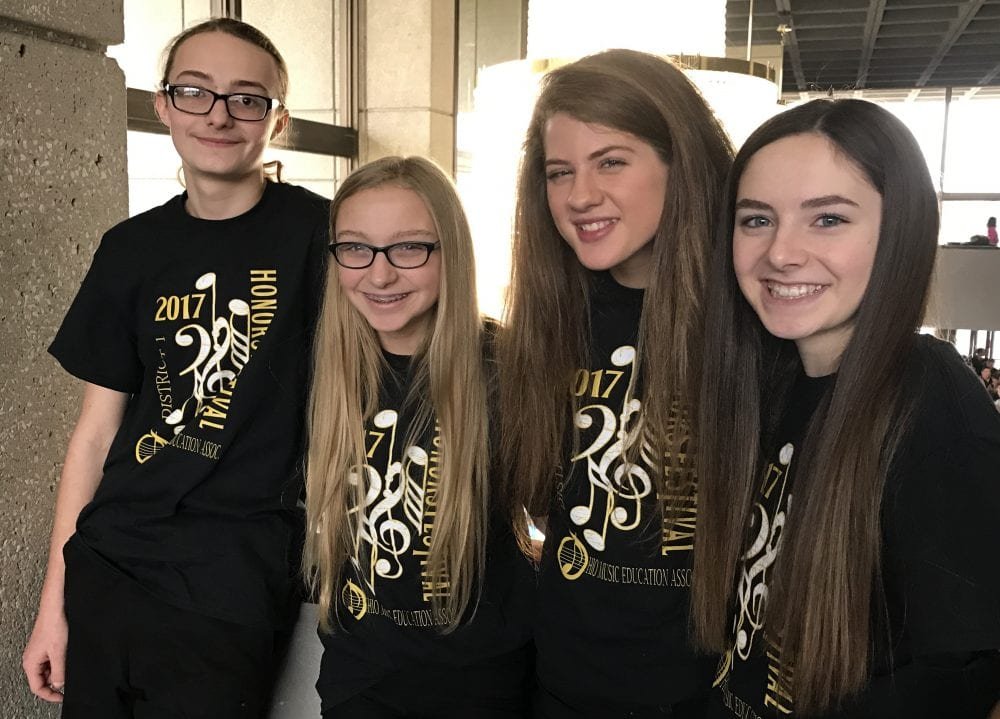 From Fayette Local Schools:
Grace Clemensen (Alto) and Cassie Leininger (Alto) represented the middle school chorus while Troy DeCant (Tenor I) performed with the high school ensemble.
From Millcreek-West Unity Local Schools:
Aubrie Calvin (Soprano) represented the Hilltop High School Chorus.
"This was a particularly special moment because Hilltop has not had a participant in the Honors Festival in decades. I was very pleased that she got to share in this experience and am thankful that I live in an area with quality educators who continue to provide these opportunities for our deserving students," Chorus Director Lena Miller said.
From Montpelier Exempted Village Schools:
In vocal music, Paige Deetz (Soprano I) and Faith Wells (Soprano I) sang in the high school festival.
Landon Brigle (Percussion) represented the Junior High Band and Meili Leung (Clarinent) played with the high school ensemble.
From North Central Local Schools:
Connor Ledford (Trumpet) represented the middle school band.
"Connor is not only a talented musician but is also a very hard worker. It is always fun to see such great students honored and challenged by playing in such a fine group with other outstanding musicians from around the region," said his director, Jason Luthy.
From Pike-Delta-York Local Schools:
Logan Albring (Bass II), Bethany Gerity (Alto I), Russell McWatters (Tenor I), and Annemarie Thomas ( Soprano I) were selected as part of the high school choral honors festival.
Jenna Hallett (Trumpet) represented the middle school band, and Elaine Seawater (Clarinet) and Jake Willett (Alto Saxophone) played with the high school ensemble.
"The directors usually stand by backstage or in the balcony and are very proud watching what their students achieve! Students meet the other musicians just days before the performance but are drawn close in a way that only music can. This is the largest venue for which most of these students will ever perform," said Amy Bostwick, PDY Band Director.
From Stryker Local Schools:
Sterling Wisniewski (Bass) took part in the high school chorus honors festival.
"Sterling is a strong vocal leader in Stryker's choral program. The Honors Festival provides an opportunity to meet choral students from all over Northwest Ohio and share the love of singing. The performances are always wonderful," said Vocal Music Director Kristi Miehls.
From Swanton Local Schools:
Hunter Eash (Trumpet) represented the high school band.
"This was a wonderful opportunity for our students in District I to perform challenging music and work with a great conductor and composer. I am sure it is something they will remember for their rest of their lives. I would like to thank all the hard working students and music teachers in District I that make this event possible," said Band Director Samantha Preisner.
From Wauseon Exempted Village Schools:
Harmony Bell (Soprano), Kaitie Christensen (Soprano), Evaan Dominique (Tenor), Noah Harman (Baritone), Justin Kutzli (Tenor), and Autumn Pelok (Alto) represented the middle school chorus. Sam Frank (Tenor) and Conner Johnson (Bass I) sang in the high school festival.
Olivia Clark (French Horn) represented the middle school band while Kodi Albright (Trombone), Lance Jutze (Clarinet), and Paige Moden (First Chair Trombone) represented the high school band.
"This was a tremendous experience for our students. All of our students in both the middle school and the high school bands earned extremely high placements in their sections sitting either first or second chair. We are all very proud of the work our students put in everyday and are thankful for this opportunity to showcase their outstanding abilities," Director Don Clark said of his students' experience.
Cory Johnson may be reached at publisher@thevillagereporter.com