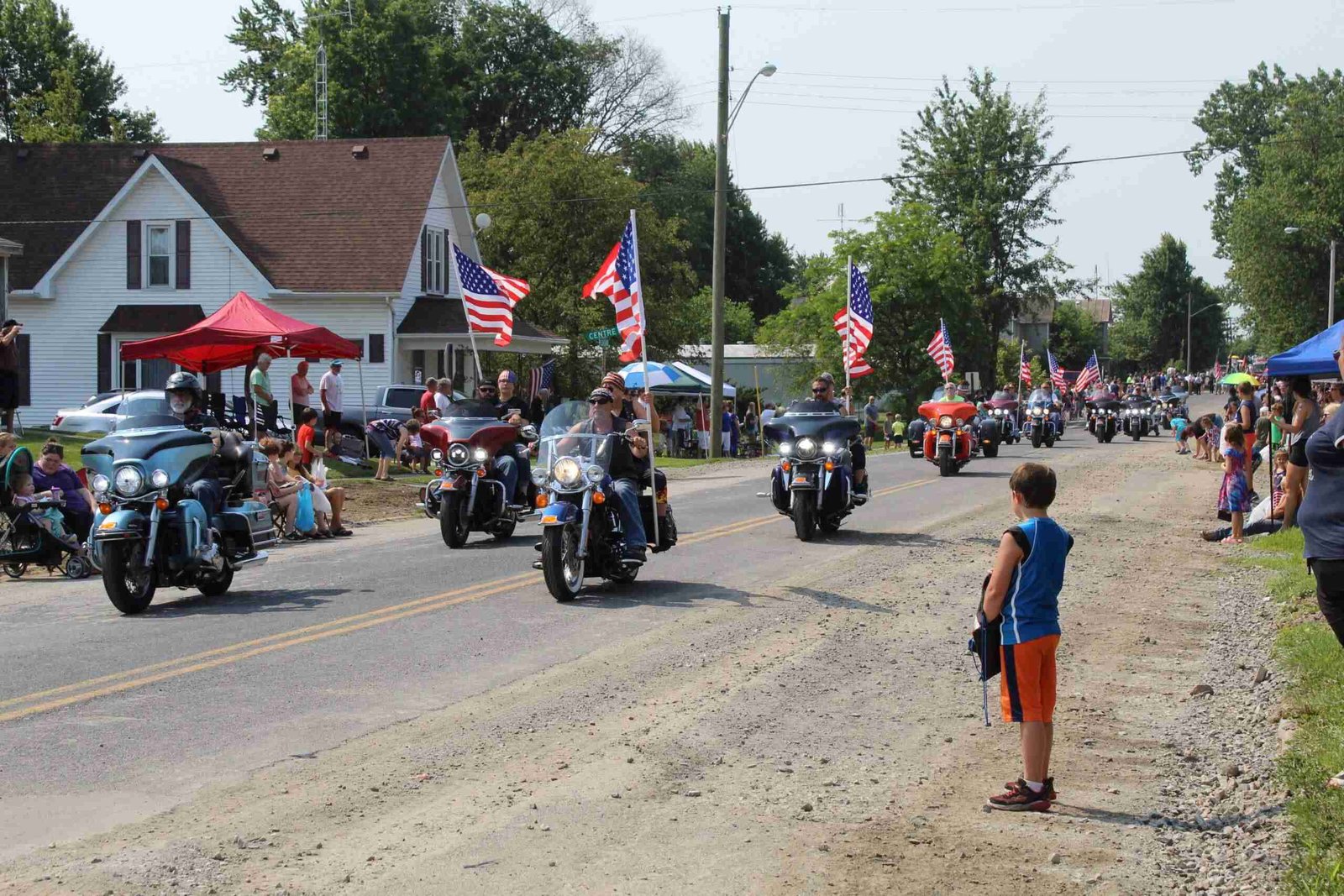 PARADE BEGINS … The 59th annual Fourth of July parade in Kunkle started with a procession of motorcycles carrying flags. Both sides of the street were line with people waiting to see the parade while children eagerly awaited the candy. (PHOTOS BY JACOB KESSLER, STAFF)
---
The annual Fourth of July parade took place in the Village Kunkle on Monday July 5th. The Village of Kunkle is located between Pioneer and West Unity and holds one of the largest parades in the area. The parade featured all of the counties police and fire departments.
It also featured several of the area's local churches and businesses. The parades history goes back to 1962 when Billie Apt thought it would be a good idea to get kids to decorate bicycles and ride around town. It was a way for the children to celebrate the fourth and get to know what it is all about.
During its first year over 25 children had decorated their bikes and rode around town. Today, the parade has grown to over 60 entries each having the ability to have as many vehicles or floats as they need as well as over 3 dozen fire trucks.
The streets were packed with people and parking lots were full as everyone gathered to watch the parade. Afterwards, many people gathered at the fire hall to get food that was being served by the fire department.
The Madison Township Kunkle Fire Department would like to thank everyone for coming and would like to see everyone again next year on the Fourth of July.
Jacob can be reached at jacob@thevillagereporter.com
---
MADISON TOWNSHIP … A Madison Township Kunkle Fire Department truck passes by in the parade. Firefighters wave to people lining the streets.
THE HORNS BLEW … Dozens of fire trucks that represented every department in Williams County as well as Archbold in Fulton County are seen all the way down to the end of the road. Horns and sirens blew to the delight of children lining the streets.
SERVING THE COMMUNITY … Kunkle firefighters are busying making and serving plates of food to people after the parade finished.
---