GRAND MARSHAL … Parade Grand Marshal and former fire chief Dail Fritsch sits on a fire truck during the Bean Day parade. (PHOTO BY SANDY GORDON)
---
By: Jacob Kessler
The Annual Bean Day Fest took over Montpelier yet again this year. What would be the 65th annual Festival hit 64 years instead due to COVID restrictions last year.
Mother Nature did not feel like helping out this year and caused the festival to cancel the balloon fest as well as a few other activities.
Rain however could not stop the entire event as festivities took place all day Saturday and Sunday. The event started back in 1956 when Allen Cunniff Furniture started giving out beans.
Now today, they give out beans of all kinds from jellybeans, baked beans, cocoa beans and others.
In 2014 a new committee took over which brough in the balloons, live music, bike race and others.
Other events that take place include a parade, rotary breakfast, jellybean bandit scavenger hunt, Trackside Modelers Railroad Club, St. John's Lutheran Church Sausage Sandwiches and Root Beer Floats, dodgeball and basketball tournaments, Montpelier Firefighters 5K run, First Presbyterian Fish Fry, caricature artist, Putt Putt Golf and a climbing wall, cruise in, firefighter bucket brigade and others.
Events took place on Friday the 16th from 11am to 11pm and Saturday the 17th from 7am to 9pm. Events were found lining the streets of Montpelier as well as Founders Park. Events started and ended at different times throughout each day.
The Annual Bean Day and Balloon Fest will be back next year for its 65th year.
Jacob can be reached at jacob@thevillagereporter.com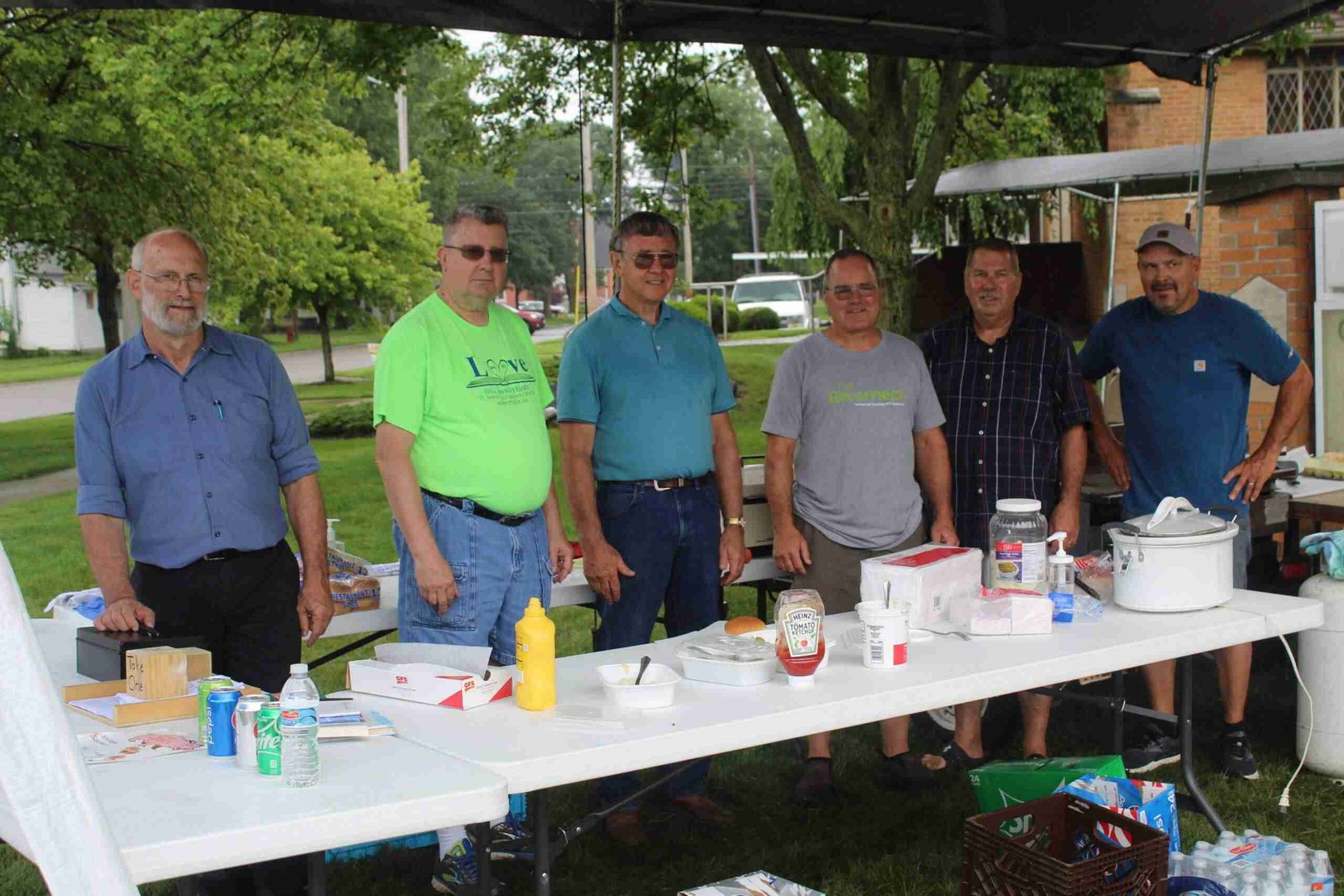 MEN'S GROUP … The St. John's Lutheran Church Men's Group makes sausage patty sandwiches for the Bean Day Fest. Names are shown left to right. Matthew Luke, Pastor Paul Gruetter, Rick Clark, Matt Fredricks, Mike Timbrook, Andy Carlson. (PHOTO BY JACOB KESSLER, STAFF)
TRACKSIDE MODELERS … Trackside Modelers Railroad Club operated trains during the Bean Day Fest. The building was open to the public and graciously welcomed people in. (PHOTO BY SANDY GORDON)
BBQ N BAKE … T&M BBQ N Bake stands ready to serve customers great tasting BBQ chicken, pork chops, and brisket for Bean Day. Pictured are: Tina Custer, Kellen Snow, Risa Decker, Emma Custer, Kaylea Peffley, Alyssa Custer, Theresa McKenzie – Co-Owner. (PHOTO BY JACOB KESSLER, STAFF)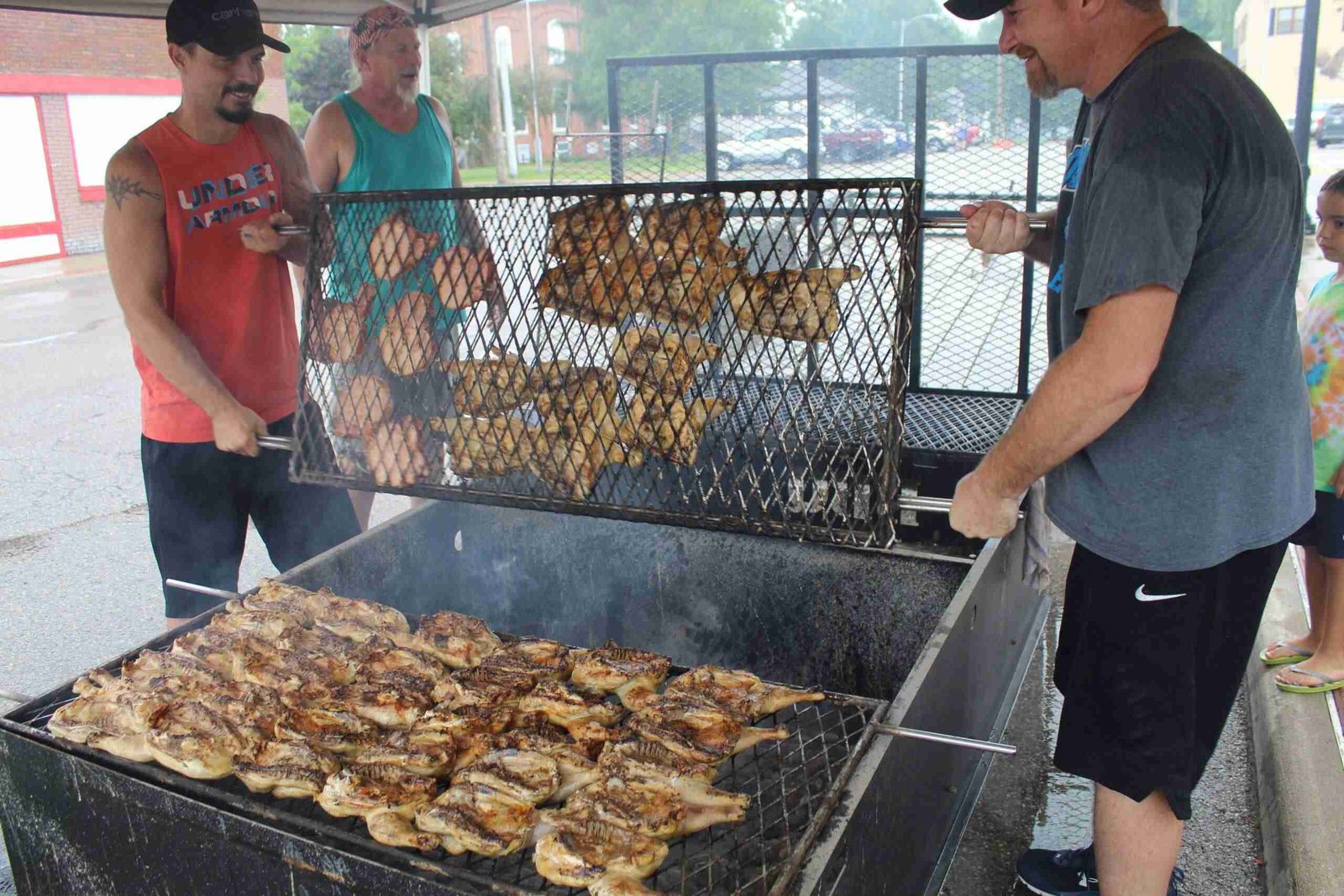 FLIPPIN CHICKEN … Co-Owner Mike McKenzie, Time Decker and Ryan Custer flip chicken and pork chops for T&M BBQ. (PHOTO BY JACOB KESSLER, STAFF)
---