---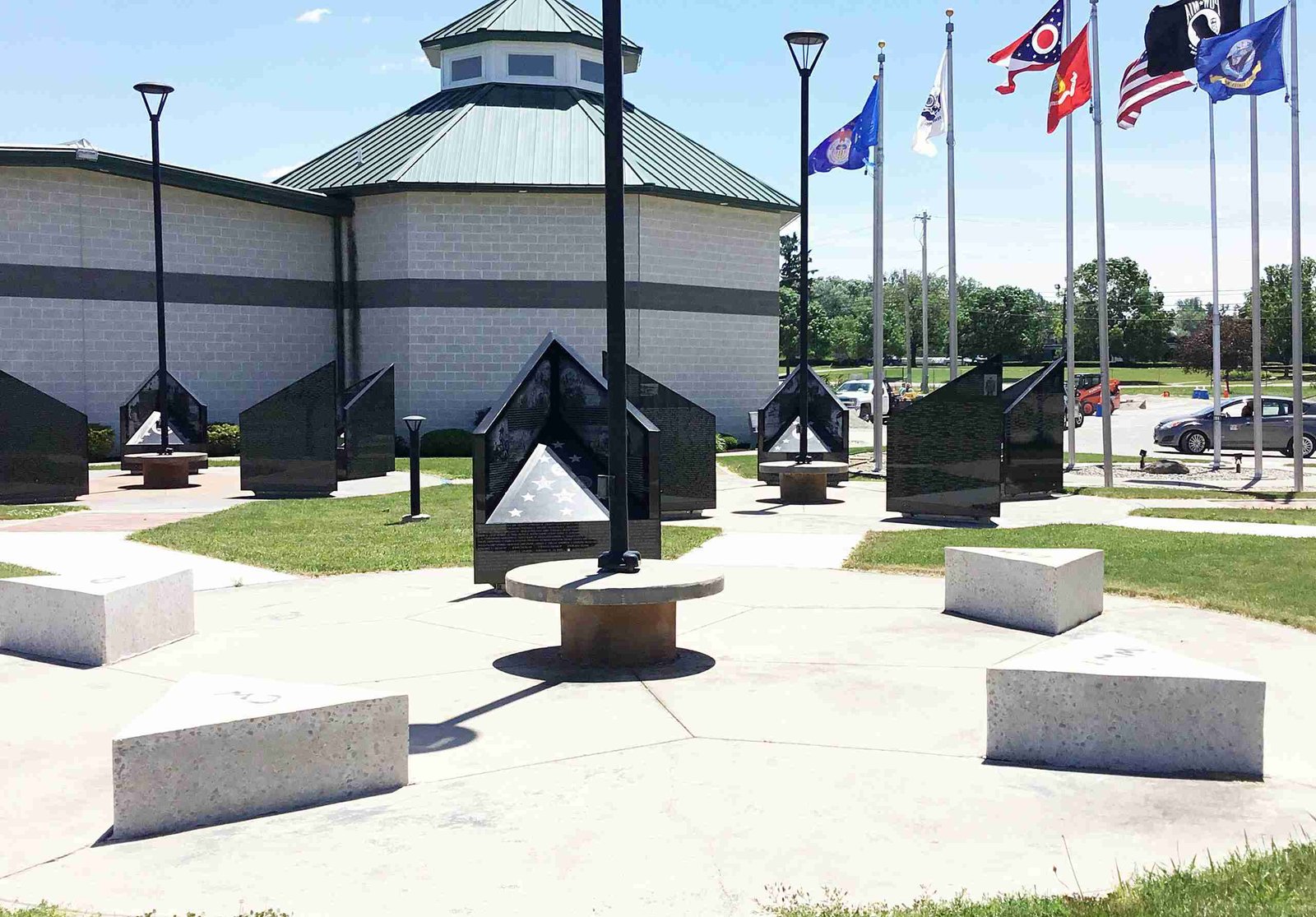 VETERANS MONUMENTS … The last five chevrons have begun to be placed at the WC Veterans Memorial. This one is marking the Civil War and around it, are the last four of the fifteen total that will make up this incredible monument to the veterans of Williams County. (PHOTOS BY REBECCA MILLER, STAFF)
---
By: Rebecca Miller
The Williams County Veterans Memorial building has been a wonderful addition to the northwest Ohio community. Events are held there regularly and the addition of some amazing monuments and flags has this place becoming quite the landmark.
This summer of 2022, the trustees are thrilled to be able to see the beginning of the concrete parking lot to replace the dusty, and sometimes muddy, parking lot which has been filled with cars many times.
Trustee Kevin Motter, a very active Williams County veteran and member of the Montpelier Village Council, stated that having this parking lot paved will be such a blessing to everyone, especially those who use walkers or wheelchairs.
The lot is being done 1/2 at a time so that no events are interrupted. Parking can continue in the other half while work moves on.
The plan for fifteen Chevrons commemorating all of the Williams County veterans for every war since the Revolution, is going well.
Recently the process of completing the last set of five began and the plan is for all fifteen to be completed by the fall of 2023.
The first of the last five is for the Civil War and they hope to have one or two more of these five put up this year. The construction of these monuments began in 2014 and is well worth a visit to see what has already been accomplished.
"When this is complete," Motter said, "it will be the most significant monument to veterans service and sacrifice in this region."
He is right! It is stately and brings tears to the eye when time is taken to quietly walk amongst the monuments, take a minute to sit on one of the benches, and soak up thoughts of all the sacrifice that has been made.
Rebecca can be reached at rebecca@thevillagereporter.com
---
PARKING LOT UPGRADE … Folks who attend events at the WC Veterans Memorial Building on the east end of the WC Fairgrounds in Montpelier will have the pleasure of parking on concrete soon. As half of the money needed was raised, the trustees decided to go ahead and get half of the lot done.
---