---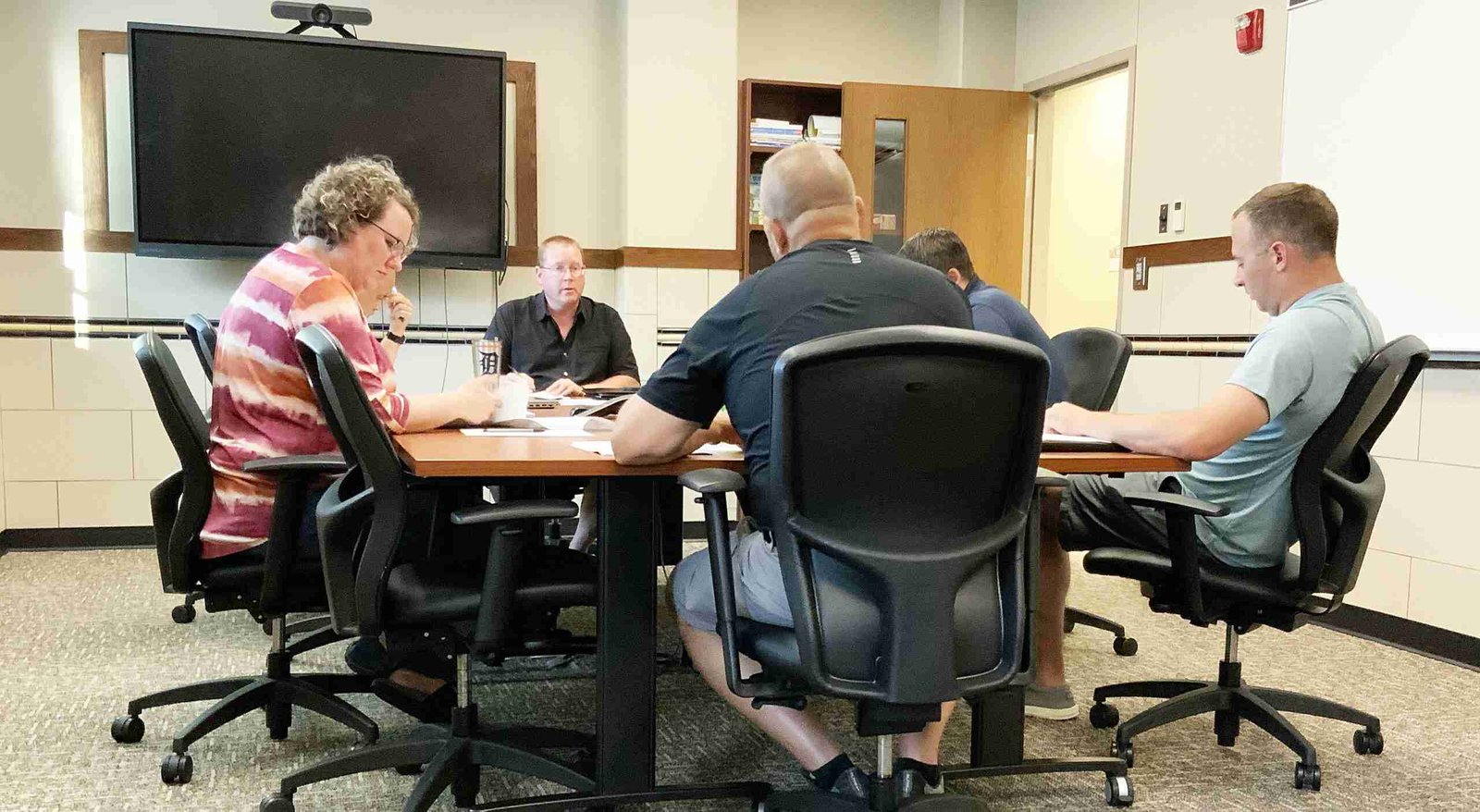 CAFETERIA … Superintendent, Josh Clark, reads the board the Certificate of Standards report from the cafeteria. Once again, the cafeteria received a letter of commendation from the Fulton County Health Department for no violations for the 2021-2022 school year. (PHOTO BY LINDSAY PHILLIPS, STAFF)
---
By: Lindsay Phillips
On Thursday, June 17, at 8:00 p.m. Pettisville Board of Education began their meeting with a call to order. Following a prayer from Board Member, Mr. Scott Rupp, Treasurer, Chris Lee took the roll. Minutes from the previous May 2022, meeting were approved.
First on the agenda, was approving financial reports, and payment of bills as presented by Mr. Lee. As a part of ending the 2021-2022 school year, Non-Renew Supplemental Contracts were approved.
Pettisville Board approved the resignation of High School Counselor, Mandy Wyman, as she will be moving on to Hicksville Schools.
A twelve-week maternity leave was approved for Amy Murrey. New Hire contracts were approved for Abby Pennington, Sydney Audet, Steve Hastings, Lisa Ayana and Betsy Salmi.
Thirty Athletic Supplemental contracts were approved by the Board as well. Support Staff Salary Schedules were approved, along with a Nursing Service Contract with the Board of General Health District of Fulton County.
One small a small change of listing current Board of Education members into the Elementary Handbook was made and approved.
Pending a decision on free school lunches from Senators, the Board presented the cafeteria prices for next school year. No changes were made to the prices, as they will be the same price from before.
Mr. Lee presented the Board with multiple financial items that were approved, including:
•Approve FY22 appropriation modifications and the accompanying Certificate of Resources as attached.
•Approve the FY23 Temporary Appropriations and Revenues at 60% of FY22 expenditures and revenues.
•Approve obtaining a Visa Card from Farmers and Merchants State Bank for Adam Wagner with a limit of $2000.
•Transfer of $4,664.65 from the General Fund to the Turbine Fund, effective 6/14/22.
•Approve an advance of $17,406.25 from the General Fund to the Turbine Fund effective 7/1/22.
•Approve any other appropriation modifications and adjustments necessary to close the fiscal year and report those at the next regular meeting.
Due to summer break, the Principal and Superintendent reports were very short. Mr. Michael Lane, Pettisville High School Principal was not present, as he if officially retired.
Mr. Lane presented the Board with his goodbye letter. In his letter, he stated, "It has truly been a pleasure for me to serve as Pettisville Highschool Principal for the last twenty years."
"I already know that I will miss being a part of Pettisville's future, and I look forward to watching the districts progress."
Elementary principal, Jason Waldvogel, gave his short report, sharing, "Test scores are coming back in, we got an early batch of the math scores back, we did very well."
Waldvogel went on to state, "Rosters are shaping up really well, number's wise we are up."
Superintendent, Josh Clark, shared the turbine is up and running, and should hopefully be spinning for a while. Coming up, a construction company will be repairing the steps at the school, doing one at a time to avoid blocking entrances.
At 8:31 p.m. Pettisville Board went into an executive session to discuss the purpose of, preparing for, conducting or reviewing negotiations or bargaining sessions with employees, that concluded at 9:20 p.m. with approved increases to contracts for employees.
Lindsay can be reached at publisher@thevillagereporter.com
---