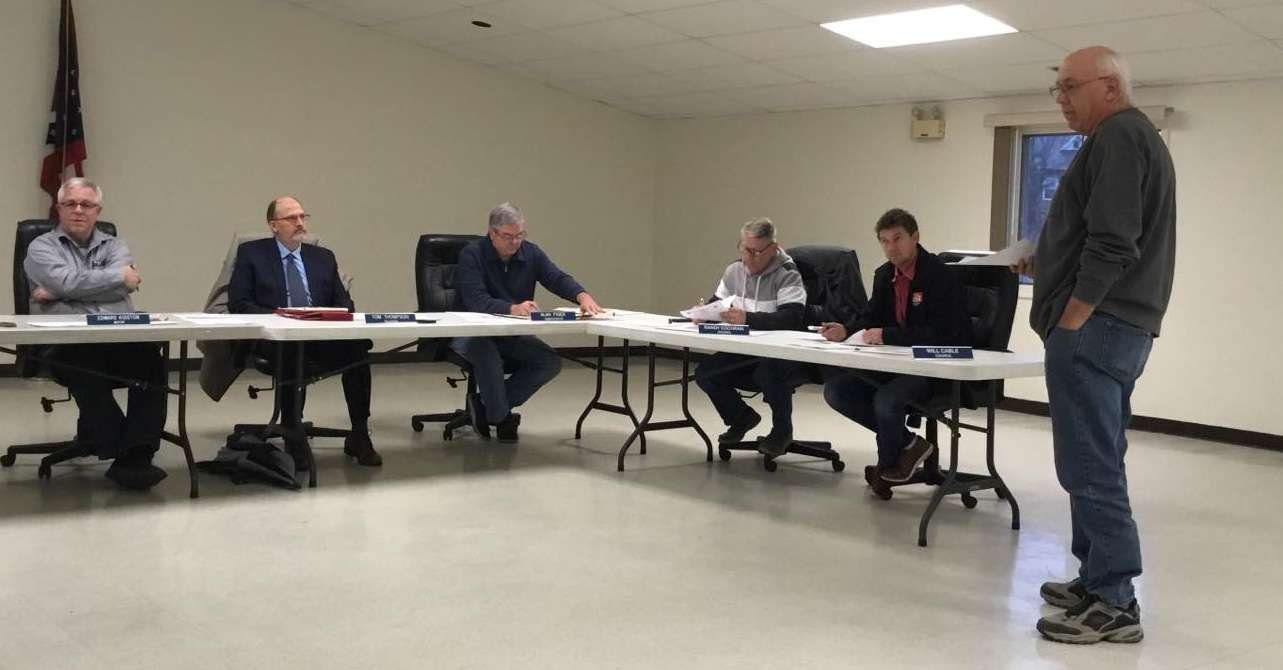 FIRST MEETING BACK … Pioneer Fire Chief Denny Fackler returned for his first council meeting following an illness. (PHOTO BY TRISHELLE SMITH, STAFF)
---
By: Trishelle Smith
Mayor Edward Kidston called the meeting to order on March 22, 2022. All the council members were present during roll call, with Trevor West over the phone.
Council then approved the meeting minutes, and the financial report from the previous February meeting.
Then, council welcomed Fire Chief Denny Fackler back to his first meeting. following an illness. Chief wanted to thank everyone for their thoughts and prayers.
Chief gave his report, asking council to approve Preston Mclaine as a probationary member of the department. Council approved the motion.
Next up, Al Fiser, Village Administrator, gave an update on the State Street Construction. He advised council that within two weeks the gas company will be finished with their portion of the project. This means all the underground work will be completed.
The next part of the project will be completed by April 11th, which includes putting up curbs. Fiser confirmed the construction is on target to be finished by the middle of June.
Council approved Fiscal Officer Elizabeth Kidston to attend OAPT Finance Offices training on June 13th-17th, 2022. Council also approved the Mayor and Fiser to attend training in June.
Council approved temporary construction housing for a three-year period for out of state employees. This housing will be a permanent place for the construction crews coming from out of state.
Council moved into Executive Session to discuss personal and possible pending litigation. Council passed the motion to increase the patrolman's wages effective immediately.
Ordinance 01-2022 Passed 6-1 with Turner against, allowing the Village to accept Bryan Excavating LLC bid for the Kexon Drive extension project.
Ordinance 02-2022 passed allowing the Village to purchase two 15/20/25/28 MVA transformers from Virginia Transformer Corporation.
Resolution 104-2022 was passed, authorizing participation in the ODOT road salt contracts for 2022.
Trishelle can be reached at publisher@thevillagereporter.com
---