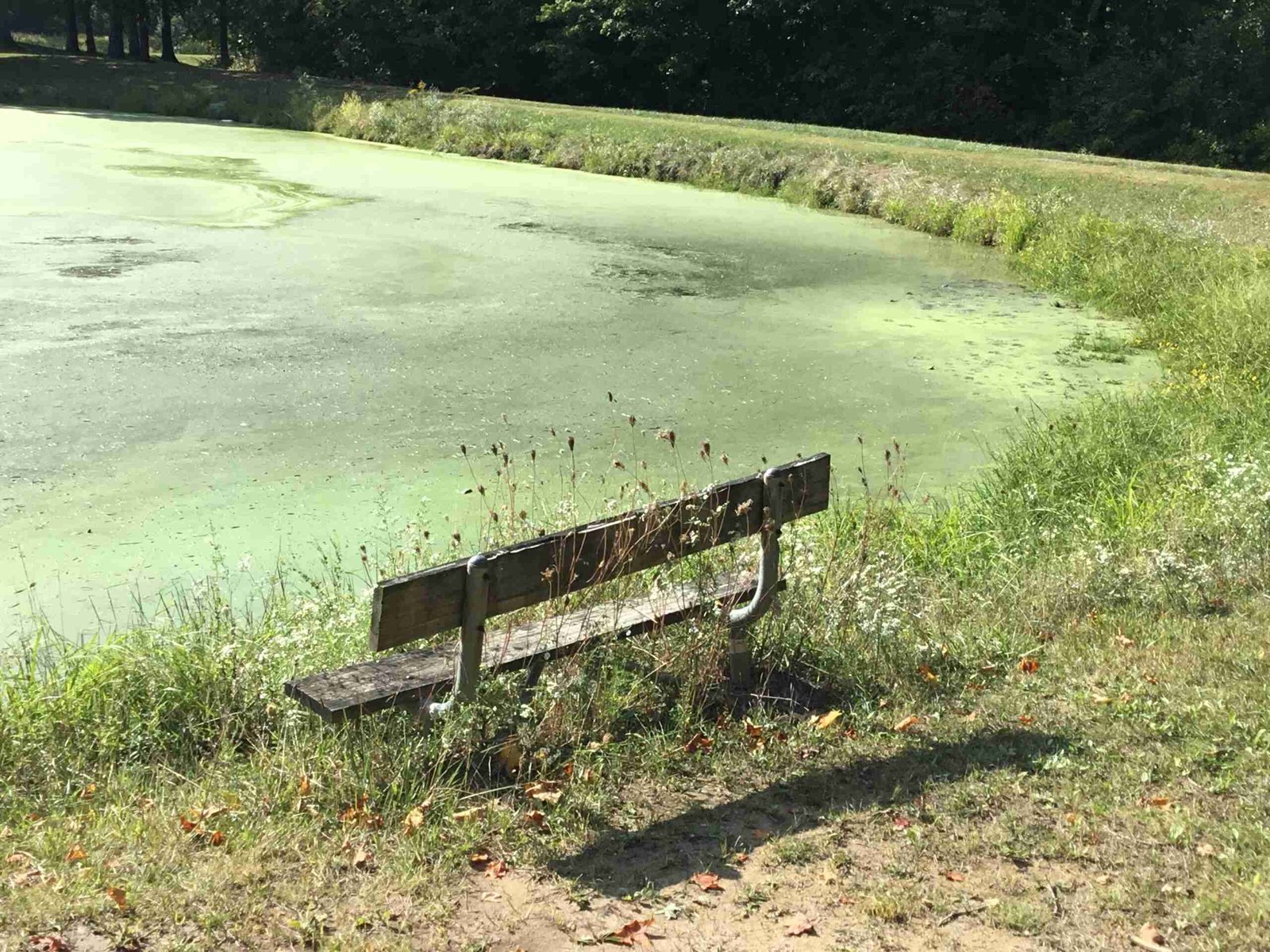 POND SCUM AND WEEDS … At first glance it was easy to see why residents are disappointed with the lack of upkeep at Bible Park. The weeds are actually growing in the pond and up the bank where the mower can't reach. The water level due to the drought is so low and there is no movement so the algae has spread quite a ways out into the pond. (PHOTOS BY REBECCA MILLER, STAFF)
---
By: Rebecca Miller
Over the past month a number of social media conversations have shown that some Williams County residents are upset over the condition of George Bible Park.
Bible Park is situated on the corner of County Roads 13 and J, between Bryan and Montpelier and is a delightful place to have a family picnic, wile away some time on a bench with a good book, or watch the turtle and frog populations.
Located in Jefferson Township, Bible Park opened in the summer of 1970, covers 60 acres, and offers a number of lovely items to visitors including a shelter house with picnic tables, a natural foot bridge, and benches placed throughout.
It is one of three parks for which the County Commissioners are responsible. The Park Board is to take care of it and report to the Commissioners. Todd Roth, who is on the Park Board and is also the County Engineer, has become the liason between the Park Board and the Commissioners.
For a number of years the park was cared for, under the guidance of the Williams County Engineer, through a program with Jobs and Family Services. A gentleman who worked with JFS would take a crew there to mow and trim and clean, but when that program ended it fell back into the lap of the Engineer's office.
Roth explained in an interview about the park that the condition of the park did not happen suddenly. When the steady care given by JFS stopped a couple years ago, he had to start trying to schedule park care into the regular already full schedule of the engineer department.
He has had summer help that was hired for that purpose, but as he said, "it is still not the same as the crew who used to do it." This summer they have pretty much just mowed. The trails are all grown over, the bridge is closed down and the algae/scum on the pond is spreading.
"I understand the citizens' frustration with this park where they used to go for weddings and pictures," Roth said. "This is a lose, lose situation" was his take concerning the response online about the time and money they have put into Opdyke Park this summer, clearing and making a brand new Disc Golf Course.
"If we had taken care of Bible Park, but hadn't done something with Opdyke Park, people would be complaining about that." He just does not have enough money, time or crew to do everything at once. Bible Park got lost in the shuffle, but Roth wants the public to know he does care and is working on it.
When asked about the possibility of volunteer residents helping to clear the trails, etc., he said that they have gotten some Volunteer Forms to run past the attorney and hope to come up with a way that people who want to work out there could do so, without it being a liability.
"We have had volunteers like Girl Scouts, Eagle Scouts and Board of DD crews before, but we worked with them. We do want to get something in place so when people have time and want to go work there, they could."
He presented the need for Bible Park to the County Commissioners on September 9, 2021, telling them that it has been discussed at the Park Board meeting.
"We realize that Bible Park needs work and some improvements. It has been somewhat neglected and we get that. There are some things that need to be done."
On September 27, 2021, Roth said that they are gathering information on a long term solution for the pond, planning to repair the bridge and getting a cost estimate on repairs and upkeep.
"It may not look like we are doing anything, but we are going to get to it. It is under discussion for a long term fix. We can't just throw some money at it. We have to be sure we are doing it so that it will last."
They also have to figure out where the money for the repairs will come from. Eventually they plan to build an entirely new bridge, but that is long term as well.
They have been advised by a pond engineer that the pond definitely needs to be drained, dipped out and made deeper before it is refilled and an aeration plan of some kind is put in place. "I will take care of it," Roth said in his steady, unruffled voice.
"People can yell at me all they want right now, but I have to look at it in a way that I know we will be better off in the long term. That may not help us today, but hopefully it will help us in the long run. I WILL get to it."
Rebecca can be reached at rebecca@thevillagereporter.com
---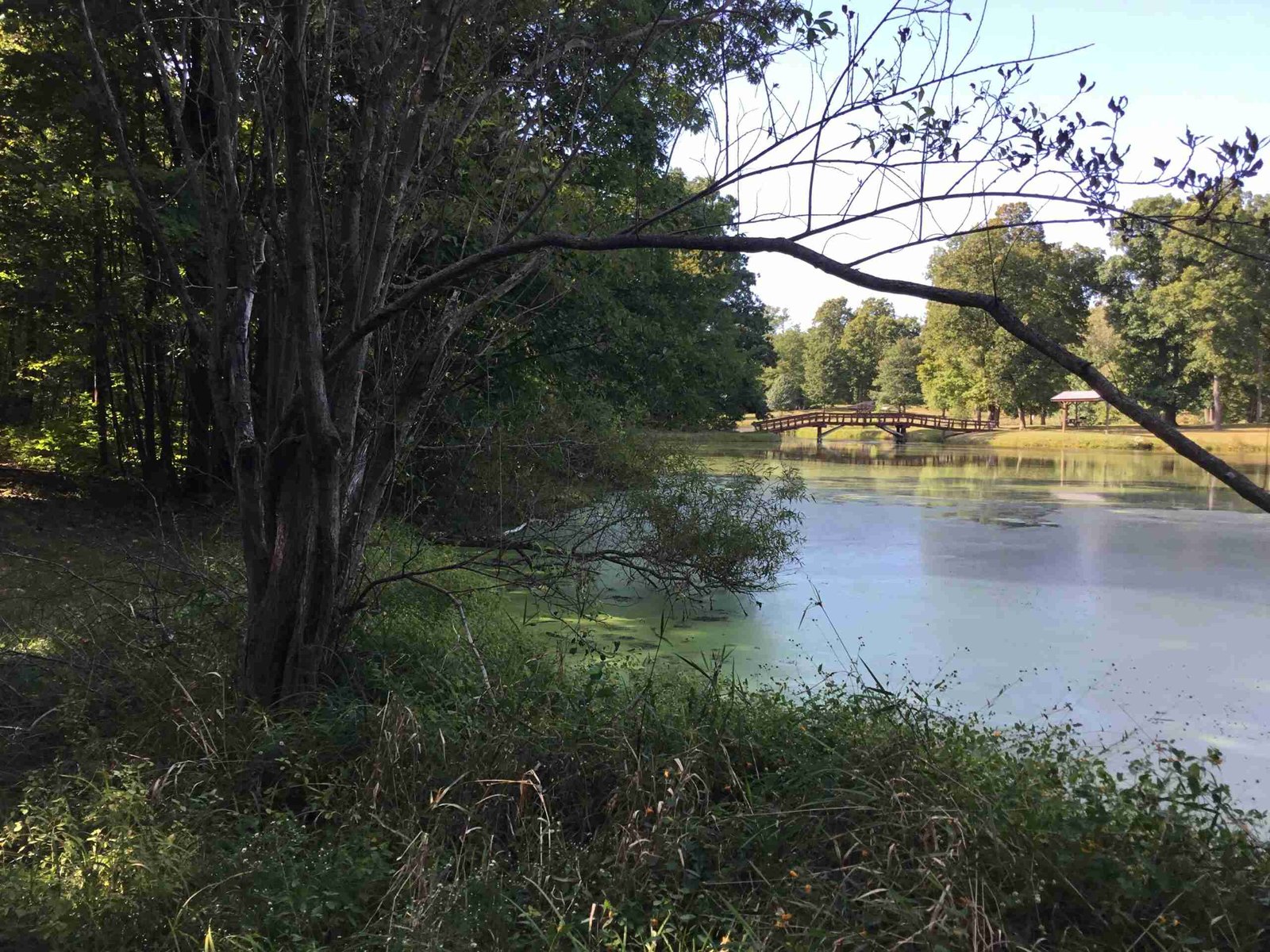 ---