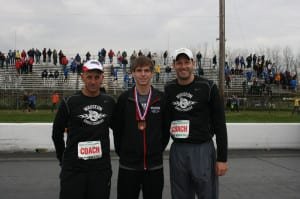 COLUMBUS – With a final time of 16:27.18, Quintin Reiser of Wauseon finished fourteenth at the Ohio D-II State Boys' Cross Country Finals on November 2. Reiser earned his place in the final field by taking the D-II Tiffin Regional Championship on October 26.
Through the first mile, Reiser was in the lead pack, running sixth with a time of 5:02.1. The second and third miles saw the lone Indian beginning to fall back though. He posted a time of 5:15.9 in the second mile, falling from sixth to seventh. The third mile saw his time slip to 5:17.8, where he finished 0.02 seconds behind Alex Barrientos of Defiance who fell from fourth to thirteenth in the final mile.
"I started out at about my average pace, which kept with the front pack for the first two miles," Reiser said. "Then I found myself getting more tired than usual in the last mile and fell back from the lead pack as they were pulling away. I then found myself in a big group of runners and just tried to tough it out until the end. It was definitely the toughest race I've ran all year, and the conditions were pretty tough, but overall I was satisfied with my race and hopefully I'll have a better outcome next year!"
The fourteenth place finish put Reiser on the podium with the top sixteen finishers after the race. With a postseason push like he displayed on his way to the capitol city this year, it will come as little surprise to anyone if he his name should appear on the qualifier roster for Columbus in 2014.