---
9-11 YEAR OLD WINNERS … Seated – Lillian Brown, Presley Wyse, Demi Short. Standing – Joshua Williams, Will Mavis, Hayden Danato. (PHOTOS PROVIDED)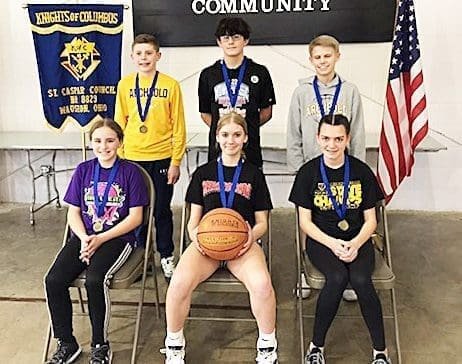 12-14 YEAR OLD WINNERS … Seated – Lilly Zeedyk, Hayden Merillat, Samantha Coolman. Standing – Harrison Wyse, Tyson Bower, Grady Short.
---
On Sunday, February 5th, St. Caspar Knights of Columbus (Wauseon) hosted the District #57 competition of the Ohio State Knights of Columbus Free Throw Contest.
Competing in the contest, held at St. Caspar Parish Life Center, were contestants ages 9-14 representing K of C councils in Archbold, Defiance and Wauseon.
Each contestant shot 25 consecutive free throws with the highest scorers in each age group (boys and girls) earning the privilege of advancing to regional competition in Ottoville on February 26th.
---