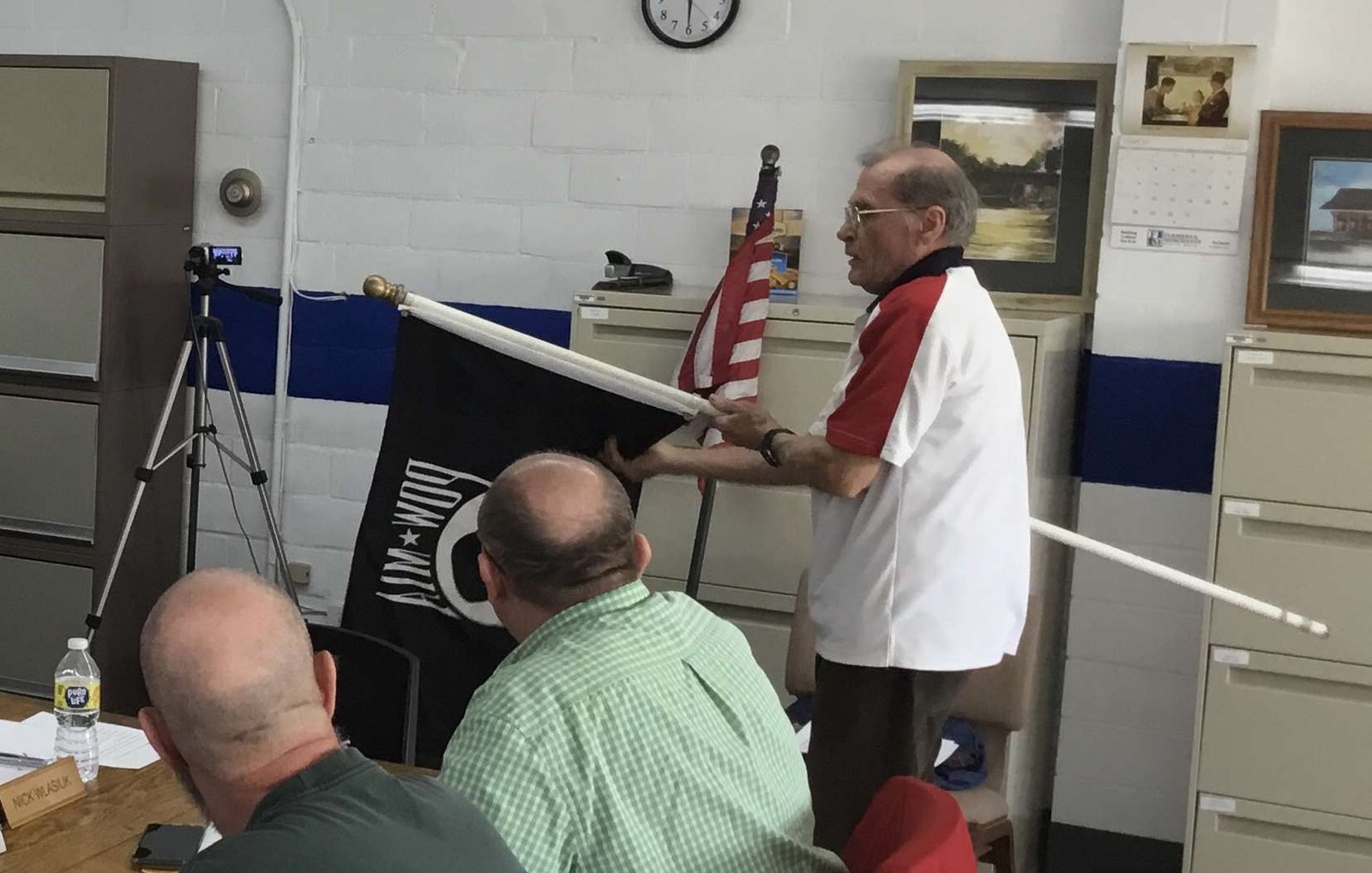 NEW FLAGPOLES … Chuck McColl demonstrated how the new flagpoles will help to keep the flags from getting wrapped around them by the wind.  (PHOTO BY REBECCA MILLER, STAFF)
---
By: Rebecca Miller
Mr. Chuck McColl who sells flags and accessories just south of Stryker, was present at the Monday, March 21, 2022 Stryker Village Council meeting.
McColl has offered to change out all the village's flagpoles and flags in Stryker "at cost."
He was there to demonstrate the new poles before he begins changing them out. That will run only $590 for the village. BTW, he is NOT sold out of flagpoles and wants others to know that he is presently able to meet the needs of those in the area who are interested.
Gary Stuckey opened the meeting in prayer, followed by the Pledge of Allegiance led by McColl who is an Army Veteran.
Council voted to approve the Minutes of the February 21, 2022 meeting and the Finance Report as of March 18, 2022.
A Judiciary Committee meeting was scheduled to be held on April 18 at 5 p.m. just prior to the monthly regular meeting, to discuss the village job descriptions in the handbook.
New council member, Nick Wlasiuk, had copies of the descriptions, made by village clerk Beth Rediger, for the three committee members to look at before the committee meeting. Solicitor Kevin Whitlock will also be present in the committee meeting.
BIG TRASH Pick-up is scheduled for May 7, 2022 and items can be put out on the curb no sooner than a week in advance.
To know what cannot be put out, stop by the village hall to get a copy of that list. Cemetery Clean Up is going to be held on April 1 so any flowers or items that owners want to keep need to be removed before the clean-up.
In Legislation, council voted to accept a motion to write off 1/3 of the income tax collection fees, from an agency out of Napoleon, as presented by Deputy Clerk Emily Clemens.
There are only five left for him to collect and the rest are now being done by the Attorney General's office. Also approved was Payroll Ordinance 2022-02 "setting the salaries and fringe benefits and defining certain duties of elected, appointed and hourly employees of the Village of Stryker, Ohio."
In his police report, Chief Steve Schlosser reported that Austin Batt decided to return to Montpelier PD full-time, but will continue to be on the part time staff for Stryker.
Since the last meeting there were 47 calls, eight traffic warnings, two citations and two adult arrests in the village.
Mayor Joe Beck pointed out that as far as 24-hour coverage for the village is concerned, they are now short on the number of police.
It will not be "actively patrolled" but the village will still have 24-hour coverage. The department is still looking for a third full-time patrolman, but the chief is working hard to keep the schedule full.
"This has been, without a doubt, the most trying time I have ever had in my entire career…ever," Chief Schlosser said.
"In 27 years of law enforcement, this past month has been the most trying time I have ever had in my entire career, I reiterate that."
"It is not in my DNA…it is not in any of my officers' DNA to pass the torch on to another agency that knows absolutely nothing about what goes on within our village."
"I am absolutely struck to the core that we have to do this. There were alternatives, but I am not in a position…so I will leave it at that."
"So, we are covered with police protection. It is not ideal by any means," Mayor Beck added. "We are still actively searching for a full-time person to fill that position."
Council member Vicki Cameron restated that the village is looking to hire an officer, and that this situation is hopefully temporary.
Chief said, "We don't see a light at the end of the tunnel as far as I'm concerned." Mayor Beck encouraged him to keep on plugging away as they always do.
Fiscal Officer, Beth Rediger, reported that the revenue for the month was $140,000 with expenses at $67,125. Income tax collection is doing well, up 29% or $18,000 compared to this time last year.
"Switching collections to the Ohio Attorney Generals' office has been good, as we are getting our full shar now and no longer losing the one third in fees," she explained.
They have purchased a new folder/insert machine as the old one quit working last year. It is expensive but much needed at tax time.
They bought it from Perry Pro Tech for $6600, a capital project item as it should last more than five years.
Lastly, she mentioned that the ordinance change, on which they voted, is just removing Police Titles, so that new hires may or may not be given a title. No pay amounts were changed.
Rediger also reported for Village Administrator Al Riegsecker, as he was on vacation. The village has renewed a lease with Norfolk and Southern for $300 a year plus the cost-of-living percentage, for the parking lot next to the Post Office.
It went up from $100 a year, and cost of living, to $300 but "we don't really have a choice as it belongs to N&S," she said.
The compost dumpster is back behind the village hall for Leaves and Yard Waste Only. The Water Plant filter is being changed out so residents could see some air bubbles in the water.
It is to change out the sand filter and costs $13,000 every five or ten years. The tree near the playground water tower was removed during Spring Break. A bid book has been approved to be put together on the water tower.
Also, the Johnson Ave. Project bid is being prepared for bidding out, for the water line. This project will be covered by the covid money the village has received. An Inspection is also being scheduled for the water tower.
Cameron showed council a few pictures of possible designs to be painted on the water tower. It was asked about the possibility of a having a vinyl wrap instead of paint and Mayor Beck said they can check into that.
Council member, Dusty Potter, informed council that he has been checking into the possibilities of getting the river cleaned out to prevent so much flooding.
He has spoken with a number of people including the Williams County Engineer, the Maumee Watershed group and Jason Rockey in Montpelier.
There may be funding to help clear the river. Brian Fritsch, the county drainage engineer, will be coming to look at the river with him to see what needs to be done.
J&M is already doing St. Joe River in Montpelier and might be able to come to Stryker as well. Cameron brought up the past when there was a legal injunction about this topic.
Potter said that it appears that getting access permission from the landowners seems to be the hardest part.
Rediger explained that the process was started but it was halted and has stayed there till now. Wlasiuk said that with it being a change in time since then, maybe it can be done now.
Potter said, there are options and "we may just need to get creative." Mayor Beck pointed out that it is in the early stages and there might be more hurdles.
Cameron asked for an Executive Session to discuss potential litigation, with council, Solicitor, Fiscal Officer and Mayor Beck in attendance. There was no action to be taken.
Rebecca can be reached at rebecca@thevillagereporter.com
---