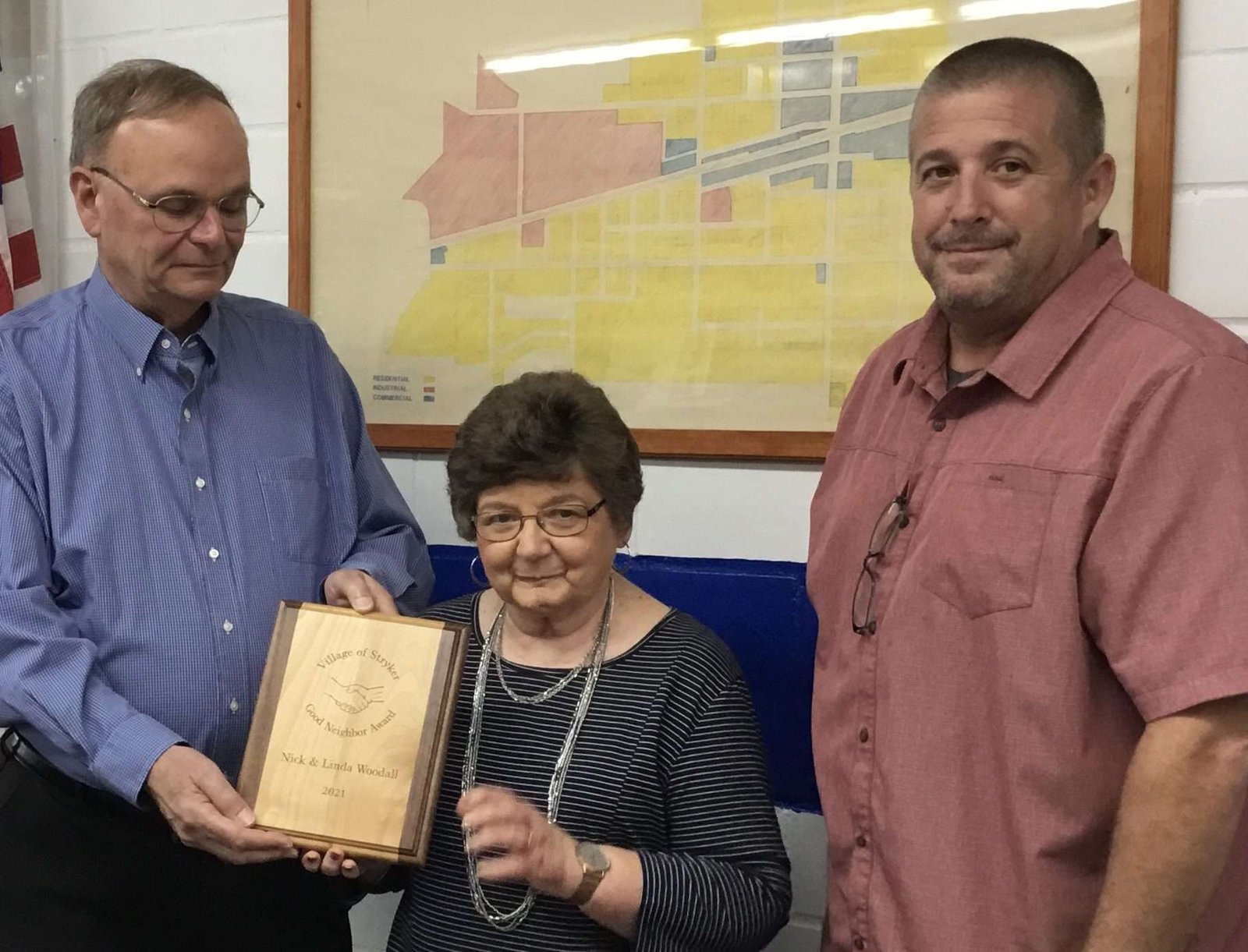 GOOD NEIGHBOR PLAQUE …It may have been a little late, as Nick and Linda Woodall were chosen as Stryker Good Neighbors of the Year in August 2021 and rode in the parade for Stryker Fest, but the Village council and mayor were happy to present their plaque to them at the September 21, 2021 meeting. (PHOTO BY REBECCA MILLER, STAFF)
---
By: Rebecca Miller
Stryker Village Council had an eventful evening, meeting two new employees and presenting the Good Neighbor Award plaque during the September 20, 2021 Council meeting, as well as handling the regular business.
Pastor Nick Woodall and his wife Linda were present to receive the plaque made for them as they were awarded the Stryker Good Neighbor of the Year Award in August.
Pastor Woodall was asked to open the meeting in prayer and Stryker Police Chief, and Marine Veteran, Steve Schlosser led in the Pledge of Allegiance.
Mayor Joe Beck welcomed the room full of guests and began with the Roll Call. All but Kim Feehan were present with Sam Farmer calling to let them know he would be a little late.
Stryker resident, Stan Whitlock, asked council if they would approve getting an EAST Lynn St. sign put up as deliveries often get delivered to East Lynn St.
Village Administrator Alan Riegsecker took note of his request and thanked him for coming. Next on the agenda, Mayor Beck asked Riegsecker to introduce his newest employee, Kris McMillen, who has joined the Maintenance crew with quite a bit of experience.
Council welcomed him, and Chief Schlosser introduced Steven Graziani who has just completed basic Police Academy at Owens Community College and will be joining the Stryker Police Department. Mayor Beck swore Graziani in officially and then introduced Ali, Graziani's wife for pictures.
Mayor Beck invited Mr. and Mrs. Woodall to come forward to be seen on the video for the public to view later. He thanked them for all they have done and read the kind words that were written about them by Gary Stuckey when he recommended them for the award of Good Neighbor of the Year.
Mr. Woodall bragged about Mrs. Woodall being a teacher at Stryker Schools for thirty seven years and said that she is three quarters of his brain.
Mrs. Woodall said how blessed they have been to be welcomed and loved in Stryker as neither of them were Stryker natives.
She shared from Jeremiah 29 about how the Israelites found themselves as strangers in a foreign land. She said that they were instructed by God to pray for the peace of the city, build houses and plant their gardens and harvest.
When they moved to Stryker, they were often asked how long they thought they would be in town and she had responded as long as the Lord had them stay.
Here they are all these years later, glad to be able to say Stryker is their home, and the place that their children come home to visit. "It has been a pleasure to have you all as our neighbors and friends and your children as my buddies."
"Thank you for letting us make Stryker our home. It has been a good leading of the Lord. You all are our benefits." She also joked about the mayor driving them safely in the parade.
In regular business, council voted to approve the minutes of August 16, 2021 and the Finance Report as of September 17, 2021. Mayor Beck reminded everyone that Trick or Treat is scheduled for October 30 from 5:30 – 7:30 and that Hydrant Flushing was taking place over the next few days.
A Finance Committee meeting was held just prior to the meeting and the report on that will be given at the next regular meeting.
They also scheduled another Finance committee meeting to be held on October 18 before the regular meeting. Council voted to suspend the three reading rule and pass Ordinance 2021-03 An ordinance to make appropriations for current expenses and other expenditures of the Village of Stryker, during the fiscal year ending December 31, 2021", which revised the permanent annual appropriation ordinance to make some corrections. Fiscal officer Beth Rediger went over the specifics of the ordinance.
Chief Schlosser reported that since the August meeting, there were seventy six total reports, seventeen traffic warnings, no traffic citations and one adult arrest.
Riegsecker reported that the funding application has been sent for funds to help with Johnson Avenue Waterline; two employees are getting their Mosquito Spraying licenses and Leaf Pick up will start in mid October.
Council member Sam Farmer informed council that there was a meeting already held to discuss and start planning Stryker Fest 2022 and they had a lot of good ideas.
Council member Vicki Cameron said that the old house on Maple St. has been torn down as well as an old tree has been removed. Mayor Beck said they will be talking about Christmas lights and the decor contest at the next meeting as well as prep for the winter.
It was also pointed out that all of the council members who needed to get their petition paperwork in to be on the ballot in November, forgot to do so, so there will be four seats open for appointment.
All four members whose seats were up for election, Vicki Cameron, Sam Farmer, Lee Armstrong and Dave Benner said they do want to keep their seats on Council, but it was made clear by Mayor Beck that anyone in the village who would like to put their name forward to have a seat on council, are welcome to do so.
They will be conversing with Village solicitor Katie Rakes to determine how that will be done. Anyone interested can put in a letter for themselves.  More information will come for that later as well.
With no further business, the meeting adjourned.
Rebecca can be reached at publisher@thevillagereporter.com
---