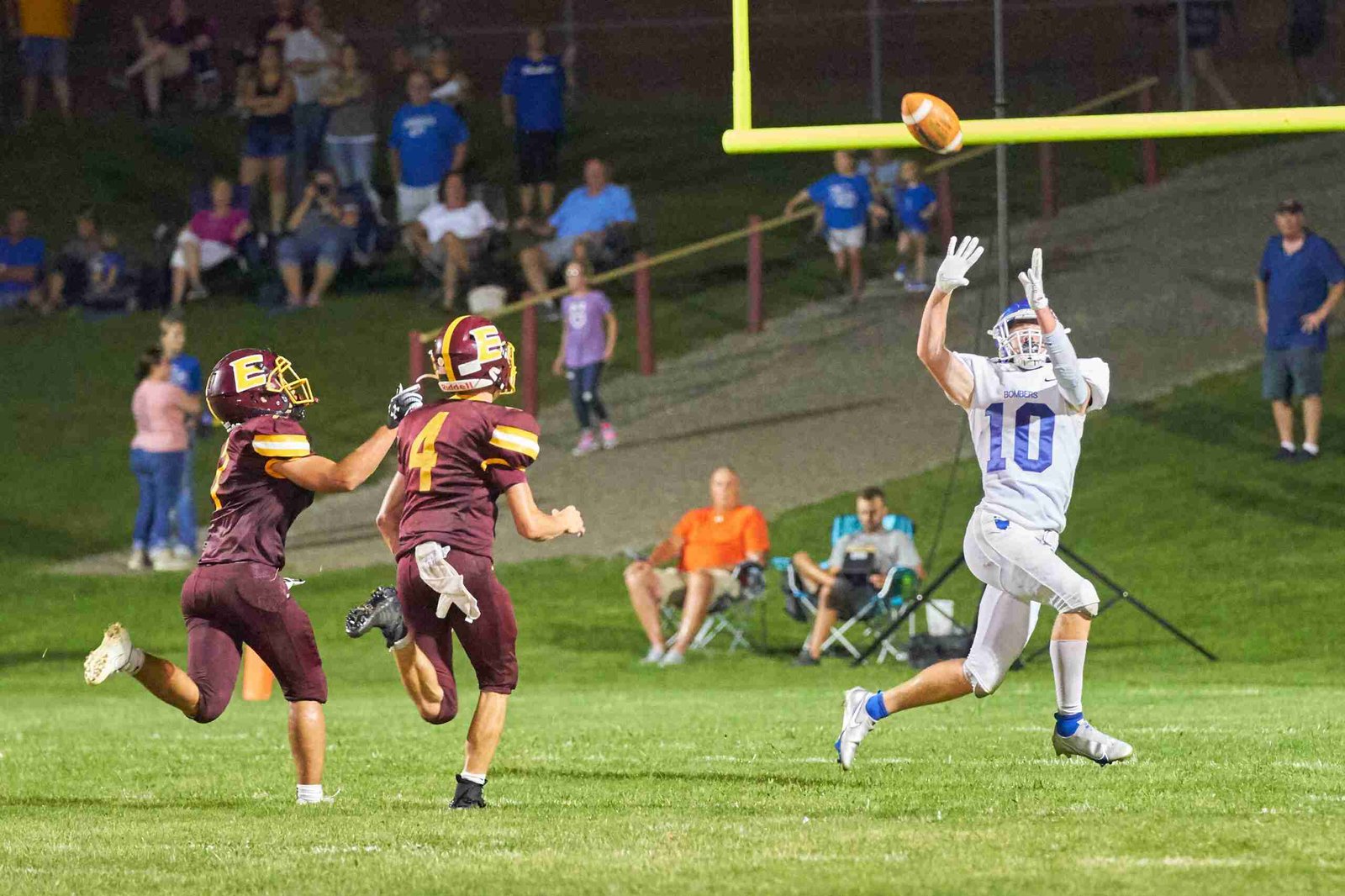 TOUCHDOWN CATCH … Edon receiver Caden Nester gets behind the Bulldog defense to snag a scoring strike from Drew Gallehue in the third quarter. (PHOTOS BY RICH HARDING, STAFF)
---
By: Nate Calvin
EDGERTON – The Bombers expect their offense to get the headlines this season, but it was the defense that scored the first points of the season.
Defensive back Ethan Steinke intercepted a pass by Edgerton quarterback Corey Everetts and took it back 42 yards for the first Edon score of the night as they went on to a 49-22 win at Stauffer Field. The win by Edon snaps a six-game losing streak to the Bulldogs.
Edon struck again on their next possession, after a 51-yard screen pass from Edon quarterback Drew Gallehue to Gannon Ripke, Gallehue went 24 yards to Henley Dye to make it 14-0.
Edgerton would turn the ball over on their next possession and that set up a six-play drive by the Bombers that ended with a Gallehue to Ripke six-yard touchdown pass to push the lead to 20-0.
The offense continued to roll as Gallehue connected with Caden Nester for a 59-yard scoring hookup and Gallehue connected again with Nester for a 26-yard score just before halftime as Edon put 34 points on the board in the first half.
The Bulldogs were able to find the end zone in the second quarter with Everetts tossing a pass down the middle to Carter Herman on a 26-yard touchdown play.
Edgerton would battle in the second half with their opening possession resulting in an Everetts to Kadyn Picillo 41-yard touchdown pass to trim the Edon lead to 34-14.
The Bombers responded though with a Gallehue to Steinke 22-yard screen pass for a score and following an Edgerton fumble, Gallehue capped off the ensuing drive with a four-yard touchdown run to extend the lead to 47-14.
Gallehue ended the night 22/35 for 414 yards with five touchdowns and Nester led the Bombers in receiving with 6 receptions for 151 yards and two scores. Edon (1-0) totaled 509 yards of offense on the night while holding Edgerton (0-1) to 230.
Everetts paced the Bulldogs offensively by going 7/15 thru the air for 146 yards and three touchdowns, Warren Nichols rushed for 59 yards on 15 carries, and Kadyn Picillo had two catches for 73 yards.
UP NEXT: Edon will host Antwerp next Friday in their home opener while Edgerton will travel to Hilltop.
SCORE BY QUARTERS
Edon         14    20   13    2    49
Edgerton   0     8       6    8    22
Nate can be reached at pubisher@thevillagereporter.com
---