---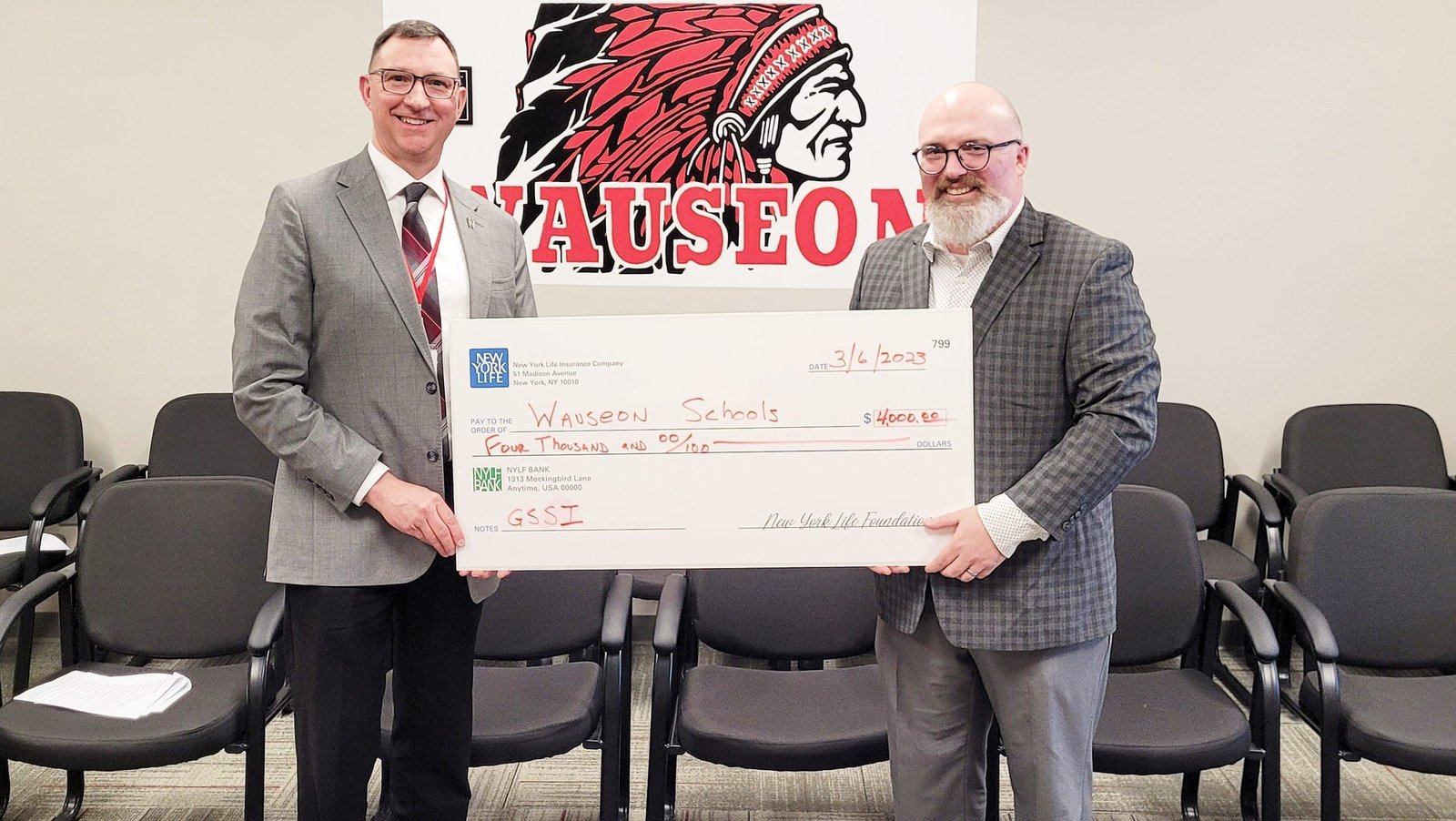 DONATION …  Superintendent Troy Armstrong receives a donation from Agua Fria Financial Group owner James Reeves. (PHOTO PROVIDED)
---
The Wauseon Board of Education held their meeting on Monday, March 6th. The meeting began at 5:30 p.m. with the Pledge of Allegiance.
First, board member Larry Fruth was recognized for his 20 years of service to the district and as a Four County Career Center board member.
The board then received an update from the Finance Committee before moving on to approve the minutes from the board's previously held meeting.
Public comment was then held before the board moved to approve the following items under the Treasurer's Consent Agenda.
The monthly bills and financial reports, the tax year 2022 amounts and rates as determined by the Fulton County Auditor, a then and now certificate and the following donations.
$4,000 from the New York Life Foundation via James Reeves, owner of Agua Fria Financial Group, for Grief Sensitive School Training; $250 from an anonymous donor to the Wauseon Elementary/Middle School Food Service Donation Key; $3,135.25 from Jasmine Torbet on behalf of Karson Torbet to support the Fine Arts Programs at WPS; $1,000.00 from an anonymous donor to the Wauseon Elementary School Food Pantry; $750.00 from Knights of Columbus to the Wauseon School Food Pantry / Food Service Donation Key; $200.00 from an anonymous donor to the Wauseon Primary School to cover student library fees.
Numerous personnel items were then approved before moving to approve the district vision statement.
"We are a community called to empower each student to discover and pursue a fulfilling future." The district mission statement, "We empower students with passionate instructors and staff, with diverse and innovative programs, in an engaging and supportive environment," and district values, "Relationships, Wellbeing of the Whole Child, Quality Experience, Integrity, Community, Ensuring Safety," were also approved.
The board next moved to declare an urgent necessity, waiving the competitive bidding, to approve the procurement of two 2023 Primetime SV Ram Promaster Nine Passenger Vans.
The following additional items were also approved. A motion to advertise and receive bids for the purchase of one of more 84 passenger school bus chassis and bodies.
A release agreement between the Northern Buckeye Health Plan, Northwest Division of OHI and the Wauseon Exempted Village School District.
A request for overnight trips for the Wauseon High School FFA. These trips will be to Hocking College in Nelsonville, Ohio for the State Wildlife Judging Contest, and to the Ohio Expo Center in Columbus, Ohio for the State FFA Convention.
Board members then entered into executive session to consider the employment of an employee.
With no action taken, the meeting was adjourned.
---