---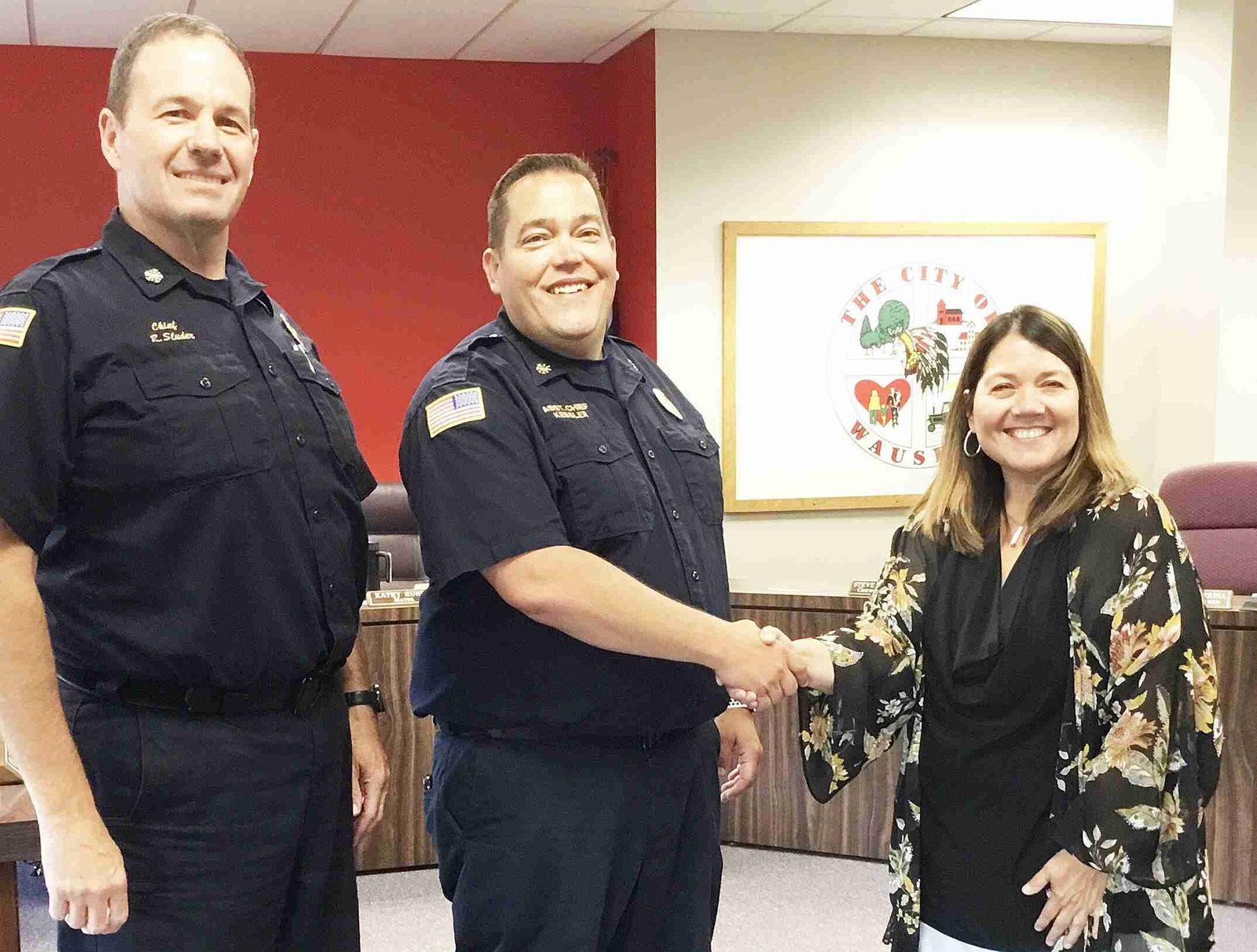 CHANGING OF THE GUARD … Wauseon Mayor Kathy Huner shook hands with incoming Fire Chief Phil Kessler and thanked resigning Fire Chief Rick Sluder for his service to the city, following the August 1, 2022 Wauseon City Council meeting. Sluder's resignation and Kessler's appointment were approved following an executive session. (PHOTO BY REBECCA MILLER, STAFF)
---
By: Rebecca Miller
Just before the end of the August 1, 2022 Wauseon City Council meeting, Council went into an executive session "to consider the appointment, employment, dismissal, discipline, promotion, demotion, or compensation of a public employee or official, moved by Councilor Brandon Tijerina and seconded by Council President Scott Stiriz.
Mayor Kathy Huner asked Fire Chief Rick Sluder, and Director of Law Tom McWatters to attend the executive session, with the possibility of action following.
When Council exited executive session at 5:40 p.m., they accepted a letter of resignation from Fire Chief Rick Sluder, effective September 11, 2022.
They also approved the mayor's appointment of Assistant Fire Chief Phil Kessler as Wauseon Fire Chief, effective September 12, 2022. The vote was unanimously in favor of both.
In regular business, Council voted to approve:
Prior meeting minutes and payment of bills
Resolution 2022-16: A resolution authorizing the Public Services Director to Advertise for bids for The Refuse Franchise; and declaring an emergency (6 yeas, 0 nays)
Resolution 2022-17: A resolution authorizing the Mayor to enter into a Sanitary Sewer Easement Agreement with McDonald's Real Estate Company and LP Properties 4124, LLC; and declaring an emergency (6/0)
Resolution 2022-18: A resolution adopting The City of Wauseon Local Government Manual (6/0)
Ordinance 4: An ordinance modifying the Rate Schedule for Sewer Rates for the City of Wauseon (5/1 with Council President Stiriz voting against)
Ordinance 5: An ordinance modifying the Rate Schedule for Water Rates for the City of Wauseon (5/1 with Stiriz against)
In his department head report, Fire Chief Sluder said that this year's Homecoming went well. Councilor Harold Stickley thanked the fire department for their service over Homecoming weekend, especially for the crossing gates and a great job.
Police Chief Kevin Chittenden reported that the police department did receive an increase in calls over the Homecoming weekend, but most of those were juvenile related with a few property damage reports.
Their first new Durango for the department is completed and the second car should be completed in September or October. Councilor Tijerina thanked Chittenden for the work the department did over Homecoming weekend.
Director of Public Service, Keith Torbet, said the water and sanitary sewer lines are done for the Brunnell St. project. The storm sewer line should be finished this week. Then they will test the water line, replace the subbase, and put in the curbs and sidewalks.
They continue to work with Haas Door to get parts for the water line that will be put in sometime next year for their new expansion.
Torbet told council that he has had a request for the Streets Committee to change the parking on Clover Lane, so he is working on a survey to send out to those who live on that street to find out what they would like to see for parking. He hopes to get the results back by the end of August.
Councilor Tijerina asked about the McDonald's rebuild and Torbet said that part of the easement was a resolution in this meeting and another part would come at a later date.
Tijerina also asked about an update on Biddle Park. Torbet said they will tiling the four north fields this fall and the south fields next year most likely.
In her report, Director of Finance Jamie Giguerre informed council that income tax revenue is up 14.65% from last year. She also let them know that the auditors have contacted her and are planning on starting their audit this month.
Director of Law, Tom McWatters, III, said he has been working along with Torbet on the McDonald's project and all is going well.
In new business, Mayor Huner said that she felt Homecoming went really well with at least 88 participants in the parade. "The Homecoming Committee did a great job," she said, adding "Kudos to the committee considering the lack of volunteers, for sticking it out."
The "Movie at the Park" presented by the Chamber of Commerce was a huge success with drive-in passes running out as they were given to each family, meaning there were over a hundred family units there that night. Tiny's donated ice cream and F&M donated popcorn, adding to a really fun night.
Following the fire department business and the approval to pay the bills, with no further business, the meeting adjourned at 5:45 p.m.
Rebecca can be reached at rebecca@thevillagereporter.com
---