---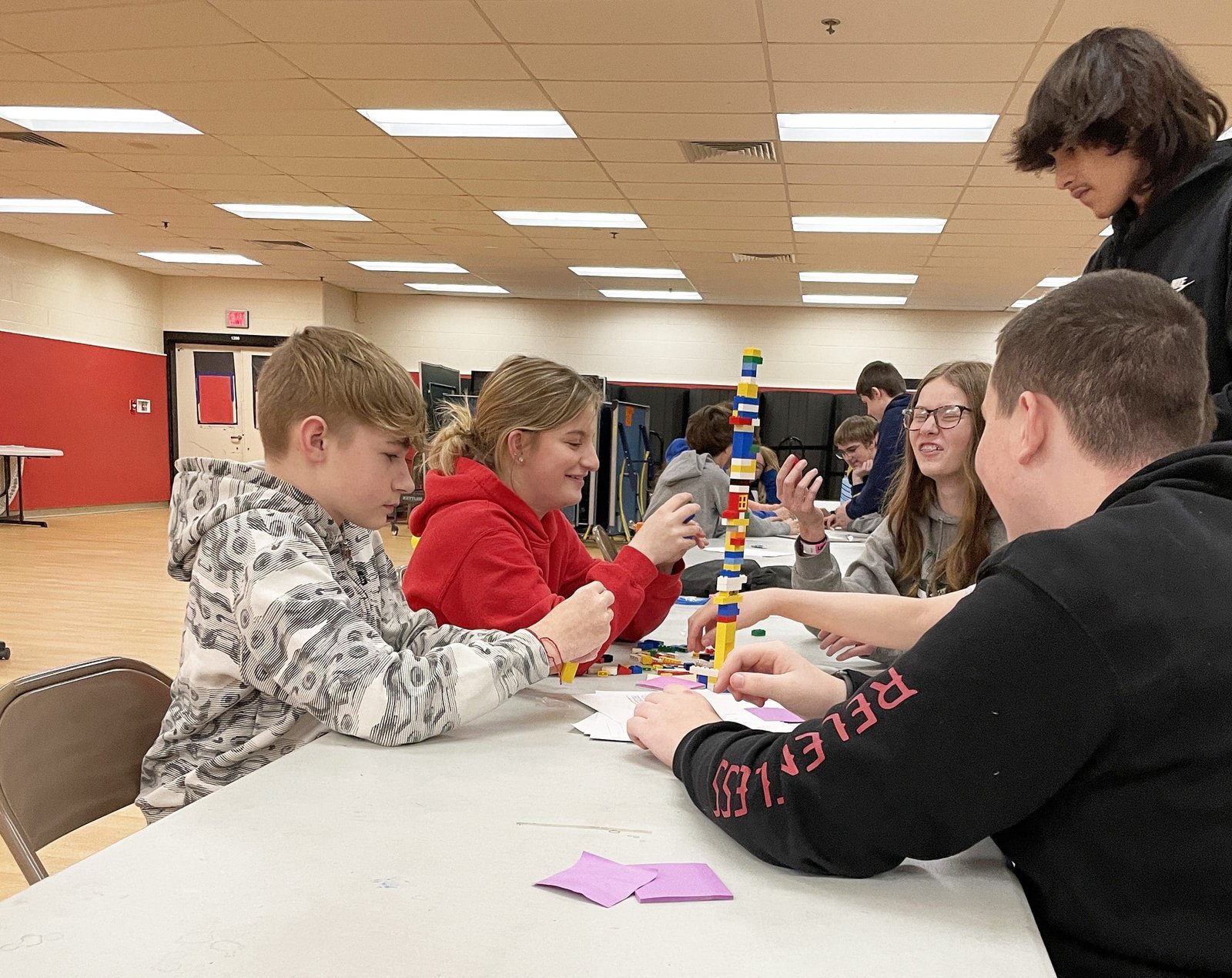 CELEBRATION … During Wauseon's FFA Week, Ohio FFA Treasurer, Katie Oestreich, presented to all of the Wauseon FFA's Members during their respective class session. This activity she led focused on listening and following directions. (PHOTO PROVIDED)
---
By: Addie Tester
Wauseon FFA Celebrated their own National FFA Week February 27 – March 3, 2023.  The Wauseon FFA Officer Team started planning the week of celebration at their summer officer retreat in June and then finished the final details at the Winter Meeting in December.
Each day had a themed dress-up day to showcase what the agriculture industry has to offer: America Monday – Show off your red, white and blue; Tractor Tuesday – wear your favorite equipment shirt; Hat Day Wednesday; FFA Shirt Day Thursday; and rounding out the week with Flannel or Fisherman Friday.
The entire Wauseon High School student body and staff was invited to participate in the dress up days.
Along with dress-up days, for each day of the week, the officer team planned an activity to go along with each day.
On Monday, Ohio State FFA Treasurer, Katie Oestreich, visited WHS to work with Wauseon FFA Members during their agriculture education class period.
Miss Oestreich used topics such as communication, teamwork, dedication, and leadership to help Wauseon FFA Members make goals and become better leaders.
Tuesday was a CDE Roundtable that FFA Members and WHS Staff competed in. The Roundtable consisted of three smaller versions of the wildlife, food science, and general livestock contests.
Top placing WHS Staff were given an FFA Shirt to wear and top placing FFA Members were awarded FFA Points and large candy bars.
On Tuesday evening, the Wauseon FFA Officers ran one of their last meetings. On the agenda were nine new business items, electing Honorary Chapter Degree Winners and Voting on the new 2023-2024 team.
On Wednesday morning FFA Members met at school as early as 5 am to make a WHS staff and bus drivers appreciation breakfast for all that they do for WHS Members throughout the school year.
The cooking continued as the Officer Team made the annual appreciation lunch for our 150+ WHS FFA Members.
As FFA Week came to a close on Thursday and Friday, the Officer Team hosted a Kiss a Pig Fundraiser to raise funds for the WHS Hygiene Closet.
WHS students were encouraged to donate funds to their favorite teacher's "pig" change jar.
The teacher with the most funds will be kissing a pig on stage in front of the WHS student body at the May Talent Show.
The Wauseon FFA elected to match the funds that were raised. After those two days of fundraising, the Wauseon FFA will be able to spend nearly $100 to replenish the WHS Hygiene Closet.
In addition to those events, members of the officer team worked together to hide an FFA Emblem around the school each day.
During the daily announcements, the clue was read to the entire student body and then everyone in the building was invited to go on the scavenger hunt during class period change to find the small hidden emblem.
Each day, the winner that found the FFA Emblem won a goodie bag and bragging rights for the day!
This week of celebrating would not have been possible if it would have not been for the members of the Wauseon FFA Officer Team: Garrett Leininger – President, Aiden Goings – Vice President, Zorah Siefker – Secretary, Ali Moser – Treasurer, Addie Tester – Reporter, Zeph Siefker – Sentinel, Hannah Pilch – Student Advisor, and Logan Poorman and Madisyn Ledyard – Assistant Officers.
The Wauseon FFA Works to provide quality activities so FFA Members can grow in developing premier leadership, personal growth, and career success.
---