---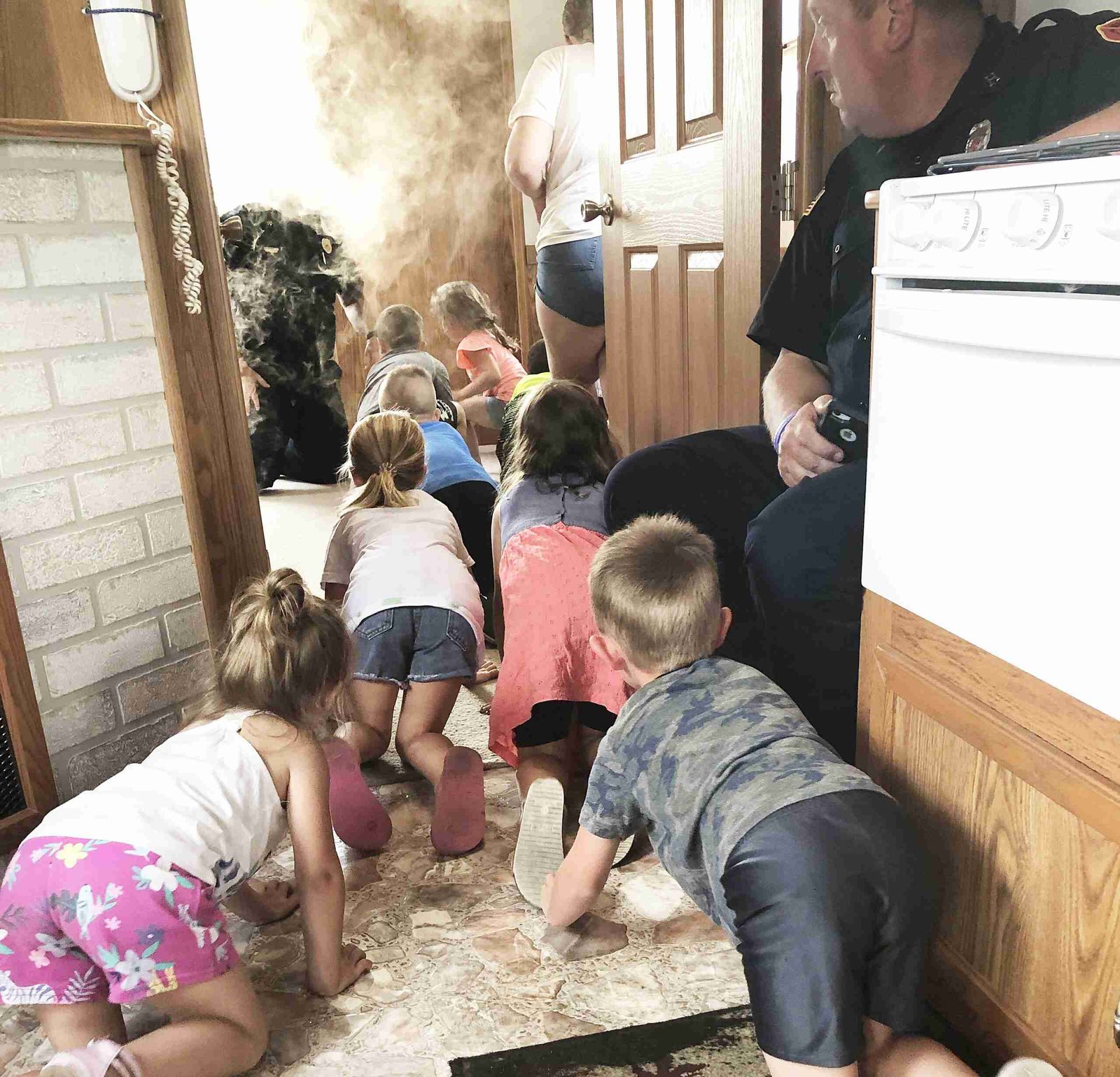 FIRE SAFETY … Students learn how to react if caught in a house fire while visiting the mock smoke trailer. (PHOTO PROVIDED)
---
By: Lindsay Phillips
For forty-four years, the Safety City Program has been teaching pre-kindergarteners the importance of safety in the home, at school, and on the street.
This year, 2022, the program was held at the Wauseon Primary School. For many years the program was run by Karen Vollmer, but due to unforeseen events, program teacher Kristin Carrisalez took over administration.
Carrisalez had previously taught the program for eight years before taking over. With the help of a few middle school hired helpers, and new teacher Mary Denn, the program is running smooth.
Mrs. Carrisalez shared, "I have been very fortunate to serve my community through safety city. It has been such an honor to acclimate Kindergarten aged students into the primary school.
Kindergarten can be scary, and this program gives them peace of mind at home, in the community, and at the school. They feel more confident coming to a familiar place, and I love to watch their growth."
To be included in the program, parents contacted Mrs. Carrisalez to sign up, fill out forms and pay a twenty-five-dollar fee. With a limited class size, there are fifty students, with about twelve per class.
The first class began June 6 and ends on June 17. The second round of classes will begin on June 20 and will conclude the entire program on July 1.
Throughout the program, students learn safety about water/swimming, guns, bikes, fire, animals, germs and health, car buckle ups, buss', stranger danger, playground safety and much more.
Students also learn how to call 911 and learn their addresses and important phone numbers along with names for in case of emergency.
The class holds outside activities that include hot wheels, power wheels, crossing guards and pedestrians.
Carrisalez added, "The primary school has a road and small community painted on their playground that we use every year. All the kids get to do each activity and they enjoy them!"
Students also get to experience visits from the Fulton County Sheriff, Wauseon Police Department, Fulton County Humane Society, Ohio operation life saver and Wauseon School Transportation.
The Wauseon Police Department including Chief Kevin Chittenden and Jan Tropf are a major part of the Safety City committee.
Another visitor that comes to the students, is the Wauseon Fire Department. The fire chief provides a mock smoke trailer, and an ambulance.
Students are shown around one of their fire engines, and get to learn about how they work and help in an emergency.
Carrisalez stated, "The staff is very supportive, and we are very grateful for their time and resources."
Lindsay can be reached at publisher@thevillagereporter.com
---