TIME TO STRIKE … Newsies decide to strike and sing the song 'The World Will Know.' (PHOTOS BY JACOB KESSLER, STAFF)
---
By: Jacob Kessler
The Wauseon High School Theater Department presented the Disney Broadway Musical Newsies this past weekend. Showings took place on Friday, April 22nd and Saturday, April 23rd at 7:00 p.m. A showing was also held on Sunday, April 24th at 2:00 p.m. The musical was presented in the school auditorium.
Newsies The Musical is based off of the 1992 musical film by Disney called Newsies. Both are loosely inspired by the events that took place during the newsboys strike in 1899.
The strike itself was led by the youth newspaper boys and girls who wanted to force a change in the way Joseph Pulitzer and William Hearst's newspapers compensated their workforce.
In the musical, the newsies pay $0.50 for 100 papers which is then raised to $0.60. With papers being sold for a penny a piece, newsies were making around half a penny per paper before the price hike.
Jack Kelly, played by Tucker McKean, is the leader of the local newsies for 'The New York World.' Jack convinces his fellow newsies to form a union and go on strike with the help of newcomer newsie Davey Jacobs, played by Carson Wenger.
Together, the two plan the union and what to do next. A reporter, Katherine Plumber played by Ann Spieles, also gets involved from another paper called the New York Sun which puts the strike on the front page.
At the end of the musical, Governor Theodore Roosevelt comes and gives Pulitzer an ultimatum. With the ultimatum given, Pulitzer and Jack agree for the paper to buy back any papers that the newsies do not sell.
The school musical was great with good singing, choreography and set designs. The story selection and adaptation were also superbly done by students.
In the electronic program for audience members, thanks was given to the students, teachers, the board of education, parents and the Bowling Green High School for the use of their printing press used in their musical of The Newsies.
Jacob can be reached at jacob@thevillagereporter.com
---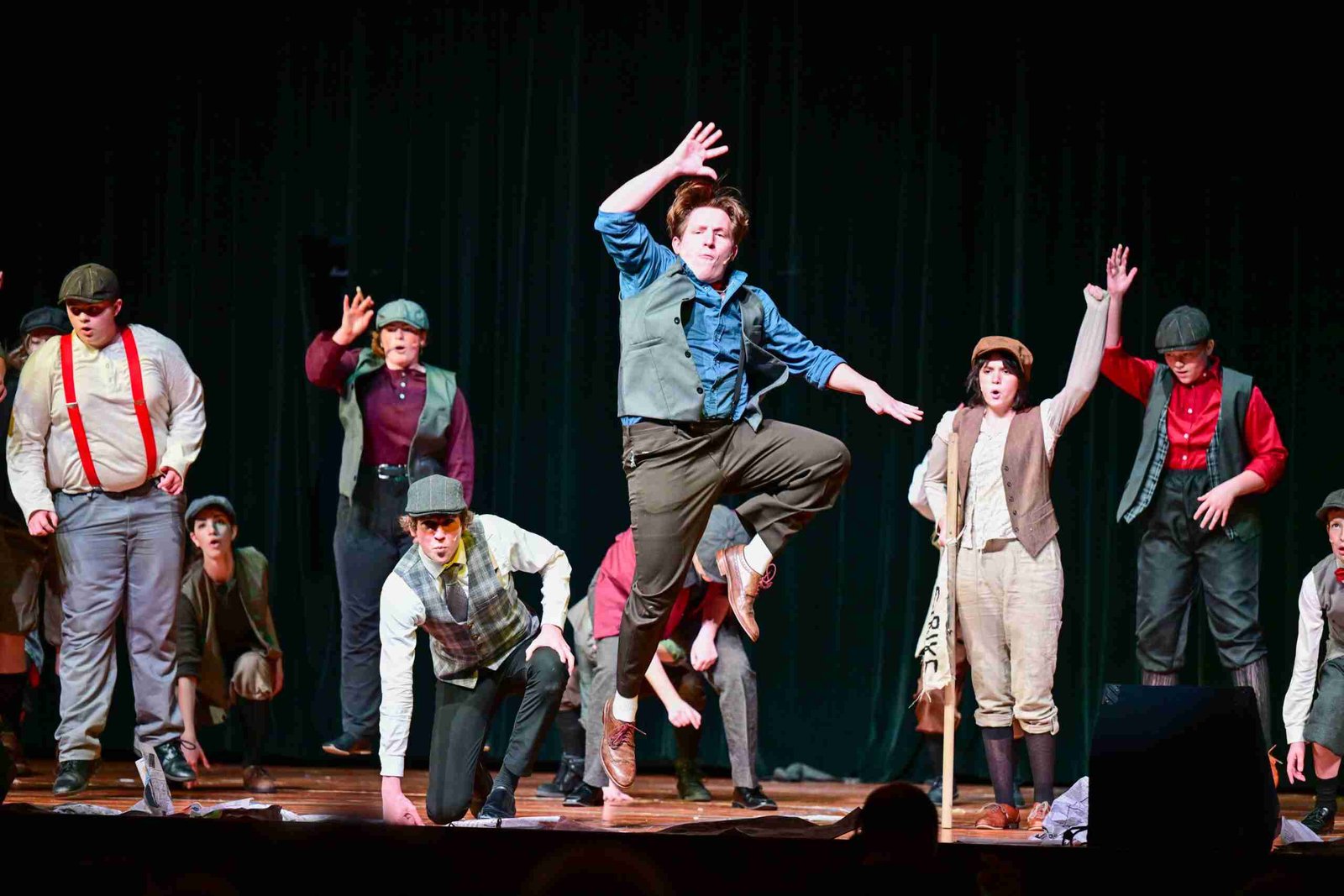 SEIZE THE DAY … Newsies sing the song 'Seize the Day' after convincing other newsies to join their cause.
REFUGE … Jack played by Tucker McKean and Medda played by Adriana Garcia stand inside her theater after Jack and others took refuge from the corrupt warden of the refuge.
FORM A UNION … The newsies discuss setting up a union to strike because of the increases paper prices.
NEWS OF THE DAY … Newsies wait to see what the days headline will be for the newspapers they will be selling.
CARRY THE BANNER … Cast members playing as newsies sing a song from the Broadway Musical called "Carry The Banner".
START OF THE DAY … Jack Kelly, played by Tucker McKean and Crutchie, played by Ember Pahl wake up to start another day of being newsies.
---