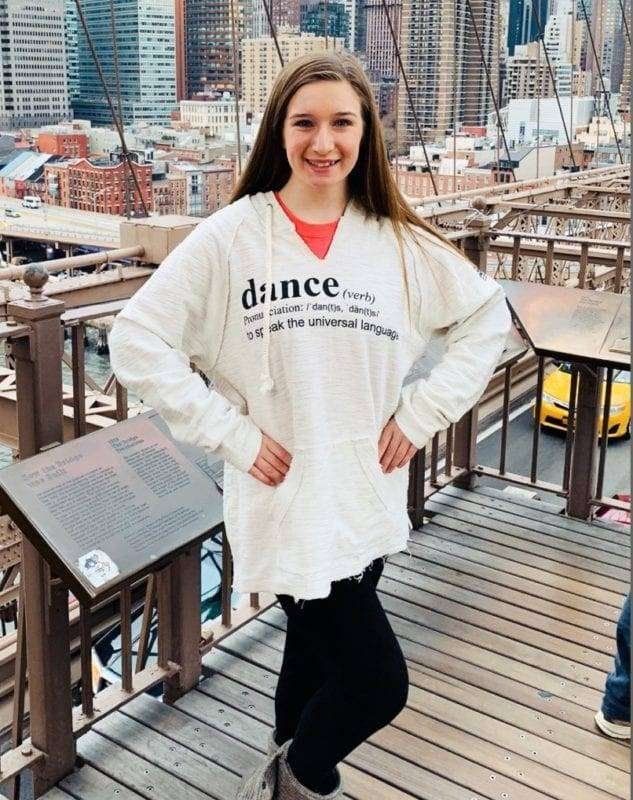 By: Rebecca Miller
There are numerous opportunities in today's world to step out of the norm and to experience thrilling advancement in the skill areas of one's choice. Wauseon high school Junior, Olivia Clark, has learned from her parents to give it a try when the occasion comes to make her circle of performance options even bigger.
Olivia is a well rounded performer, playing percussion (snare in the drum line) in Wauseon High School Marching Band and French Horn in Concert Band. She also tried her hand at Color Guard but, after one year, decided that wasn't for her. Last year she enjoyed performing in the musical, Footloose, in the school's production. Her life, especially in the Fall, is "all music, all the time!"
Born in 2003 in Columbus, Olivia spent her growing up years in Cleveland, Columbus and just before Wauseon, in Paulding. She started playing French Horn in the fifth grade. Her brother, 12 year old Jackson, actually played percussion before she did and she took an interest in it. Now they both share their love for it. At this point in her life, the marching band and dance schedules fill up most of her time and she is heading off for a week of band camp at BGSU soon.
Other opportunities of which Miss Clark has taken advantage include: performing in Nutcracker with Ballet Theatre of Toledo in 2018; performing on the Disney World stage in 2017, being chosen as 2019 Wauseon Homecoming Queen (she is using her prize money towards her parade costs); and presently she is an ambassador for Dance Hope Cure, which uses the art of dance to raise childhood cancer awareness.
Olivia, who has been dancing for fourteen years, joined up with Dance Expressions in Maumee when her family moved to Wauseon in 2015. Her father, Don Clark, was the reason they moved from Paulding, as he was hired to be the WHS Band Director. Her mother, Jamie Clark, held the role of Color Guard Instructor at WHS for two seasons and then was hired by Bowling Green State University to fill the same position. As a few of Mrs. Clark's students had participated in the Macy's Day Parade in New York City, in the Color Guard, she suggested to Olivia that she should apply to perform also.
Mr. Clark's parents live about an hour and a half away from NYC, in Pennsylvania, so it has been a great opening to combine family time with the parade. The family has all gone to see it for the past five Thanksgivings. They love being there in person and last year when Olivia performed with the dancers, who are part of the Macy's Great American Marching Band (MGAMB), it was even more special. She was one of the seven dancers who were chosen from the 100 who applied, so she is very proud to be able to do this.
She is so looking forward to her second appearance as a dancer. The students who have been chosen for MGAMB are given room assignments in a hotel in New Jersey. They arrive the Saturday before Thanksgiving Day and leave the the day after. "Last year it was freezing during the parade," Olivia remembered, "it was 9 degrees! They let us wear our warmups so that we wouldn't freeze but it was still really cold, especially for the two hours we had to stand around until it was our turn to step out."
When asked what it is that the dancers do in the parade, Olivia shared, "The drum line does their thing and we march. They played Respect by Aretha Franklin last year and we danced during that. The marching beat which they play is called the Macy's Great American Street Beat, then they tapped on the side of the drums four times and went into Respect again. The parade route is two and half miles and they only played Respect Twice. Mostly they kept doing the cadence over and over. It was cold and tiring but really fun! Actually, last year I was so high on adrenaline that I really don't remember much of it," she said with a smile. "I met a lot of great people and I am excited to see the friends I made last year."
Besides the incredible experience of preparing for and marching in the Macy's Day Parade, the students got to see the Broadway musical, WICKED! And go site seeing in the city, in groups of four or more. "I love Times Square!" Olivia said. "We walked around and were all touristy. We got to tour Radio City Music Hall and even meet a Rockette."
Last year, she and her family stayed another four days after Thanksgiving so that she could check into American Musical and Drama Academy, a college she is considering. She also got to take several dance classes at Broadway Dance Center and plans to go back this winter and next summer for a dance intensive. Olivia plans to major in Early Childhood Education as well, while she is in college and hopes to teach at a dance studio when she graduates.
Being a part of the Macy's Thanksgiving Day Parade, such an iconic American event, is something which Olivia highly recommends to other students. She is the only one from Wauseon even though she has encouraged other band members to apply and she is hoping that others will take advantage of such a great opportunity. If interested in applying for next year, go online to mgamb-Music Festivals. You just apply, pay the fee, and submit an audition video that you post on YouTube. There are requirements and then they review and let you know if you have been accepted," Olivia shared. She highly recommends it for dancers, color guard and marching band or concert band members.
Presently Olivia is actively involved in fund raising for her trip to New York City. Last year she had a GoFundMe account which worked really well, so is planning to do that again and plans to speak with local banks about putting donation boxes at their locations. Another idea is to write letters to area companies to see it they will sponsor her.
If someone would like to help out with her endeavors and sponsor her to go to NYC this November you can email the family at colorguardadvisor@yahoo.com to get details. Another option is to "drop off your generous donation at the High School with a note saying "attention Don Clark/ sponsor Olivia".
Rebecca can be reached at publisher@thevillagereporter.com
---