---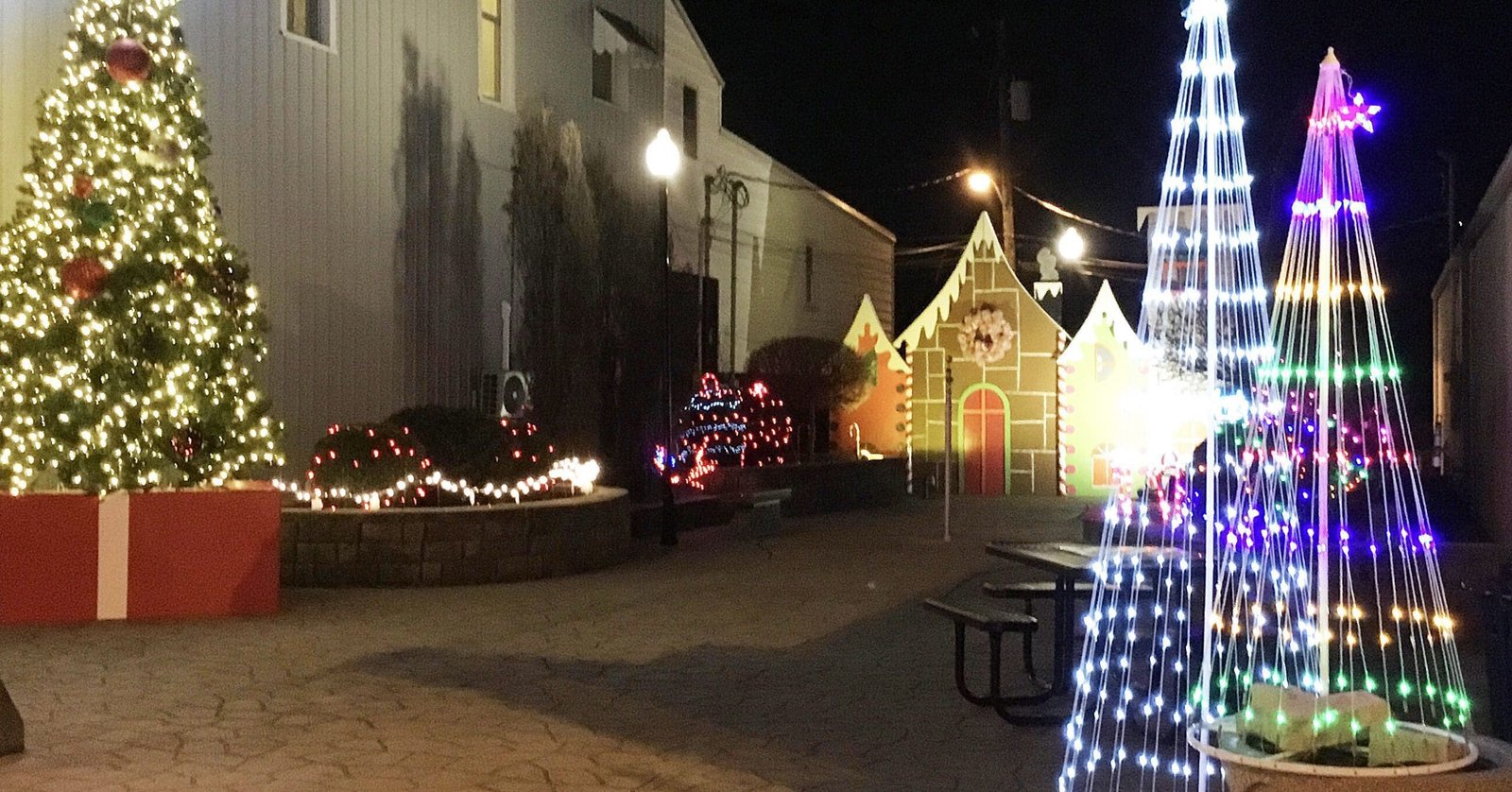 ALL LIT UP … The downtown lights in West Unity are delightful as always, with this little alcove being a welcoming spot to step out of the wind while doing some shopping in any of the Holly Jolly Christmas Shops. Mayor Don Leu mentioned how pleased they are with the lights that are put up each year, but that they are looking forward to new ones on the street poles next year. (PHOTO BY REBECCA MILLER, STAFF)
---
By: Rebecca Miller
The West Unity Village Council met on December 8, 2022 for their regular monthly meeting.
They voted to approve the regular minutes from November 14, 2022 and special meeting minutes of December 1, 2022 before moving into a list  of legislative items.
The following items were all approved, after discussion:
Resolution 11-2022-26 – Establishing the holiday hours pay-out and vacation hours pay-out of certain officers and employees of the Village of West Unity, Ohio for the calendar year 2022 (suspended rules and passed).
Resolution 27 – Establishing the rates within the specified ranges of pay of certain officers and employees of the Village of West Unity for the calendar year 2022 (suspended and passed).
Resolution 28 – Authorizing Village Administrator Josh Fritsch, of the village of West Unity, Ohio to participate in the State of Ohio Cooperative Purchasing Program (First Reading).
Resolution 29 – Expressing intent to sell personal property by internet auction pursuant to Ohio Revised code section 721.15(D) (First Reading).
Ordinance 2022-12 –  Establishing Manufactured/Mobile Home parks "MH" as a residential zoning district; amending ordinance 1137.01(b) to include and "MH" district; and adding a new chapter to the village's zoning ordinance for the regulation of such districts. First Reading.
A long discussion was held before approval of Ordinance 2022-12 was given with councilor Steve Marvin stating that he did not want to leave the number 4 in the wording of the acreage required.
He felt it should be at least 10 acres. After the discussion, all members voiced they were fine with 5 or 10, but not 4 acres as a minimum size for a plot of land to develop a Mobile Home Park.
They agreed to have the wording changed to 10 acres.
In his report, Village Administrator Josh Fritsch shared the following – the military banners are all down and Christmas Decorations are up.
Family dollar purchased the property from Kee Mansfield on November 23, 2022 and Dalo started working on the property on December 2.
Curbside leaf pickup finished on December 5th; new employees Dan Short, Don Brown and Glen Wright have all started their jobs in village maintenance.
Fritsch spoke with Dennis Miller of Maumee Valley Planning Organization about applying for CDBG for the new water line project and Miller said he will look into it.
Jim Eisel's retirement party open house is scheduled from noon to 2 on December 16 at Kissell Building.
Lingvai is starting on Church St. and will return in the spring to seed and do driveways.
Fritsch also said he had attended a meeting with NORTA (Northwest Ohio Rails to Trails) and Montpelier representatives.
They are putting out feelers to see if other villages are willing to donate any money toward an engineering project that would get the trail paved.
Council did not show any interest presently and Fritsch said they should just let him know.
Police Chief JR Jones reported that for the month of November the village PD had 19 agency assists, 36 investigations, 23 miscellaneous calls, 10 traffic warnings, 1 traffic citation and 0 accidents.
He shared that they will be getting two portable speed signs and will use them to determine where speed problems are most often.
Cops and Kids is an event in which West Unity is very active and he commended the town businesses for their donations that completely cover the West Unity children whom they take shopping.
Before completing his report, Jones asked council if it would be ok for the police who want to keep the beards they grew in November, to keep them throughout the winter as they are helpful in keeping warm.
He stated they would keep them well trimmed and that there is no equipment they need to wear that would be hindered by a beard. Council approved his request.
Village Clerk Sarah Higdon presented the 2023 budget to council, explaining a few specific items and asking council to approve it.
She also asked them if they want to waive their personal meeting with the auditor or go ahead and meet with them.
Council approved a motion to waive their visit with the auditor, and thanked Higdon for her explanations.
Higdon said she will get the form ready for all council members to sign stating that they have waived their visit.
A business in town had a mix up with tax paperwork and had gotten a letter from RITA, the company that collects taxes for the village, stating that they have a penalty of $805.
Higdon said that this business has never been late and has always been easy to work with, so asked if the council was willing to forgive the penalty. Council all agreed to waive the fee.
Council had an executive session at the end of the meeting so left Ordinance 2022-6, the approval of the annual appropriations or 2023 budget, for after that.
In her last report as the Village Solicitor, Katie Rakes informed council that she is still working on the handbook and it will be a really good update.
Sewer and water ordinance numbers will also be done by the end of the month, and the property near the railroad will soon be totally clarified, with the village as the owner.
The auditor will have them amend the tax parcel stating that the village is the owner. She told council that she has "so enjoyed being their solicitor."
Mayor Don Leu received approval from council of the $50 Chamber Bucks to give employees for Christmas.
He commented on the downtown Christmas lights and said how nice it looks.
Council then went into executive session at 8:35 "to consider the appointment employment, dismissal, discipline, promotion, demotion or compensation of a public employee or official, or the investigation of charges or complaints against a public employee, official, licensee, or regulated individual, unless the employee, official, licensee, or regulated individual requests a public hearing by division (G) (1) of section 121.22 of the Revised Code; AND to consider the purchase of property (both real and personal, tangible or intangible), or to consider the sale of property (either real or personal) by competitive bid if disclosure of the information would give a competitive advantage to the other side by division (G) (2) of section 121.22 of the revised code."
Coming out of executive at 9:20, council voted to approve the 2023 budget, Ordinance 2022-14 to adjust pay, Ordinance 30 which is pay for the calendar year, Ordinance 13 amending pay rates for certain employees, and give Aubrey Jennings, Deputy Clerk, an extra week of vacation.
Council members wrapped up the meeting with thanks to the employees and wishes for a Merry Christmas.
The meeting adjourned at 9:54.
Rebecca may be reached at rebecca@thevillagereporter.com
---