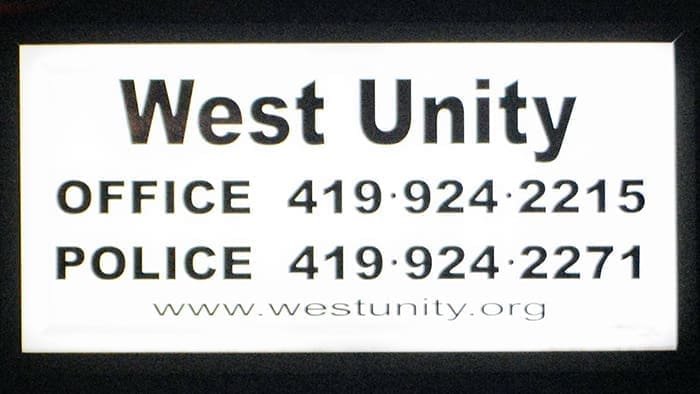 ---
By: Anna Wozniak
THE VILLAGE REPORTER
The West Unity Village Council met on Thursday September 14, 2023 at 7:30 p.m.  Starting off with the pledge and a prayer, Councilors Kevin Gray, Terri Lebowsky, Nathan Massie, Stephen Marvin, and David Short answered roll call.
Mayor Don Leu was presiding, and beside him was Fiscal Officer Sarah Higdon. The bills and the minutes of the August 10, 2023 meeting were approved as presented, as was an ordinance approving the use of "under-speed, low-speed, utility, and mini-truck vehicles on roadways within Village limits."
Discussion was then held on whether or not council should readdress their current policy on how it relates to intoxicated employees.
It was decided that further discussion would have to be had with an attorney to decide what parameters would be best.
Police Chief JR Jones's report was approved as presented, a safety meeting was planned for Oct. 11th at 5 p.m., and Halloween Trick-or-Treating was determined to be 6-7:30 p.m. on Oct. 28th.
Administrator Joshua Fritsch shared that Jones and Henry have started engineering for the Jefferson, Jackson, and Church Street Waterline Project.
A motion was approved to promote Tim Allion off of probationary status starting Oct. 3rd.
It was then shared that large trash pickup will commence on Oct. 12 and 13 for the village's north side, and Oct. 19 and 20 for the south side.
Residents are able to start putting items out the weekend prior.
No items with wet paint, oil, building waste, freon, or radioactive materials are allowed, and residents are limited to 2 off-rim tires each.
A finance committee meeting was then planned for Oct. 11th after the safety meeting, and Higdon asked for permission to update the shelter houses and Kissell permits to define when the keys must be picked up, also mentioning a quick Wabash Trail survey that is being promoted.
The mayor shared that the Oak Street Tank will need to have everything replaced and is estimated to cost over a million dollars that is expected to come out of the water fund.
Anyone interested in putting up Christmas lights downtown is encouraged to fill out a form at the Village Administration building.
Wednesday Sept. 27th was scheduled for a 7 p.m. park committee meeting at the park, and a street committee meeting was scheduled for 6 p.m. on the 27th.
A tree committee meeting is scheduled for Oct. 12th, and the next regular council meeting is set to be held at 7:30 p.m. on Oct. 12th.
Councilor Marvin thanked Administrator Fritsch for following up on finding solutions for problems encountered by the village, and Councilor Short expressed concerns on the grooves in the concrete on US 127.
Councilor Massie brought up the permits that have been drawn up to limit the number of pets village residents have, and Chief Jones brought up that they will be looking into resuming working with the humane society on a TNR (trap and release) program to address the growing numbers of stray cats in certain areas.
The meeting was then adjourned, set to meet next on Oct. 12th at 7:30 p.m.
Anna can be reached at anna@thevillagereporter.com
---