Congratulations to the 2013 Williams County "Buckle Up Bowl" winners! Edgerton High School won the "Highest Seatbelt Usage" award with a final seat belt usage rate of 83.6 percent and Hilltop High School won the "Most Improved" award with a beginning rate of 68.6 percent and ending rate of 80.2 percent. Williams County Safe Communities would like to thank all seven high schools for their participation in the 2013 Buckle Up Bowl competition.
Overall the Buckle Up Bowl seat belt usage percentage for all seven schools combined increased from 75.5% to 78.4 % comparing the pre and post surveys which is a 4.4 % increase change. In Williams County the seat belt usage rate for all vehicle operators is 87.7% which is above the national and state rate. There is still much more to do to keep our roadways safer especially for young adults.
[emember_protected custom_msg="Full content protected for online subscribers. Purchase a one week subscription from the top menu bar for just $1.99 to read all online content (full access). Longer subscription plans are also available. Subscriptions cover our costs to attend local events; bringing forth Hometown News Coverage to our communities."]
Wearing a seat belt is the single most effective way to reduce fatalities in motor vehicle crashes. The Buckle Up Bowl 2013 with all seven schools in Williams County participating began in February. Through the leadership of each school's student advisor, the student groups worked to promote seat belt use in each of their schools during the Buckle Up Bowl contest. Poster making, raffles, seat belt trivia contests, seat belt checks, public announcements and utilizing educational materials were some ways that seat belt use was promoted. The goal of the Buckle Up Bowl is to increase seat belt use among high school students. The Buckle Up Bowl provides positive reinforcement through offering prizes and awards for improvements in the consistent use of seat belts. Area businesses donate gift certificates, coupons and other items to be used as prizes for each school.
A pre-contest observational survey of seat belt was conducted at beginning of February by members of the Safe Communities Coalition. The Buckle Up Bowl promotion lasted from Feb 11 to May 10, 2013 with a post-contest observational survey of seat belt use by the coalition in May. The schools with the highest average seatbelt use and most improved seat belt use are presented with an award and recognized in the local newspapers. Funding for the Buckle Up Bowl program is made possible through the Safe Communities grant provided by the Department of Transportation and the National Highway Traffic Safety Administration. Teen drivers are at increased risk due to inexperience behind the wheel and risk taking behaviors
such as speeding and distracted driving. The goal of Safe Communities is to help save lives by promoting traffic safety throughout the lifespan. The Buckle Up Bowl has come to its 2013 conclusion but the importance of wearing seat belts continues. The Buckle Up Bowl seat belt use education awareness program is followed up with enforcement when our young drivers are out on the road. The message is Click It or Ticket. During the May 20–June 2, 2013 Click It or Ticket enforcement mobilization, law enforcement officers nationwide will aggressively enforce seat belt laws by conducting seat belt checkpoints and zero-tolerance seat belt enforcement activities. The goal is to save lives by getting everyone buckled up.
The Message is simple Click It or Ticket.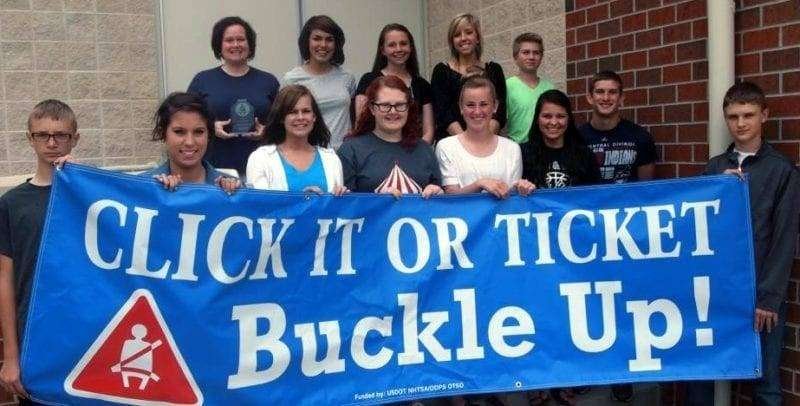 [/emember_protected]