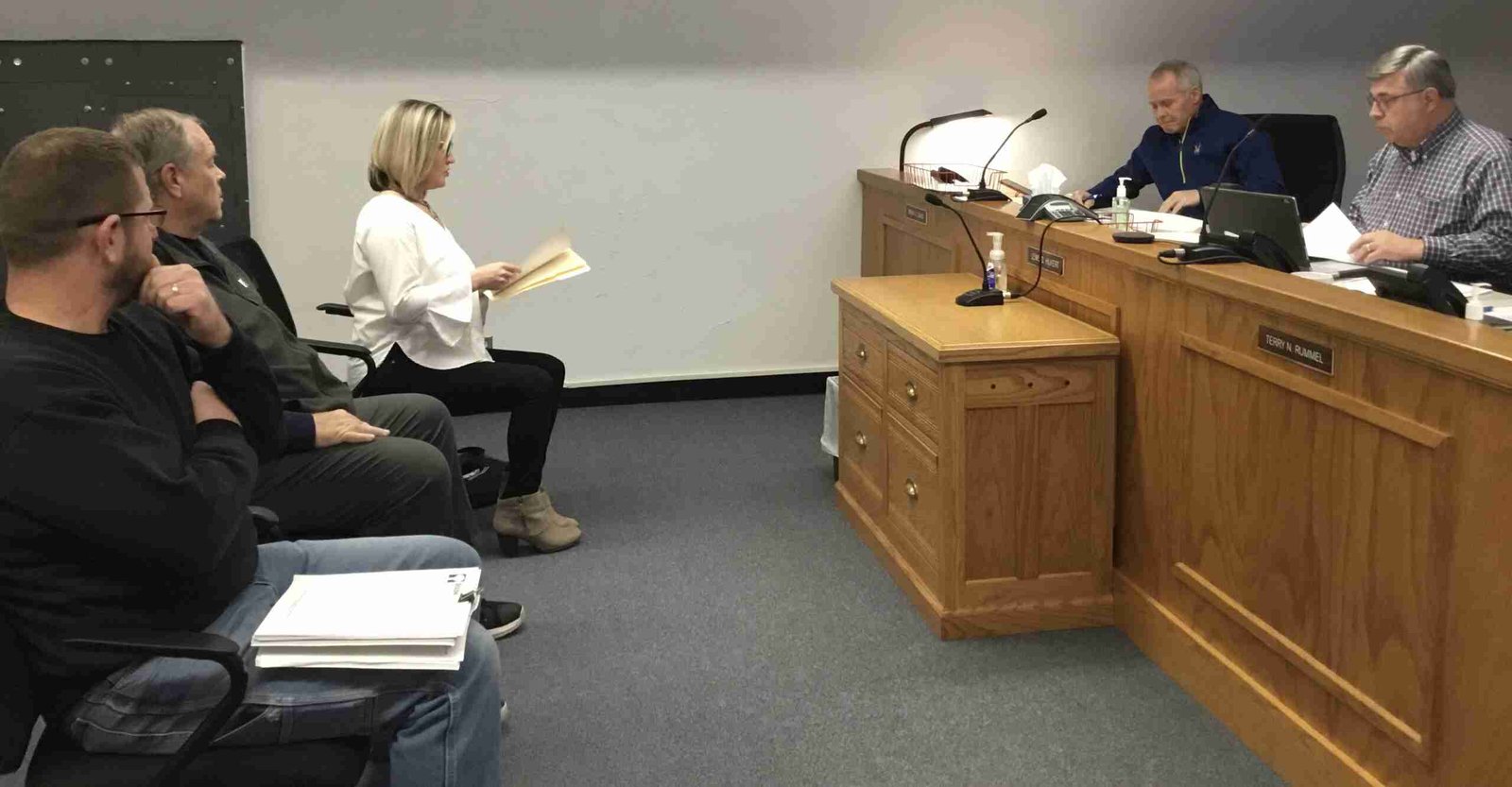 ARPA FUND REQUEST … Edgerton Village Administrator Dawn Fitzcharles, Mayor Bob Day and Public Works Superintendent Kip Pahl were present on Monday morning, February 14, 2022 to speak with Williams County Commissioners concerning their application for fund money for the town water towers. (PHOTO BY REBECCA MILLER, STAFF)
---
By: Rebecca Miller
Regular session of the Williams County Commissioners began a few minutes after 9 a.m. on Monday, February 14, 2020, with Commissioners Lew Hilkert and Brian Davis present. Approved were:
-Resolution 62 Agreement between the Port Authority and the WC Prosecutor for the purpose of authorizing the Prosecutor to provide legal services to the Port Authority
-Also Signed – Credit card appropriations on behalf of the Engineer and Prosecutor for the month of February; Courthouse Permit for the Farmer's Market for May through October of 22 on the north and west sides of the square, on Saturday and Thursday each week; and a disposal form for the Engineer's office.
-Minutes for February 10, 2022 meeting and payment of bills.
The meeting with Edgerton Village Administrator, Dawn Fitzcharles and Mayor Bob Day had been on the schedule for 9:30 but as all were present,
Hilkert asked if they could move straight into that portion of the day's business. All present, which included Edgerton Public Works Superintendent Kip Pahl, agreed to moving on so Fitzcharles began her presentation to the commissioners.
Edgerton had filed an application in January of 22 for ARPA money and this presentation was to explain their reasoning for the need.
Commissioner Davis stated that they had the 2022 Water Tower Revitalization Project, as well as the submittal, and the understanding that it would affect two towers in need of grant funding.
Fitzcharles said yes and that she had a few slides to help with information.
She thanked them for their time to allow her to share their request. In her information was some history on the population of the village, their median income, the specifics on the two tanks that need to be repaired, and an explanation of what is needed.
She clarified that they do not need to replace either of the towers but they both need some repairs according to the EPA required inspection at the end of 2020.
The village has been saving since 2015 for this potential need but the costs have almost doubled since then, causing them to start looking for some funding assistance.
Her report was efficient and detailed in every area, giving the commissioners everything they needed to know to consider whether to use some of the county ARPA funds to assist the village of Edgerton.
When Fitzcharles was finished with her presentation, she made a "formal request, asking the Commissioners consideration of $300,000 towards this project" which will cost 1.7 million, Davis stated that he had done some follow up research with Maumee Valley Planning.
He said that in regards to the Revolving Loan Fund, Edgerton is not eligible, so they have looked at the ARPA fund and for what it was intended to be used.
"It wasn't meant to be on a shopping spree. It was target and specific …and you have done a great job with that," he said.
He then recommended that the commissioners extend the offer of the $300,000, adding that they would have a Resolution ready on Thursday, February 17, 2022.
Commissioner Hilkert said that he is also in favor of the project because they have a deteriorating system that needs to be upgraded and that is the purpose for ARPA funding.
Fitzcharles, Mayor Day and Pahl all thanked the commissioners for their response, saying it was appreciated and all the crew who have to answer emergency calls will be grateful as well. The commissioners went into a recess at that point.
At 10 that morning, they reconvened to meet with Russ Davies for two purposes. The first was in his position as representative for Andres O'Neill Insurance., concerning CORSA. He was there to discuss insurance limits and excess/umbrella.
Davies said that all is well in almost every area that the company represents but "the one thing we are having a struggle with, and it's not unique to the county program, is the law enforcement liability of that excess umbrella."
He explained that Safety National, who covers the area of law enforcement, has come to them and said that they can only cover eight of the eleven million dollars.
They can't "do that final three in the law enforcement professional area. So they want to continue forward with the 11 million dollar umbrella on all of the other areas, but not with law enforcement.
So the question he was there to ask the commissioners was if they are comfortable with a total of 8 million on that, or do they want to try to find it elsewhere.
Commissioner Davis and Hilkert discussed a number of questions with him and then asked if he would find out if there is a cost reduction and what the other three counties at 11 million are doing, depending on which counties they are and their size. Davies agreed to come back with that information.
The other reason for Davies' visit was to give the commissioners a report on how the Christkindl Market went over the holidays. Davies represented the Bryan Area Foundation with this report and shared that it appeared to be as successful as they had hoped.
Despite the success, they were watching to see what needs to be changed or improved for the future.
He said that it had been a great partnership that pulled it off and communication amongst the organizations involved "went exceptionally well through the process."
He said that they met their goals, which were to present a High-Quality Experience, make Bryan a Destination, and leverage what is already there increasing traffic for retail and restaurants and marketability.
The "overall community support to come together to achieve something" was also wonderful. From the building of the market stalls to the musicians and other performers, it was a great community effort.
Davies said they learned a lot in the process, including:
-DORA was not as critical to the success as they thought it would be. They plan to build that over time, but realized it was not a game changer.
-They want to do better getting the word out on social media
-Closing Time should be changed to 8 p.m. instead of 9 as it was this time
-They hope to bring more (non-alcoholic) drink and food options out of the restaurants and onto the Square.
-They want to let more, who offered to help, get involved, such as the Rotary Club.
-They want to move the six chalets that were on the west sidewalk, onto the courthouse northwest corner near the bandstand to get people closer to the entertainment that was held there.
-They are planning to have two or three Peddler Carts built that will accent the chalets and can be moved around the area. They would be "vendor commitment friendly" so that vendors who would like to participate but cannot commit to all of the nights, could be a part of it.
He mentioned that they were happy that the booths did not kill the grass due to the airflow under them.
The commissioners and Davies held some discussion over the ideas and it was agreed that he will keep them posted "every step of the way" with any further possible developments. Also, the commissioners will need a point later in the year to approve any changes.
With no further business that morning, the commissioners adjourned at 10:33 a.m.
Rebecca can be reached at rebecca@thevillagereporter.com
---