---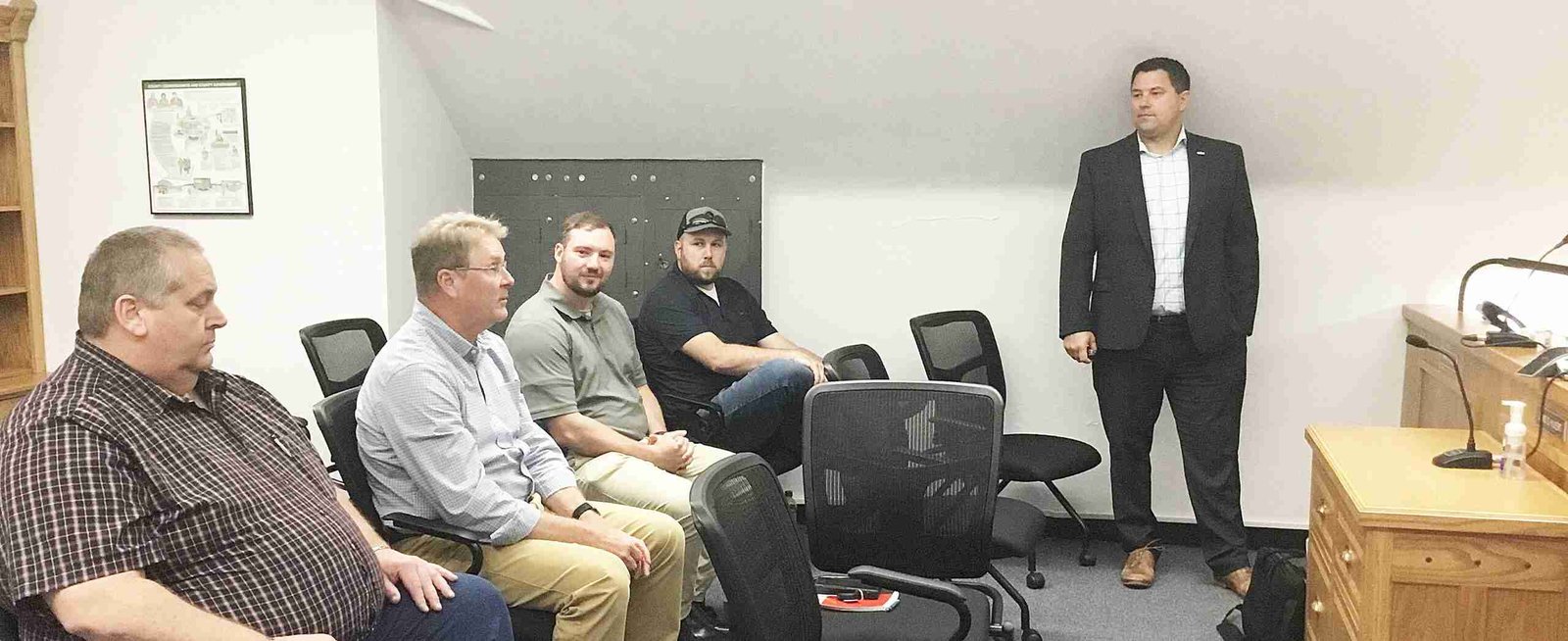 COMMISSIONERS MEET ODOT EMPLOYEES … Left to right, present to give an update on June 6, 2022 for the Williams County Commissioners were ODOT employees Doug Raby, Doug Crawford, Mark Bressler, Eliott Richardson and standing, Pat McColley. (PHOTO BY REBECCA MILLER, STAFF)
---
By: Rebecca Miller
WC Commissioners began their work week in a regular session, approving the following:
-Resolution 162 Supplemental appropriations on behalf of EMS and Sheriff's office
-Resolution163 Increasing Sanitary Sewer Rates (with discussion – changing from $45 to $50 per month starting January 1, 2022)
-Also signed – Travel Expense Reimbursement Application from County Auditor; Credit Card Expenditure Report for June 2022 for Prosecutor's office; Certificate of Exemption regarding sale of a motor vehicle, off highway motorcycle or all purpose vehicle for Engineer's new truck; Treasurer's Financial Statement to County Commissioners; Review Auditor's 2022 Tax Rate Hearings proposed resolution
-Minutes for June 2, 2022 and payment of bills
Following a short recess, the commissioners reconvened to meet with the Dog Warden and the new Executive Director of the WC Humane Society, Tamara Hantz.
Hantz introduced herself, stating that she has been in the position not quite two months, "so I am just starting to get my feet wet and jump in there and maybe build some relationships that have not happened in the past."
She shared that they are trying to grow the shelter and are at full capacity right now so there is a need for more room. "We are reaching out to the community in every way possible to make that happen so we can give the community what they need," she said.
Alicia Strup, Dog Warden, said she has been in her position since a year ago this month. Commissioner Terry Rummel said that they have been pleased with the detailed reports that have been sent since she became dog warden.
Strup explained that she and her deputy do an on-call rotation to cover evenings and weekends for emergencies. Those might entail a livestock kill, aggressive dog or assisting a police officer, as well as dog bits and other things like that.
Commissioner Lew Hilkert asked Hantz if cats are still the biggest issue. Hantz said that it is more a problem with not enough veterinarians available for spaying and neutering.
Fortunately, Forty Wayne Humane is back on board so they are now able to do ten animals at a time, but that is still not enough.
They do not have enough room for all the cats so have had to ask donors to keep kittens until they are at least 8 weeks old and don't need fostering and bottle care.
Sadly some people can't wait, and "so they take matters into their own hands and we don't want that happening," Hantz said.
Concerning dogs, all the surrenders go through the Humane Society. Reclaiming of dogs is not as high as they would hope, at about 50/50. Hantz said that the good news is that they do have a good adoption rate, and the euthanasia rates are way down.
Concerning dog adoptions, they stressed the importance for those looking for a dog to do their research to know what kind of dog would fit with their household.
Hantz is concerned that people just look at a dog and say, "That's the one!" without really knowing anything about the animal.
Unfortunately, they have an influx of dogs that were welcomed into homes during COVID when people needed companionship. Now they are busy again and don't have time for a dog.
Also, in the summer season, a lot of dogs that were puppies at Christmas when they got them, are no longer little and don't meet the expectations so are being given up for adoption.
Commissioner Brian Davis asked about the sale of licenses, whether there is an increase or decrease. Strup said that not many were sold during covid as reminder letters were not sent out by the courthouse.
Last year they did not charge the late fee until July, which normally starts in February. Dog tags are in the $90,000 range this year and last year it was around $84,000. She said she is very diligent with following up and giving a two-week time frame to get a tag.
She said the letters being sent again has really helped. Also, they have started a mass texting system which allowed her to put the online link so they can go right to the page and purchase the tag.
The commissioners thanked the two for coming to meet with them and for all they are doing for the community.
After a 15 minute recess, they went into regular session to have an ODOT (Ohio Department of Transportation) update with Pat McColley, District Deputy Director, and his team.
Present for the meeting were Eliott Richardson (Transportation Manager for the Williams County Garage), Mark Bressler (Highway Management Administrator for District 2), Doug Crawford (Transportation Administrator for WC Garage), and Doug Raby (Engineer in Construction for District 2). District 2 covers an area of eight counties with Williams being of those.
McColley shared a power point with information for the commissioners on traffic volumes since 2019, funding, shortfall, and how they have had to adjust due to gas prices.
He mentioned House Bill 62 which instituted electric and hybrid vehicle registration fees. Owners of electric vehicles pay $200 per year and of hybrids – $100 per year, for road upkeep as they are using the roads just as much as the other vehicles who are paying more gas taxes.
He also spoke of the Infrastructure Law, a new bipartisan effort, that is bringing assistance to ODOT. There is new Bridge revenue, Electric Charging Station revenue and money for grants.
He also addressed the issue that inflation has definitely affected construction, the sad news that even though car traffic has gone down since covid hit, fatalities have actually gone up, and the horrendous accidents that are caused by Distracted Driving.
Concerning Distracted Driving, House Bill 283 is in the House right now, to make it a primary offense. "Out of fourteen states that enacted these laws before 2018, they have seen a decrease in traffic fatalities, so there is actual data and statistics to back it up," McColley said.
Doug Raby also shared, beginning with an overview of the construction projects for this year in the eight counties.
Williams only has one major project this year, where 20A goes over to SR 20 near Pioneer, or as they call it, the 20 cut off. They are paving up to the state line, with no major closures and the completion date is October 31.
Mark Bressler explained that he and Doug Crawford will take care of the maintenance end for Williams County.
Crawford detailed some repairs that will take place west of Jefferson Estates, with ditches and tile, State Rt 49 west of Edon, some on St.Rt. 191 between West Unity and Stryker and then on CR C as well.
Chip and Seal begins on St.Rt. 576 in July. There was some discussion about Chip and Seal as it has frustrated drivers sometimes, but they explained that over the years they have gotten it better organized so it is not as messy.
They stressed how much cheaper, a fifth of the cost, it is than putting fresh asphalt on every area that needs work.
Bressler mentioned how well the Adopt A Highway program is going and gave recognition to the groups who are participating. "We are always really appreciative."
"We have a coordinator that works well with each of these groups and they said that the Pioneer Boy Scout Troop and Kamco were the two main ones that are just always outstanding."
"The more people we can get to do volunteer work like this, and the more litter contracts we can have with groups, the less time Doug and Eliott have to spend sending crews out to do the litter."
"We are just doing more impactful road work so it is a win all the way around," he said.
McColley added that the TID money is effective as seen on Kexson Drive with Aquabounty Technologies. Bressler also added that presently they do not have a contract with CCNO for litter pickup as they are short staffed, but they hope to be able to get back to that, as they feel it is money well spent.
Crawford told the commissioners that WC Engineer, Todd Roth, has been "super good to work with." They share materials and equipment, benefiting each other and accomplishing more because of the cooperation.
McColley added that "at least for salt storage, Williams County is a model across the state," for working together with ODOT. It benefits everyone involved.
With nothing further that day, they adjourned at 10:55 a.m.
Rebecca can be reached at rebecca@thevillagereporter.com
---