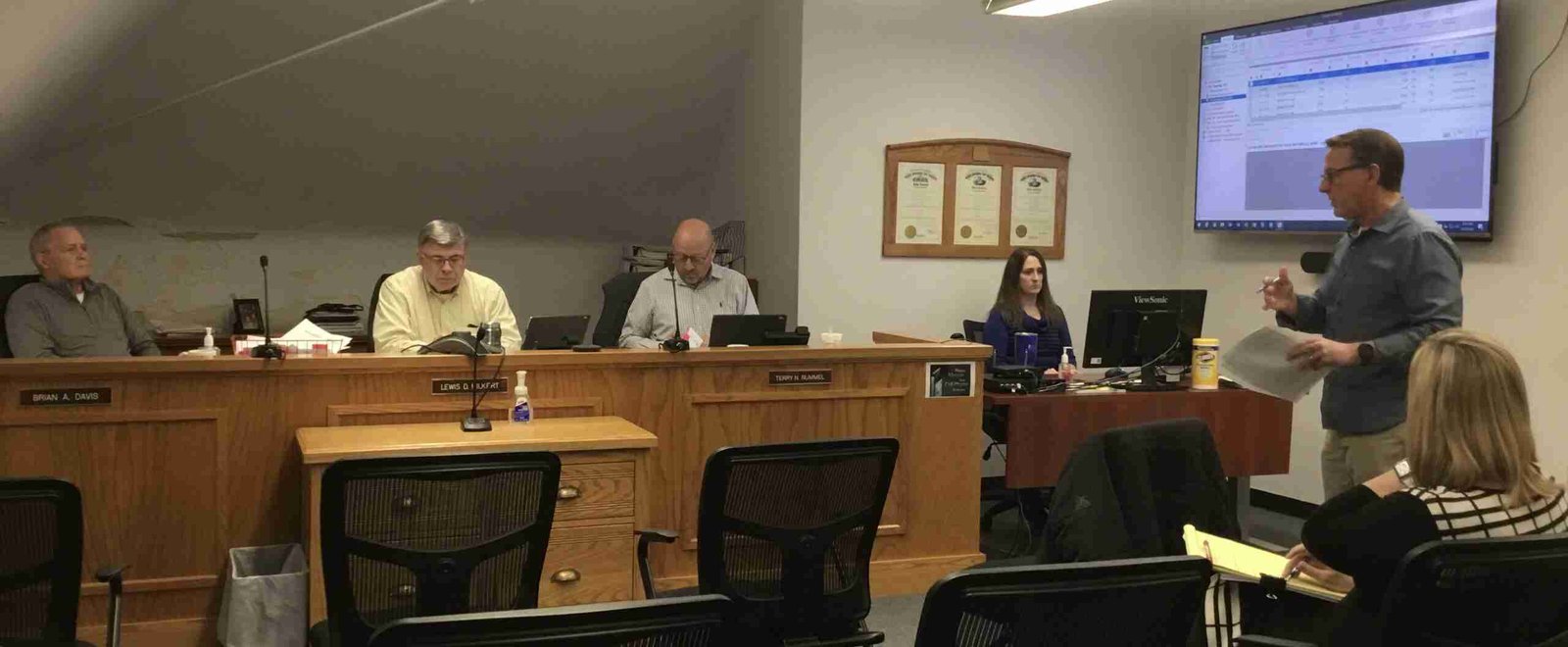 TRAFFIC STUDY … Williams County Engineer, Todd Roth, informed the Commissioners at the March 24, 2022 meeting that a traffic study will be done on CR 12C to determine whether or not the speed limit should be reduced. (PHOTO BY REBECCA MILLER, STAFF)
---
By: Rebecca Miller
The week began with a half hour Executive Session for the Williams County Commissioners, on March 21, 2022. It was held for security matters and there was no action taken.
A short regular session was held in which approval was given for Resolution 88 "An agreement between WC Communications and Intrado Life and Safety Solutions Corporation for Web Based Test to 911 at a cost not to exceed $8750, with a five-year contract, with dates to be determined at the completion of installation."
Items also signed were Certifications of Determination of subsequent exemption for a Categorical Exclusion Project, and a Letter to Maumee Valley Planning Organization for CDBG PY 2022 Admin.
Commissioners approved the minutes of the March 17, 2022 meeting and the payment of the bills as submitted by the auditor.
Commissioner Terry Rummel gave a short update on the event that occurred at the Juvenile Detention Center on Sunday, March 20, 2022.
"Everybody knows the Juvenile Detention had an incident last night and all detainees are in a separate area." He thanked Commissioner Brian Davis for checking up on that at CCNO (Corrections Center of NW Ohio) and continued, "They are all safe and secure over in another area."
"Anybody that was affected by whatever substance went through the vent system is safe and there were no serious injuries…but everything is serious when it comes to that. Everybody is safe and sound and the staff's recovering and everybody's doing good."
With no further business, the session adjourned for that day. On Thursday, March 24, 2022 the regular session began at 9:19 a.m. and the commissioners approved:
-Resolution 89 Transfers on behalf of Common Pleas Court, EMS and Hillside
-Resolution 90 Accepting and Awarding bid in regards to Project #2-2022, Bruce Drive Road Improvements; awarded to M&M Asphalt out of Edon, Ohio
-Resolution 91 Authorizing purchase on behalf of WC EMS of a MARCs Radio from Motorola Solutions and P&R Communications at a cost not to exceed $3688.42; and graphics for the new ambulance for the amount of $3640 from Emergency Mobile Tech, Inc.
-Resolution 92 Agreement between WC EMA and Davis, Inc., dba Regroup for a mass notification system at a cost not to exceed $10,000, with contract from May 15, 2022- May 15, 2023
-Resolution 93 Promote and appoint Donna Sprow to the position of Executive Director of the WC Department of Aging, starting date of March 28, 2022 (resignation of Maggie Fisher was effective on March 11, 2022)
-Also signed: Certification of Determination of Subsequent Exemption for a Categorical Exclusion Project (RLF program); Dog Warden report for week of March 7-13, 2022; Credit Card Expenditures for April 2022 for Commissioners' office; Purchase documents for Engineer's 2023 Dump Truck Purchase; Project manual – 2022 Asphalt Emulsion Products – Project #01-2022 (Notice of Award)
-Minutes of March 21, 2022 and payment of bills
Following a short recess, the commissioners met with County Engineer Todd Roth concerning a Traffic Study to be done on a section of County Road 12/C. The portion comes out of Bryan at Townline Road and goes down to US 6. It was clarified that this is "the angled road after it crosses Lick Creek and goes out to the traffic light by Tru-Fast."
Roth explained that they have funding to pave that section, but that there are concerns that when the road is wider and freshly paved, there will be speeding.
If the study is done, it will show whether it is warranted, by ODOT standards, to change the speed limit from 55 mph to a lower speed.
He mentioned that some of the things the study will look at, that are used to consider establishing a speed limit, are: transitions from rural to urban areas, schools, road conditions, frequency of driveways, volume of traffic, crash reports and history, whether it is a deer crossing, etc.
There is a funding possibility from CEAO, which would pay for the study. If it is determined that the speed limit does not need to be changed, "it becomes a sheriff issue more than an engineer issue," Roth said.
At that point, Roth asked if he could have a little more of their time to share an "opinion" and they said that was fine. "You know I have requested ARPA money," he began. "My push on it is with the sewers, so I am going to give it another plug."
His concern is that the money will be given for "development" when those types of projects have "mechanisms for funding that are different from the mechanisms for funding for existing systems."
"I would ask you to consider that," he said, adding, "economic development has money. I will tell you that I am passionate about what funds are available for what use, and we truly have a need for fixing what we have in our county, so consider that in your evaluations."
Commissioner Brian Davis encouraged him to not delay in getting all of his requests turned into them for their list. Commissioner Rummel said that some of the sewer systems are not on their spreadsheet, so they need to at least get them on that list. Roth said that he will submit the other ones that he has besides the two that are on the list.
Before ending his time with them, Roth reiterated, "I guess I am saying, don't spend your money on new development. Let them find funding somewhere else.
If somebody says Alvordton is new development, it is not. That system is to replace an existing failing system." There was further discussion concerning which systems he should submit to them.
Another recess was held before welcoming Roth and Ron Buda for a Bid Opening for Project #3-2022 for Asphalt Paving. There was only one bid, from Gerken Paving, for $1,479,899.65.
The estimate was $1,672,880.58. Roth and Buda will review that and send the recommendation to the commissioners.
Regular session stood in recess from 10 to 10:20 when the commissioners went into Executive Session with Sheriff Tom Kochert for security matters.
There was no action when they came out at 11:33. With no further business, they adjourned for the day.
Rebecca can be reached at rebecca@thevillagereporter.com
---