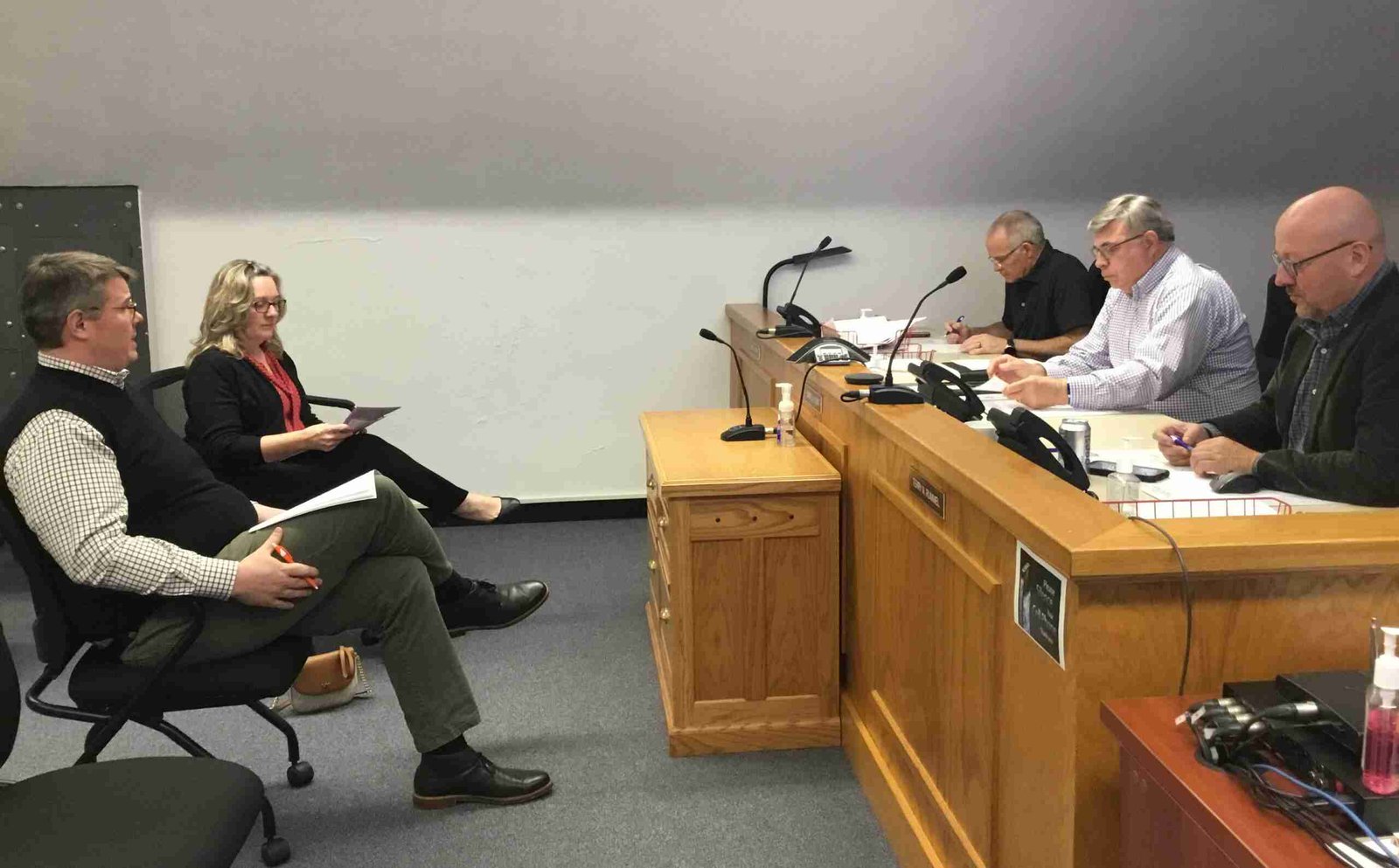 NSURANCE REPORT … Russ Davies and Ali Redmond met with the Williams County Commissioners, Brian Davis, Lew Hilkert and Terry Rummel on Thursday, April 21, 2022 to share an update on the county insurance. (PHOTO BY REBECCA MILLER, STAFF)
---
By: Rebecca Miller
On Monday, April 18, 2021, there was no regular session held by the Williams County Commissioners as a few of the Courthouse staff, commissioners' office staff and Commissioner Lew Hilkert traveled to Noble County, Indiana to visit the WC "sister" Courthouse.
During the regular session on Thursday, April 21, 2022, Hilkert gave a short report on the visit. Both he and clerk Anne Retcher said that the WC courthouse is much larger and more spacious, as well as having been better cared for over the years.
They did not get any insight into where the supporting beams are for the 4th floor, which was one thing they had hoped to find out, as they move into the renovation of their fourth floor.
Retcher said that the visit made her very appreciative of the maintenance staffs in the WC Courthouse over the past 131 years.
In other business on April 21, they voted to approve:
-Resolution 113 Supplemental Appropriations on behalf of Board of Elections, Hillside and Sheriff's office
-Resolution 114 Entering into a Contract Extension on behalf of Department of Job and Family Services between JFS and NESCO Resource to extend the term from July 1, 2022 through September 30, 2022 at a cost not to exceed $60,000, to provide staffing solution services for the Summer Youth Program (It was previously at a cost not to exceed $50,000, term for October 1, 2020 through September 30, 2021)
-Also signed were: Notice to proceed for Project #3-2022 Asphalt Paving Program; Notice to proceed for Project #2-2022 Bruce Dr. Road Improvements; Dog Warden report for week of April 11-17, 2022; Courthouse permit for Dana Andrews in regards to the Bryan Cruise In for weekly cruise in/car shows May 19-August 25, 2022; Credit card appropriation on behalf of Sheriff's Office for May 2022; and Title Paperwork for new EMS Ambulance.
-Minutes for April 14, 2022 and payment of the bills
Following a short recess, the commissioners went back into regular session to meet with Russ Davies from Andres-O'Neil and Ali Redmond from CORSA, concerning county insurance.
Davies shared some good news, that "through a lot of hard work on CORSA's behalf, we are able to retain the limit that we have for the law enforcement side of things, the total of 11 million dollars."
There had been some concern mentioned the last time they met that they would not be able to get more than $8 million coverage, but were able to keep it at $11 million. Redmond pointed out that this is a national concern for law enforcement insurance.
They mentioned that next year there may be some concerns about property reinsurance and cyber, but at this point they are satisfied.
There was some discussion about GPS for the county vehicles, including police and EMS, as it would provide safety to know where each one is at any given time.
Davies stated that the increase over 2021 is 3.6% this year which is good as the total program cost increase was 4.7%.
"So, WC is under the program average inflation, and doing a great job," Davies said. He gave "kudos" to Retcher and Robin Kemp for all they have done with the loss control initiatives this year, saying that their hard work helped to keep the county's cost down to $209,000.
Redmond added that the CORSA pool in Ohio is doing really well and is financially sound with members doing a great job.
With that discussion ended, an no further business, the commissioners adjourned at 10:45 a.m.
Rebecca can be reached at rebecca@thevillagereporter.com
---