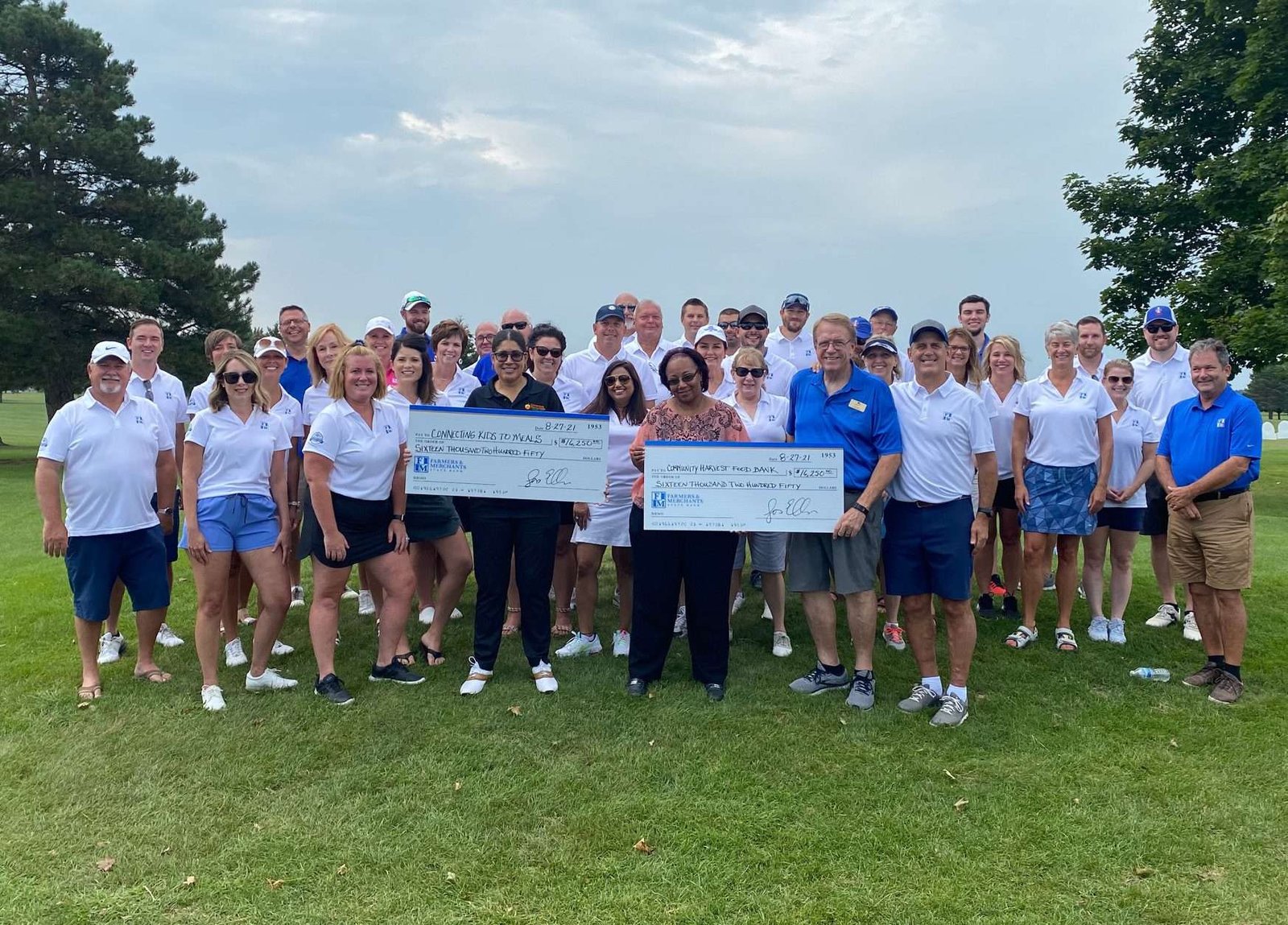 GIANT CHECKS … Before the golfers headed out to spend their afternoon on the Ironwood Golf Course, huge checks, in the amount of $16,250 each, were presented to the two charities chosen to benefit from the sponsorships for the 2021 F&M Charity Golf Classic. Gathered for this picture were all the F&M employees who helped for the event and representatives from the charities being sponsored. In the front row, holding the check on the left, is Wendi Huntley – President of "Connecting Kids to Meals" out of Toledo. Standing just to her left is Amy Cover, the Golf Classic organizer. The check on the right is held by Dearllean Walker, representative of "Community Harvest Food Bank" in Ft. Wayne and Lars Elller, President and CEO of F&M. Next to Eller, with his hand on his shoulder is Roy Nevil, Volunteer Manager of the Community Harvest Food Bank. (PHOTOS PROVIDED)
---
By: Rebecca Miller
Held on a sweltering Friday, August 27, 2021, the 4th Annual F&M Charity Golf Classic contained plenty of fun and enjoyment, despite the heat, for the forty one teams who participated.
With each team made up of four golfers, the carts spread out over the Ironwood Golf Course in Wauseon, Ohio to spend the afternoon vying for a beautiful crystal trophy.
The 2021 trophy went this year to the Continental Plaza team, who also won it in 2019. "We may have skipped a year," Larry Zimmerman commented, "but we got it again.
The team in 2019 was slightly different, but they both won it for the company."
Also winners that day were Amy Cover for the Women's Longest Drive and Byron Baxter for the Men's Longest Drive.
Amy Cover, Marketing Manager for F&M, runs the Golf Classic and said that it was a great day. It begins each year with a free lunch and the presentation of the money, that has been raised, to the charity or charities they have chosen.
Anyone can register to sponsor the charities, with the following opportunities to help: Team Sponsorship $600 (4 player team & lunch); Cart Sponsor $200 (Name recognition on all carts); Hole Sponsor $100 (Name recognition at tee box); Lunch Sponsor $400 (Signage at lunch table); Putting Contest $300 (Signage at putting green); and Hole-in-One Sponsor $500 (Signage at all Par 3's).
This year F&M gave back to their larger community by selecting a charity from Toledo, "Connecting Kids to Meals", which serves the Greater Toledo and Northwest Ohio area, and a charity from Ft. Wayne, Indiana, "Community Harvest Food Bank", serving Northeast Indiana.
The F&M Classic committee was made up of F&M CEO Lars Eller, Amy Cover and Jordan Lemley. Checks were given to these two groups from the $32,500 that was raised through the sponsorships and split evenly between them.
Rebecca can be reached at rebecca@thevillagereporter.com
---
WINNING TEAM … The 2021 winners of the 4th Annual F&M Charity Golf Classic held on August 27, 2021, were l to r, Paul Jimison, Larry Zimmerman, Wade Wheeler, and Chad Penrod, representing the Continental Plaza in Wauseon, Ohio. They won with a 46; they were 26 under, on a par 72.
---