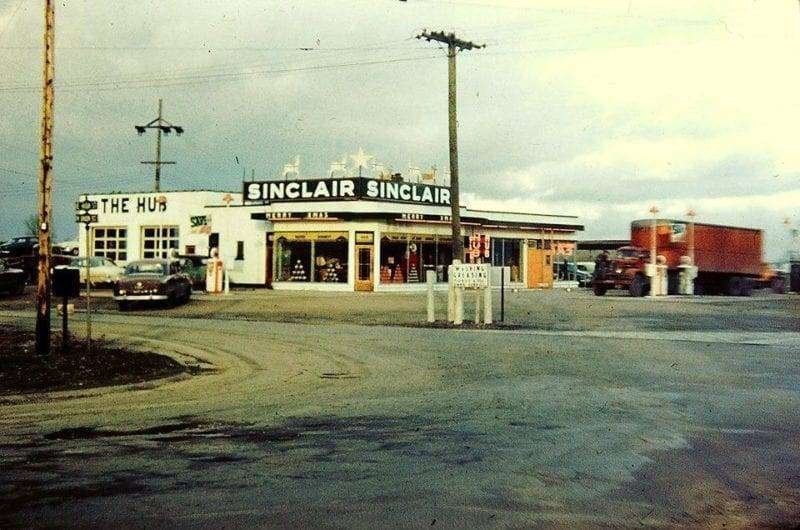 (January 13, 1950, 68 years ago): The Hub service station, restaurant and truck stop opened at the northeast corner of High and Union streets in Bryan.
The service station was initially operated by Wendell Robinett and Robert Nester, and the restaurant by Mr. and Mrs. Bill Lint. At the time of its opening, the Bryan Times reported, "The new building is a beautiful structure and adds another business activity to Union Street, which is building up rapidly with business structures, the next one to be a drive-in theater close to the Hub. The dining room walls are in pastel green with natural finished wood, and the tabletops are of pearl gray, chrome chairs with alpine green plastic. Eventually the drive will be asphalted and booths installed in the restaurant. The Day Oil Company of Edgerton purchased 60 acres just off Route 6 and the buildings occupy a space of 70 by 70 feet, which includes large lubrication and wash rooms for cars and trucks. The Day Oil Company now has a large number of stations, and this is their newest and finest. It is supplied by the Sinclair Refining Company, which has a pipeline across Williams County with a booster station three-fourths of a mile north of Melbern, and a wholesale truck terminal and storage tanks a mile east of Bryan on Route 2."
The building is now home to Artisan Floral & Gift Boutique.
This historic photograph of the Hub is from a circa 1950 color slide taken by the late Eldon Smith of Bryan.
Courtesy of the Williams County, Ohio, Local History Exchange.