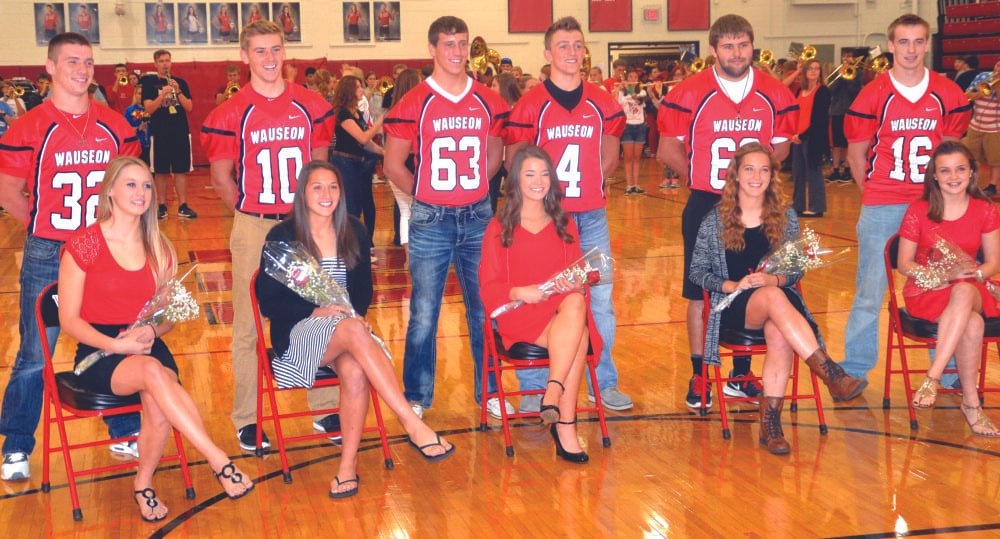 2015 WAUSEON HOMECOMING COURT … Row 1: L to R: Sophomore Attendant Sydney Darnell, Senior Attendant Brianna Coblentz, Queen Morgan Bzovi, Junior Attendant Amanda Hammontree, Freshman Attendant Monica Betz. Row 2: Jacob Flory, Jerimiah Kauffman, Tyler Wilson, Mason Creager, Gage Banister, Danny Hench.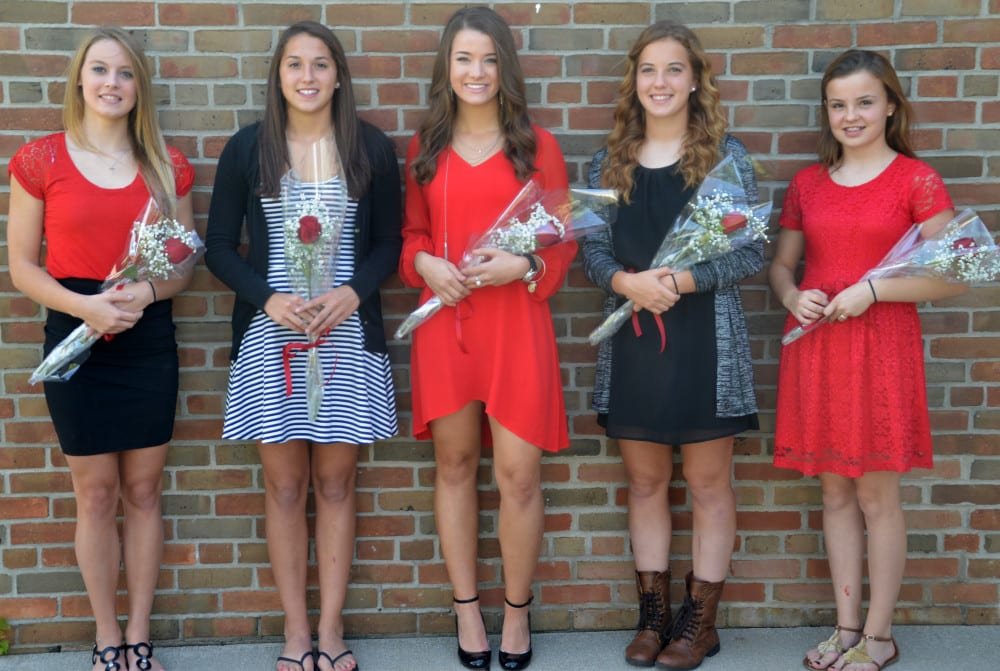 ---
By: Kaleb Combs
THE VILLAGE REPORTER
As the Wauseon Indians prepare to take on Bryan's Golden Bears this Friday, Wauseon's Homecoming Court has been chosen, and they are gearing up for this week's events as well. In addition to this week's game, there will be a Snake Dance Bonfire on Thursday at seven and the Homecoming Dance is Saturday at eight. The Homecoming Court this year consists of four attendants the queen.
This year's Freshman Attendant, Monica Betz, will be escorted by Danny Hench. Monica is the daughter of Chris and Heidi Betz, and is a sister to Erin, Brooke, Nathan, and Natalie Betz. When not busy with school, Monica enjoys reading, dancing, singing, and spending time with her family.
The Sophomore Attendant is Sydney Darnell; she will be escorted by Gage Banister. Sydney is daughter to Brant and Robin Darnell, and sister to Kasey and McKenzie Darnell. Sydney is on the swim team and will run track in the spring. When she is free, she enjoys playing Just Dance, and spending time with her family and friends.
Representing the Juniors is Amanda Hammontree, escorted by Jacob Flory. Amanda is the daughter of David Hammontree and Melinda Ludwig, and sister to Nicole Hammontree and Krystina Price. Amanda is the captain of the soccer team, class president, Girls Christian Fellowship president, and a member of NHS, the Youth Advisory Council, Spanish Club, STAMP, and FCA. She is also currently employed at Tiny's Dairy Barn. When not busy with school or extracurricular activities Amanda enjoys being involved in church activities and spending time with her friends.
The Senior Attendant is Brianna Coblentz, escorted by Jeremiah Kauffman. Brianna is daughter to Glenn and Viola Coblentz, and sister to Nicki, Brett, and Rodney Coblentz. Brianna is a member of FCA, GCF, NHS, and takes part in cross country, basketball, and softball. She is currently employed at Tiny's Dairy Barn, and Brown Bag Market. When she has the time, she enjoys hanging out with friends, or relaxing with a good book.
Finally, this year's Queen is Morgan Bzovi, escorted by Mason Creagor. Morgan is the daughter of Chad and Ryndie Bzovi, and sister to Collin and Carter Bzovi. Morgan plays on the volleyball and basketball teams, is a part of the Fellowship of Christian Athletes, Girls Chritian Fellowship, STAMP, Art Club, Crossroads Youth Group, and is the president of Wauseon's Student Council. During the Summer, Morgan works at Biddle Park. When possible, Morgan enjoys spending her time painting, reading, running with her mother, spending time with friends and family, or watching movies.
Kaleb may be reached at publisher@thevillagereporter.com