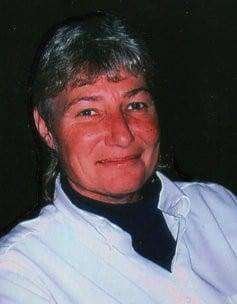 Donna Darlene Haskell, 57, of Camden, Michigan, passed away at her home early Monday morning. She was born on August 14, 1958 in Hillsdale, Michigan to Charles E. and Norma J. (Smith) Haskell. Donna worked for Universal Industrial Products for 36 years in the grinding, inspection and hinge departments.
She was a member of the Bryan Eagles and the Montpelier Moose. Donna enjoyed camping, vacations at the beach, listening to and singing along with old country music and sharing a cold beverage with good friends.
Donna is survived by her partner, Donna Wannemacher, two sons, Eugene "Charlie" Haskell Jr., and Dalton Haskell, sister, Sonya (Randy) McNett, brother, Eugene "Junior" (Selina) Haskell Sr., step brother, Charles (Andi) Haskell and eleven nieces and nephews.
She was preceded in death by her parents, sister, Kimberly Taylor and two brothers, David and Ronald Haskell.
Visitation for Donna will be held on Wednesday September 30, 2015 from 9-11 am and 12-2 pm at The Thompson Funeral Home in Pioneer, 303 First Street. A funeral service will take place on Wednesday at 2:00 pm at the funeral home with Pastor Susie Osburn to officiate. Interment will follow at Waldron Cemetery in Waldron, Michigan.
Memorial contributions may be given in Donna's memory to The American Cancer Society or to Great Lakes Hospice. Online condolences may be left at thethompsonfuneralhome.com