---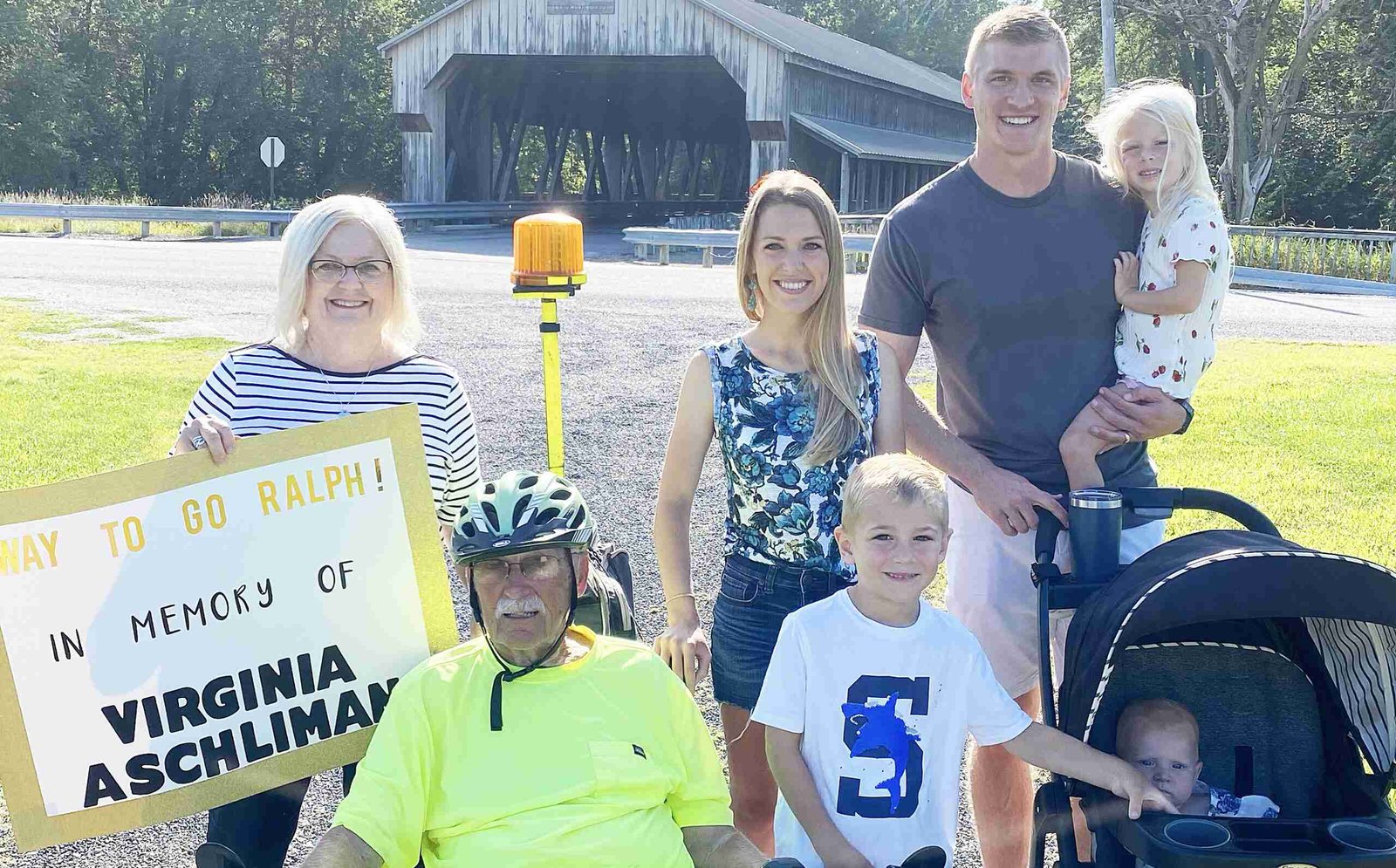 AGE DOESN'T STOP SERIOUS RIDERS … Ralph Aschliman, of Archbold, may be 95 years old, but he showed up with his low rider to travel 50 miles in memory of his first wife Virginia Aschliman who died of Colon Cancer 25 years ago. His proud daughter, Jane Aschliman Schwind, met him at the first stop, along with his granddaughter Jenna Abbey and her family. Jane is holding the poster in memory of her mom, while Jenna, her husband Kevin holding Harper, and Greyson with his hand on the carriage holding baby Ivy, all gathered around for a picture. (PHOTOS BY REBECCA MILLER, STAFF)
---
By: Rebecca Miller
With the morning sun burning through a light cover of fog, Saturday morning, August 6, 2022 turned out to be a lovely morning for a long bike ride to benefit Cancer Assistance of Williams County.
Following a few days of unbearable heat and some downpours, it was a welcome sight to the committee members and the riders. A little cooler than 70-80 degrees would have been nice, but they all seemed to be happy with the day.
Early risers began to show up for registration, which was scheduled to begin at 7:30, around seven as volunteers were setting up the registration areas outside of the Community Offices/East Annex in Bryan, Ohio.
Committee member, Jason Zerveos welcomed them and accepted their donation to ride. Riders then moved to the registration table where they signed in and got their tee shirts if they had ordered one.
Around 8:15, Mike Kurivial, who heads up the Bike to the Bridge Committee, welcomed everyone and said a few words about how much each rider is appreciated as they raise funds to help Williams County families who are going through the rough road that cancer brings.
Cancer Assistance of Williams County President, Cheryl Andres, also thanked everyone for coming and explained that this money they raise with Bike to the Bridge helps cover up to $1500 per family for things that are not normally covered by other cancer assistance.
Pastor Mark Pitman, who shared that he has a beloved family member fighting cancer presently, was asked to begin the ride with prayer.
Before praying for safety and giving thanks for all who were participating, Pitman asked everyone present to call out the names of loved ones whom they were remembering that day, if they so choose and many did so, loudly so all could hear. It was a stirring moment.
At 8:30, with riders all gathered behind a Bryan City Police Vehicle and a Sheriff's Department Vehicle, the countdown from ten was made, sending them off for the Bike to the Bridge.
The 50-mile ride goes over the Lockport Covered Bridge and on to Evansport and Oxbow Lake, ending back at the East Annex where it began.
The 25-mile ride also goes to the bridge, but then carries on past it. The five and ten-mile rides don't go quite that far, but everyone was given the opportunity to choose their length.
The committee was thrilled as this year there were eighteen 50-mile riders, which is the most on record. One of those riders was 95-year-old Ralph Aschliman of Archbold, in memory of his wife who succumbed to colon cancer 25 years ago.
Another was a gentleman who comes every year from Angola, riding the 50 miles to Bryan, the 50-mile Bike to the Bridge ride, and then the 50 miles back home to Angola. This year he came with family members joining him for the ride.
The group of riders came from all over the area, some representing different businesses or organizations, like the three sheriff deputies who rode their own bikes to participate.
They were also of all ages, with some families riding together and pacing themselves for the youngest riders.
Some of the 25 and 50-mile riders went on past the first SAG which was set up in the gazebo at Lockport Mennonite Church, but most turned in and enjoyed the fresh cold drinks and snacks as well as an opportunity to use a restroom before continuing.
Williams Aerial owner Jeremy Williams, who had been at the starting line at the East Annex, was also present at Lockport and even had his drone take a run through the covered bridge.
Williams hovered the drone around the gazebo, catching photos of the participants as they were arriving, resting, and leaving.
With over 100 signs (designed by Danielle Harrison, yourpremieragency.com) placed all over the county for the weeks prior the ride, the committee was thrilled that almost 100 people rode in Bike to the Bridge this year.
There were plenty of volunteers for the Registration point as well as the SAGS, and committee member Mary Weirich said she felt blessed to have so many get involved.
The committee members were also grateful for the items donated for the event, which included safety vests for the crossing guards donated by Walmart, snacks for all the riders from Marathon Main Stop in Bryan, and ice for the coolers from the Montpelier Fire Department, as well as other things needed for the day.
Plans for the Bike to the Bridge Committee are set for a follow up meeting at 1 p.m. at "Season's Coffee and Bistro" on Monday, August 8th.
With 68 pre-registered at their last meeting before the Ride and over 90 showing up to ride on Saturday, they have much about which to rejoice as they wrap it up for the 2022 Ride to the Bridge.
Rebecca can be reached at rebecca@thevillagereporter.com
---
BIKE TO THE BRIDGE COMMITTEE … This hard working, committed group of people met one more time on August 4, 2022, to work out any last-minute details for the Bike to the Bridge event to be held on Saturday, August 6th. Left to right in the back row are Rick Hanson, Mike Kurivial, Doug Seibert, Jason Zerveos, and Jake Wiley. Seated are Mary Weirich, Janice Thompson and Cheryl Andres. All were present and active at the event on Saturday.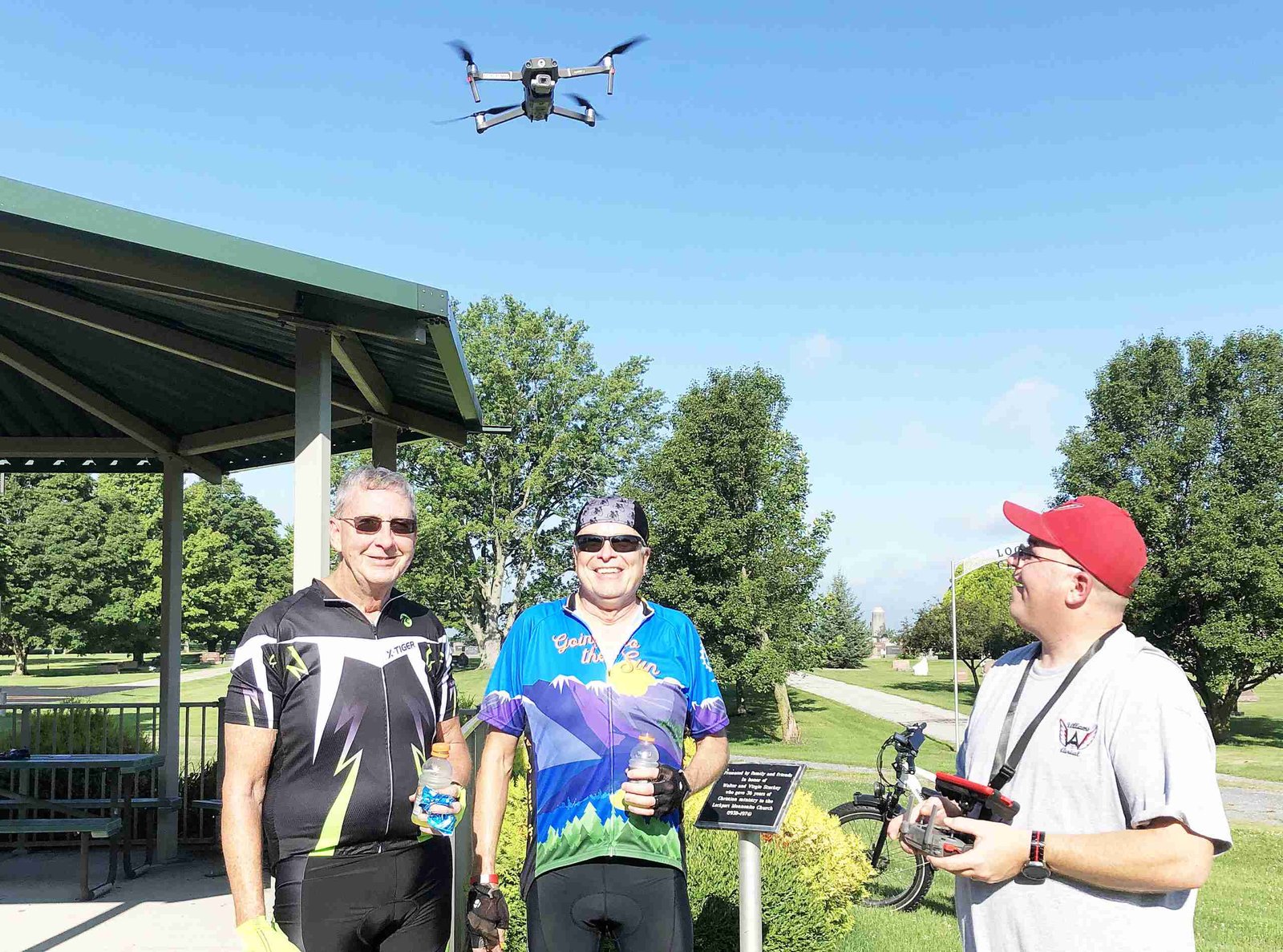 FUN WAY TO COOL OFF…Committee members/riders, Rick Hanson and Doug Seibert enjoyed a laugh with Jeremy Williams, of Williams Aerial, as he hovered his drone over them to cool them off a little with the fan. All the riders arrived at the Lockport stop with a lot of sweat, but these two left a tiny bit cooler.
---