---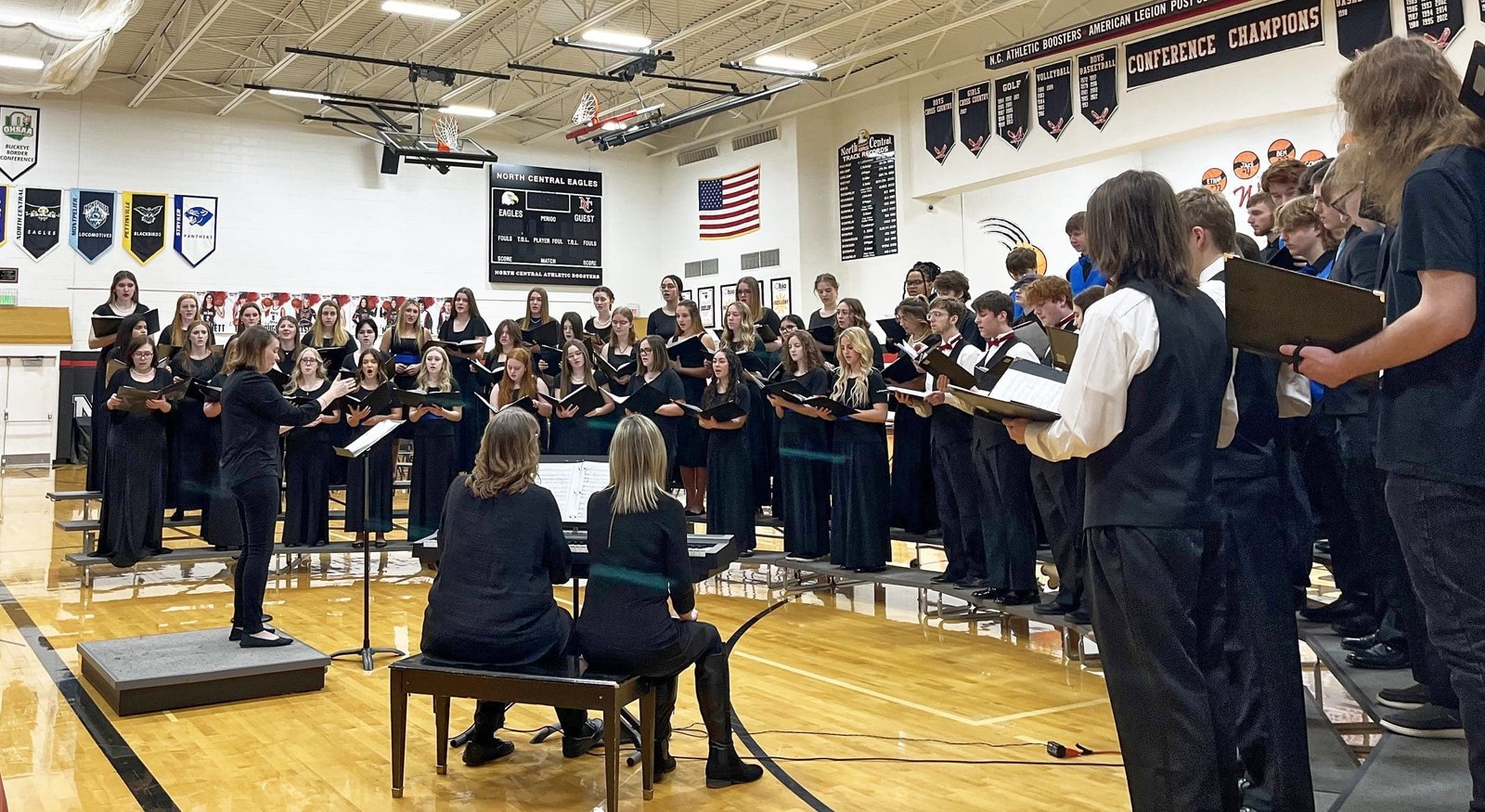 CHOIR … The 2023 Williams County Honor Choir performs songs during the festival held at North Central Schools. (PHOTO BY JACOB KESSLER, STAFF)
---
By: Jacob Kessler
The 2023 Williams County Band and Choir Honors Festival was held at the North Central School on Sunday, February 19th.
This event brings in the strongest musicians and choir students from throughout several schools in Williams County.
The schools participating in this are Edon, Edgerton, Stryker, Hilltop, Montpelier, and North Central.
The first event began at 1:00 p.m. with the All-County High School Choir performance. The choir was conducted by Dr. Emily Pence Brown and was assisted by Mrs. Sharon Deetz on the piano.
The choir sang the songs Lift Your Voice and Rejoice by Victor C. Johnson, The Lonely Sea by Vicki Tucker Courtney, I Choose Love by Mark A. Miller and How Good! By Michael Engelhardt.
The All-County High School Band then performed at 2:00 p.m. The band was conducted by Dr. Wes King and instructed the students to perform the following pieces.
Fanfare for the Third Planet by Richard L. Saucedo, The Crystal Fountain by Brian Balmages, Kentucky 1800 by Clare Grundman and The Machine Awakes by Steven Bryant.
The final performance of the day took place at 3:00 p.m. with the All-County Junior High Band which was conducted by Megan Hayes.
The students performed pieces such as Legend of the Eagles by David Shaffer, a Prehistoric Suite by Teresa and Paul Jennings, Crosswinds March by James Swearingen, and Arabian Dances by Roland Barrett.
These students who participated in the event this year blew away everyone who came to see them perform. It is even more impressive when you take into account what was done to prepare for the day.
Each of the students spent one day rehearsing before the event. Collaboration took place with the NWOESC and each of the conductors that were brought in were guests.
Each of the performances were fantastic, and combined with having one day of rehearsal, just goes to show how talented each one of the students are.
North Central Band and Choir Director Jeff Hlutke explained that this is because music is alive and well in Williams County Schools.
"I think this is one of the most important things we do as a county for our music students because it gives them an extra opportunity that they don't regularly get, and it showcases some of the talent present in the music departments in the schools in our county. Music is truly alive and well in our schools."
Jacob can be reached at jacob@thevillagereporter.com
---