---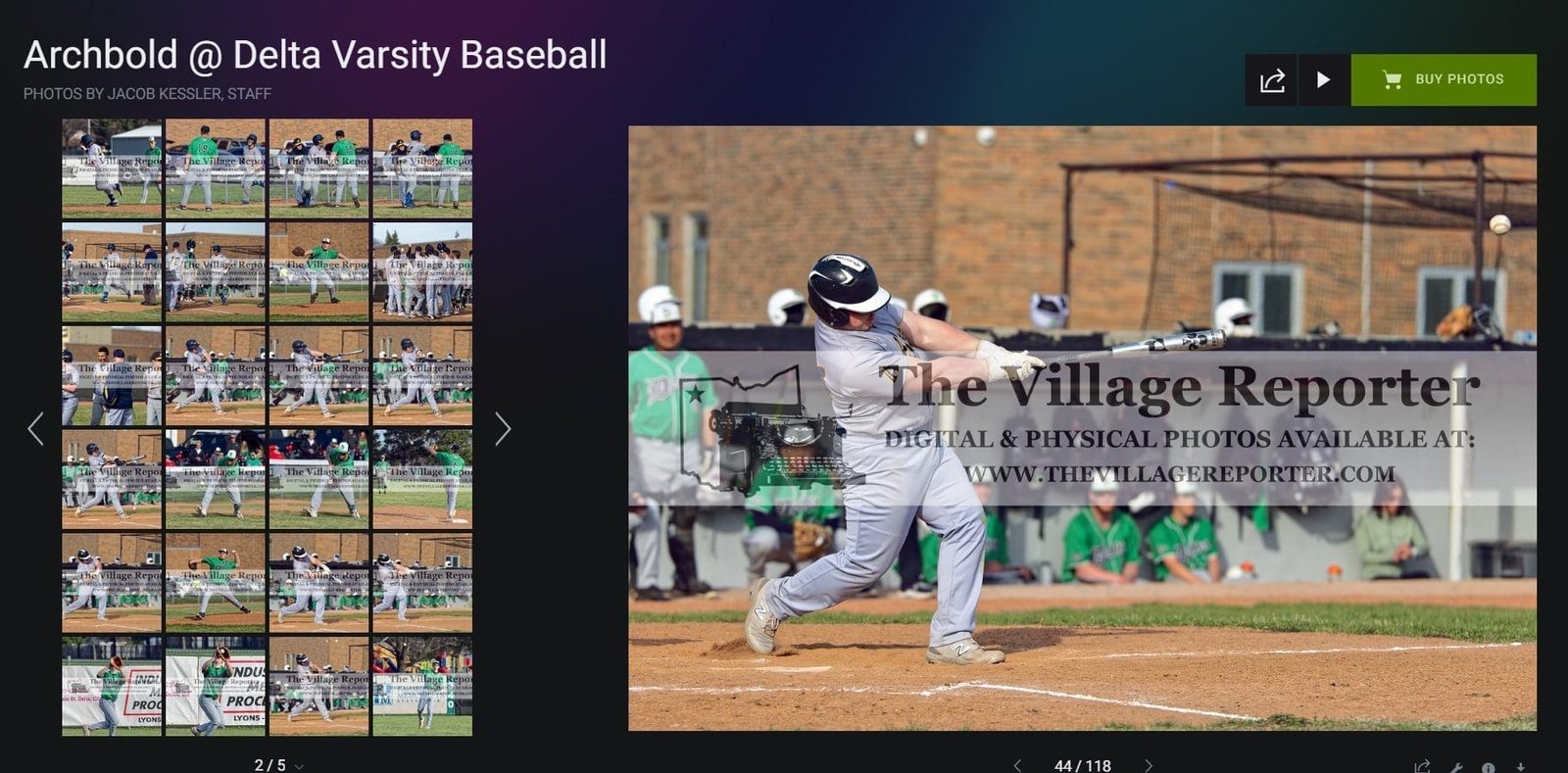 ---
By: Joe Blystone
DELTA – Delta gave one of the pre-season NWOAL baseball favorites in Archbold all they wanted but the Bluestreaks survived behind a pair of Devon Morris home runs and three RBIs to take a 5-3 win over the Panthers in a lengthy two hour, 38-minute contest at Jim Harmon Field.
The win came on the first night of league play in the NWOAL.
"First of all, I would commend Delta," longtime Archbold coach Dick Selgo said after. "They have greatly improved, and they are certainly headed in the right direction the way they are playing ball right now." "We had to give everything we had to win that game."
Archbold loaded the bases in the first inning with no one out on two walks and Cade Miler's infield single.
Panther starter Brody Waugh almost escaped without giving up a run, striking out the next two Archbold hitters but while working from the windup against Catrson Dominique, Krayton Kern, who was on third got a great break against the Delta lefty and stole home well ahead of the pitch to scratch out a run to put the Streaks up.
"He told me (in the third base coaching box), I can make it," Selgo said of Kern dash to the plate.
"We had bases loaded and nobody out and took three called third strikes which really disturbs you. Krayton got a run for us by manufacturing one."
Maverick Mercer's two-out RBI single up the middle knotted the game after an inning but Morris took matters into his own hands, rather his bat, in the third.
After a leadoff walk to Miller, Morris lofted a long fly to center that cleared the fence to the right of the 360' marker to give the Streaks a 3-1 lead.
A game changing play happened in the bottom of the inning when after Brady Morr walked with two down, Waugh sent a long fly down the right field line.
Josiah Gomez' smothered the ball as it came to the ground, and after Morr had scored and Waugh was standing on second, the home plate umpire ruled the ball had been caught which rather than Delta shaving the lead to 3-2 with a runner still in scoring position, ended the inning.
Gomez' single, stolen base and Miller's groundout marked a run in the fourth, then Morris struck again with a laser beam over the right field fence in the corner to make it 5-1.
Delta got one back against Streak starter Masen Towns in the fifth on an error and Morr's sacrifice fly.
The Panthers threatened in the sixth on a pair of walks and an error to load the bases with two down but Kern came in to relieve and got a fielder's choice to end the threat.
Delta got a run in the seventh with yet another couple of base on balls and a wild pitch being the key but with the tying run on the plate, Kern recorded a strikeout to end the game.
"Walks have been a problem for us this year by our pitching staff," Selgo lamented. "Masen Towns gave us a heckuva an effort. We haven't had anyone go that long for us yet this year, so he really gave us a lift."
Towns took the victory, working the first 4 2/3, giving up three hits, walking five and hitting a batter. The Panthers left 12 men on base in the loss.
ARCHBOLD 102 200 0 – 5 6 3
DELTA           100 010 1 –  3 3 1
Records: Archbold 3-4 (1-0 NWOAL), Delta 1-5 (0-1 NWOAL)
WINNING PITCHER: Towns (4.2 innings, 2 runs, 1 earned, 2 hits, 6 strikeouts, 5 walks) Others: Miller, Kern
LOSING PITCHER: Waugh (3 innings, 3 runs, 3 hits, 3 strikeouts, 5 walks) Other: Ruffer
LEADING HITTERS: (Archbold) Morris – 2 home runs, 3 RBIs, 2 runs; Gomez – 2 singles. (Delta) – 3 singles
Joe can be reached at publisher@thevillagereporter.com
Click below for a free photo album of this event to view all the photos.
---