---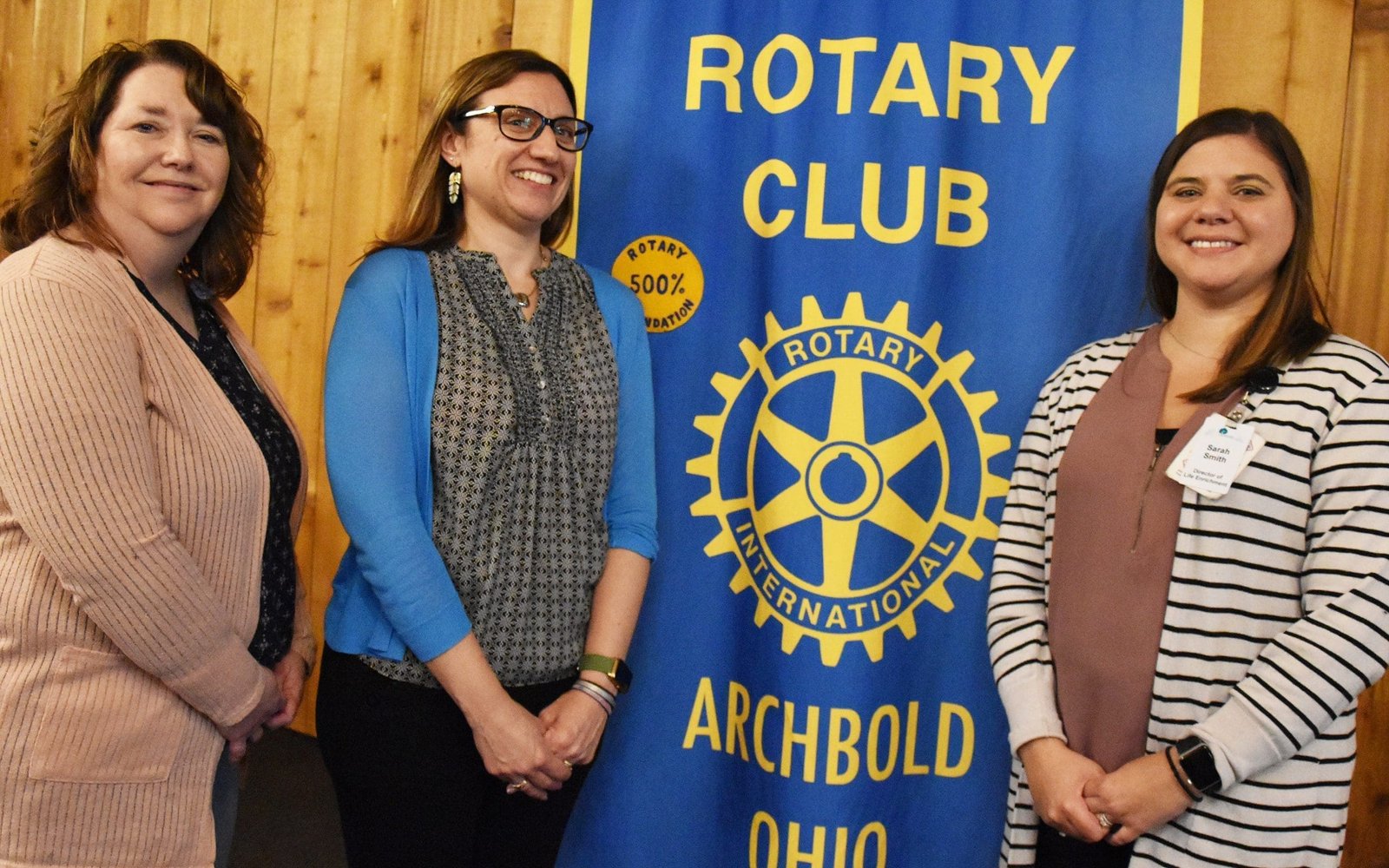 GUEST SPEAKERSFROM FAIRLAWN … Memory care at Fairlawn Haven was explained at the April 28 Rotary meeting by Rebecca Short (left), director of social services at Fairlawn; Tammy Allison, Fairlawn CEO and Rotarian who arranged the program; and Sarah Smith, director of life enrichment at Fairlawn. Allison introduced the program noting that an estimated 6 million Americans are living with some type of dementia.
---
They are largely cared for by some 11 million family members and friends who provide unpaid care — primarily during the early stages of dementia. Their program focused on how they train staff to better assist residents of Fairlawn's memory care unit.
An estimated 11 million loving, caring family members and friends of the 6 million persons living with some type of dementia provide unpaid care for their loved ones for as long as they can.
However, it's hard, tiring, around the clock work watching their loved one progress through the illness.
Fairlawn administrators Rebecca Short and Sarah Smith explained the training that not only members of the memory care unit staff, but all employees of Fairlawn are completing.
Called Dementia Live, the simulated training lasts only about 20 minutes, but is highly effective at teaching what it's like to live with dementia.
The training tools are gloves, eyeglasses that block peripheral vision and headphones with each side playing a different recording.
While wearing the gloves, glasses and headphones, participants are asked to perform simple tasks such as counting 37 cents from a change purse, arranging a deck of cards by suit, buttoning clothes, finding the black shirt in the stack of clothes, and feeding the dog.
The gloves make picking up things difficult (simulating the dexterity problems that accompany dementia).
The glasses limit vision to things or persons who are directly in front of them.  Persons positioned to the side or moving up from behind cannot be seen.
And, the confusing noise coming from each headphone makes it difficult to follow conversation or instruction, which simulates someone with dementia who may only be able to process every two to three words that someone is saying to them.
No one taking the Dementia Live training has ever been able to complete all of the tasks in the allotted time.
But for 15 or 20 minutes, they do feel the frustration and confusion that someone with dementia feels all the time.
Both presenters explained that everyone who has taken the training says that they better understand how dementia disrupts everyday living and have more empathy for the memory care residents.
They said that they are also offering the training to first responders and hope to soon offer it to family members and others who are among the unpaid caregivers as well as eventually opening the training to the general public.
Additionally, they encouraged people who know someone with dementia to visit them. Even though, the person might not remember the visit in an hour, the joy that seeing someone that they know or who shares memories with them from the past lingers long after the visit.  "Our staff can see the change in their behavior after a visit," they said.
And, when talking with someone who has dementia, it's important to speak about one thing at a time.
Whether it's explaining a task or simple conversation, if the person is only able to process every 2 to 3 words — one topic at a time is about all they can follow.
---