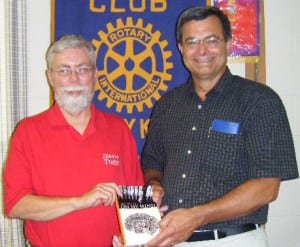 Don Allison, author, spoke to the Stryker Rotary Club about things that have inspired him to write. Don started writing for the public at a young age as a journalist for the Stryker High School Paper. About that same time he was contacted by a person who helped him become a better writer; Regis Spielvogel. Regis asked Don to help him out on the local paper and Don felt during that time he learned a lot from Regis.
Don graduated from Stryker High School in 1976 with his eye set on finding a job at a large paper. He was set to pack for his interview when he got a call from the Bryan Times asking if he would come in and talk to them. He was offered the job at the Bryan Times and consulted with a friend that advised he would get a much more rounded look at the operation if he were to take a job at the small paper. He took the job and is still there today. Don has held many positions at The Bryan Times with his most recent role in writing his column. The topics for his column are often the many interesting people he has had the pleasure to know.
His role is different today because he is putting more effort into writing and publishing books. Don displayed three books he has written and published; "Hell on Belle Isle", The Best of On My Mind", and "How Private Peck Put Down The Rebellion". Don looks for stories that deserve to be told to the general public. "Hell on Belle Isle" helps us to better understand the conditions in the POW camps during the Civil war. You might say that treatment of POW's was less than humane during that period of time, and the book brings some of those facts to light.
The Stryker Rotary Club purchased a signed copy of "The Best of On My Mind" with the intent to present it to the Stryker Library. Don spoke as a guest of Stryker Rotary Member Bruce Rosebrock.
INFORMATION PROVIDED