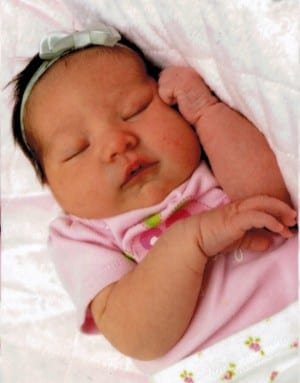 Bailey Jean Starnes, infant daughter of 7 weeks to Carson Starnes and Amber (Shanks) Starnes of Swanton, passed away in her sleep Saturday morning, August 8, 2015. Bailey entered into life on June 17, 2015 at Toledo Children's Hospital. Her lovable face and soft touch warmed the hearts of many.
Bailey is survived by her parents, two brothers Easton and Clayton Starnes, maternal grandparents, Adam Shanks of Malinta and Virginia Shanks of Stryker, paternal grandmother, Shelia Davis in Florida, great grandmother, Norma Shanks; aunts and uncles, Travis Starnes, Melissa & Michelle Harris, Andrew (Ashley) Shanks, Harvey Shanks, Ashley Shanks, Kristy (Bobbi) Dobbins and great aunt and uncle Ed (Sandy) James.
Bailey was preceded in death by her paternal grandfather, Alton Starnes.
Visitation will be held from 2:00 – 4:00 P.M. on Thursday, August 13, 2015 at Barnes Funeral Chapel, 5825 St Hwy 109 in Delta; with a funeral service following at 4:00 P.M.
In lieu of flowers contributions are encouraged to the family. Online condolences may be sent to the family through our website at www.barnesfuneralchapel.com.