---
By: Daniel Cooley
THE VILLAGE REPORTER
The Barber Shop Ministry in Stryker, led by Kenny Williams, opened in 2021 on South Defiance Street. Back then, Williams led a Bible study on Thursday nights, for 20 men.
But with the Bible study expanding to 50 men and a growing amount of haircutting clients, the Barber Shop Ministry has moved to a new location, on 103 West Lynn Street, in Stryker.
"We outgrew the old building and found this one, which took a seven-month renovation," Williams said.
"This building has 3,400 square feet and the other building has 900 square feet. This new building includes 1,100 feet downstairs, where we eventually want to make it into a game room and weight room."
The new building includes a chapel for the Thursday night Bible study and houses 100 people. Williams likes to make people feel comfortable while waiting for their haircut, so he has couches, chairs, a refrigerator with water and pop and has a large video screen with videos and pipes in music from a local Christian radio station.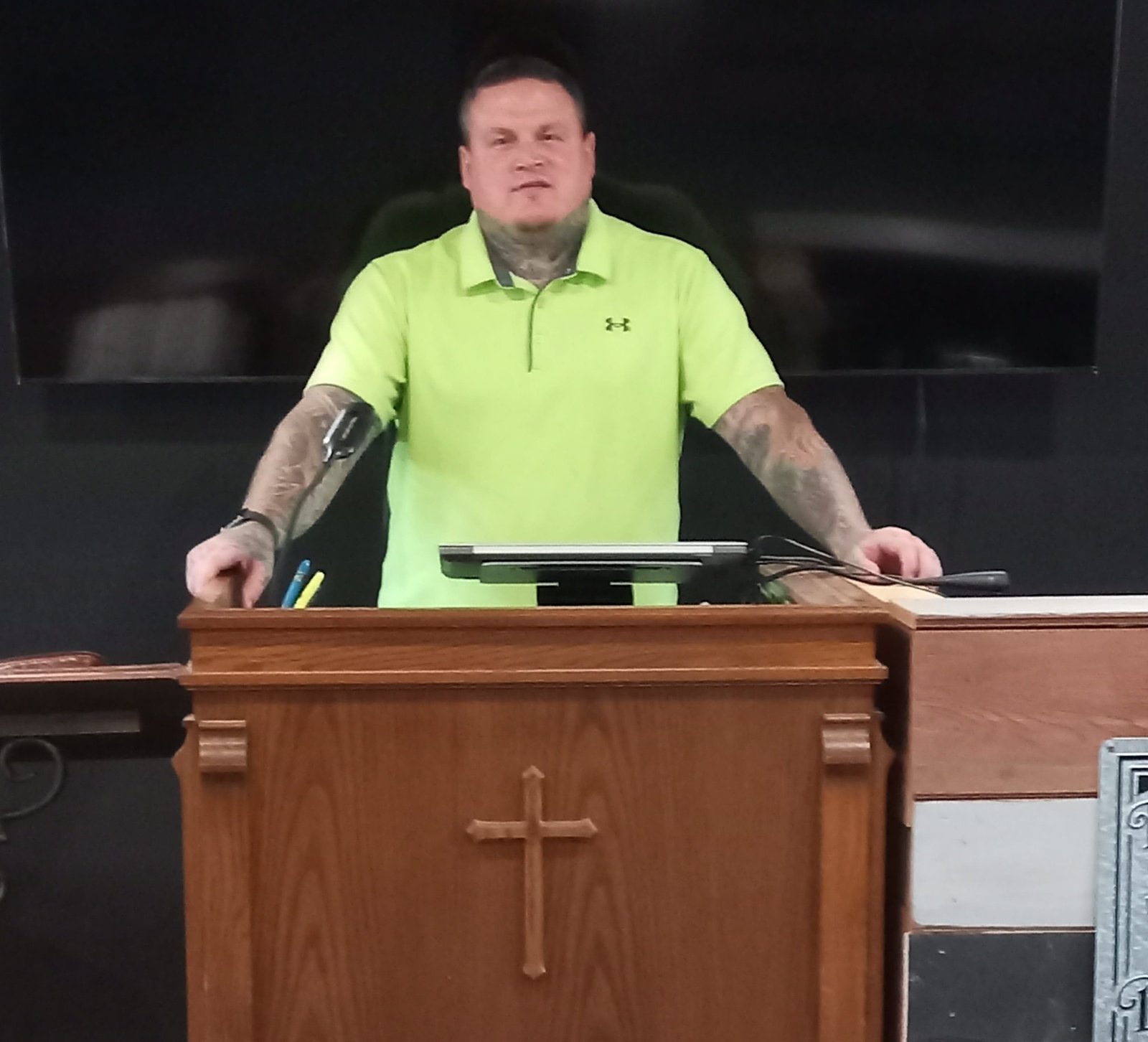 ---
Williams will openly talk about Jesus if the client wants to listen and said that he will stop his haircutting to pray with a person is he feels it is needed.
That openness comes from his own personal experience. While Williams grew up going to church, he realized he had a drinking problem when his wife said that she was leaving him because he drank too much.
From there, Williams talked to a pastor, Chris Pierce, who made sure someone was always with Williams, until he stopped drinking. Williams has been sober for six years now.
"Chris was there for me and saved my life," Williams said. "This barber shop ministry started because of that, and I want to be able to help other people, just like I was helped."
Williams' Thursday Bible studies begin with food, followed by a half hour of praise and worship and then one-half hour where Williams gives a message. He heavily uses the Bible, to back up what he is saying.
Williams also has a group of men he is accountable to and these men are also willing to help, if Williams is not available. The list of men and their phone numbers is listed in the Barber Shop.
"The messages I give are things that men struggle with, like overcoming addictions, how to control anger, being a Godly man and dealing with temptation," Williams said.
Since Williams turned his life around, his wife Haley and his five kids are back with him. Williams, who said that he has been cutting hair for 27 years and when the Barber Shop Ministry started, got his pay through donations.
Williams was then told, six months into the ministry, by the Ohio State Cosmetology and Barber Board, that he needed to get a license.
Williams went to Toledo Barber College for 18 months and then, on May 23, 2022, he passed his state board test. Williams' number of clients has grown from 60-400.
The Barber shop is open Tuesday through Saturday and Williams said that his Fridays and Saturdays are pretty much all booked up.
"I call the ministry fades to faith, in which I use the barber shop to be there for someone," Williams said. "I went through it and now, I'm helping others get through (trials).
Williams' haircut prices are $20, beards $5, a full-service haircut which includes a hot soap steam towel, is $30, seniors over 62 is $10 and a child cut under age 15 is $15.
As far as the Thursday night Bible study, from 7 p.m.-8:30 p.m., Williams says "if you feel lost and need something to do, come check us out."
Dan can be reached at publisher@thevillagereporter.com
---