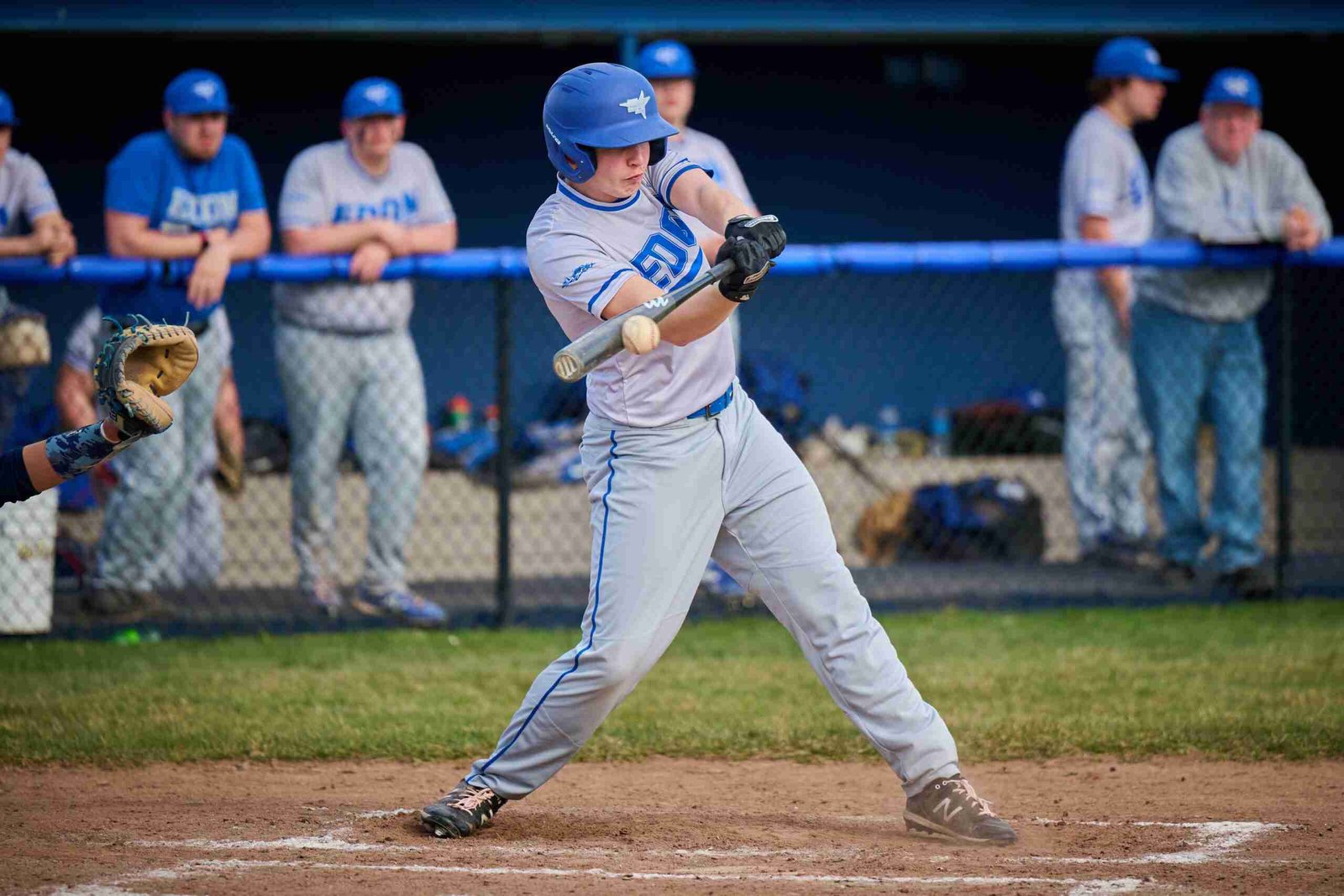 BASE HIT … Edon's Ethan Steinke singles to right field in the fourth inning of Tuesday's win at Montpelier. (PHOTO BY RICH HARDING, STAFF)
---
By: Nate Calvin
MONTPELIER – Bomber's starting pitcher Cole Vasquez recorded 11 strikeouts over 6 2/3 innings of work and Garrett Skiles delivered the game-winning RBI in the top of the seventh in Edon's 6-5 win over Montpelier.
Edon would strike first against the three-time league champions as they put runners at second and third with no outs in the top of the second inning.
Back-to-back groundouts by Ian Hickman and Wyatt Moore each drove in a run and staked Edon to an early 2-0 lead.
The Locos would get one run back in their half of the inning before Edon was threatening again in the third.
A Caden Nester double, a single by Wade Parrish, and then a fielding error by Montpelier on a Kyler Sapp groundball plated two runs for the Bombers to extend the advantage to 4-1.
Singles by Trent Thorp and Landon Fackler started the third for Montpelier and Fackler eventually scored on a Edon error to make it a 4-2 game.
The Locos would get one more run in the inning as Jaxon Richmond, who reached base on a fielder's choice, would steal home to cut the Edon advantage to one.
The fourth inning began with Edon on the attack once again with Moore reaching on an error and Konnor Prince smacking a single to right field.
New Montpelier pitcher Jaxon Richmond then struck out Nester, but Ethan Steinke came through with a two-out single to right field scoring Moore and pushing the lead to 5-3.
The home half of the fifth inning opened with a Jaxon Richmond walk, David Bowman reached on an error, and after a sacrifice, runners were at second and third with one out for the Locos.
Kamron Smith then grounded to second to score Bowman and Richmond scored on the same play after an error by the Edon catcher to deadlock the score at 5-5.
That remained the score until the seventh as the Bombers put two runners on with two outs after a single and Vasquez was hit by a pitch.
Skiles then laced a single to right to score Sapp and put Edon back on top at 6-5.
Vasquez fanned the first Loco hitters in their final at-bat before surrendering two straight singles to keep the Montpelier hopes alive.
Edon coach Brien Moore would then bring in Parrish to replace Vasquez on the mound and Parrish would get Jamison Grime to groundout to end the game.
EDON         022 100 1 – 6 7 5
M'PELIER  012 020 0 – 5 7 5
Records: Edon 3-2 (2-0 BBC), M'Pelier 4-3 (0-1 BBC)
WINNING PITCHER: Vasquez (6.2 innings, 7 hits, 5 runs, 2 earned, 11 strikeouts, 2 walks) OTHER: Parrish
LOSING PITCHER: Bowman (3 innings, 3 hits, 4 runs, 0 earned, 3 strikeouts, 1 walk) OTHER: Richmond
LEADING HITTERS: (M'Pelier) Smith-2 singles, 2 RBIs; (Edon) Parrish-3 singles; Sapp-2 RBIs; Nester-double
Nate can be reached at publisher@thevillagereporter.com
---