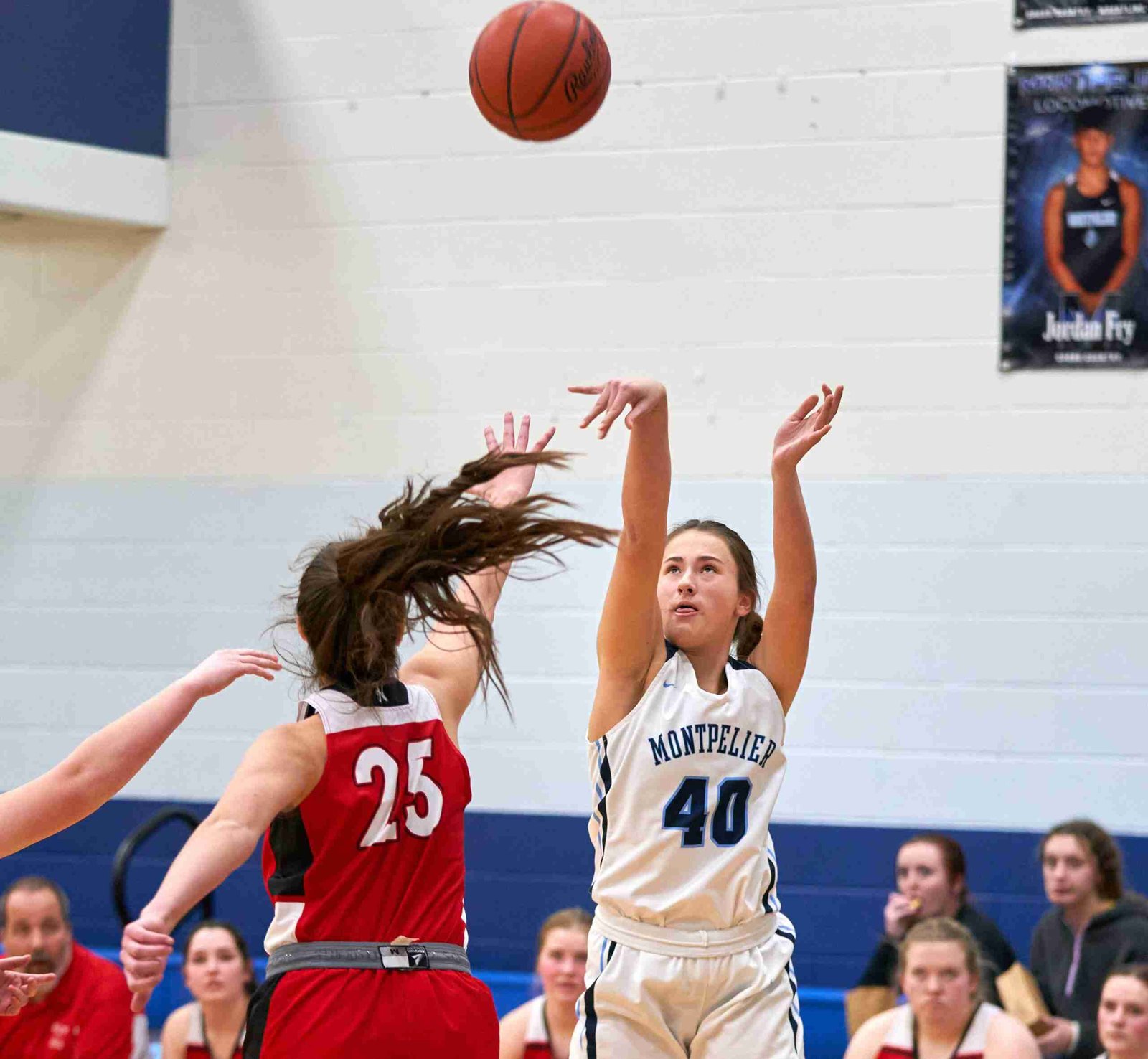 FIRST QUARTER SHOT … Montpelier freshman Jada Uribes puts up a jumper in the first quarter against Hilltop. (PHOTO BY RICH HARDING, STAFF)
---
By: Nate Calvin
MONTPELIER – The Locos closed the game on a 13-2 run to pull away from Hilltop and give them sole possession of first place in the Buckeye Border Conference after the 39-30 win.
It was a fast start for the Locos who used a 10-4 advantage on the boards and broke a 2-2 tie with a 7-2 scoring spurt to put Montpelier in front 9-4 after one quarter.
Leanna Baker started quarter number two for Hilltop with a three-point play and Mia Hancock hit jumper to tie the game 9-9.
The lead would see-saw back and forth with another bucket from Baker gave Hilltop a 12-11 advantage.
The lead changed hands two more times before the break as a Chelsea McCord three-point play put the Locos in front 14-12 before Hancock (who had 7 points in first half) hit a triple to put Hilltop back on top at 15-14.
Both teams struggled with turnovers in the first half with Montpelier committing 12 and Hilltop 10 as both teams were guilty of 23 on the night.
A hoop by Ariel Page gave Montpelier the lead back to start the third quarter but Hilltop would go back in front at 18-17 after a field goal and a free throw from Libbie Baker.
Hilltop stretched the lead to 22-17, their largest of the night, after baskets from Libbie and Leanna Baker, respectively.
The third quarter ended with two foul shots by McCord, a layup from Leanna Baker, and a jumper from Montpelier's Trinity Richmire to make it 24-21 in favor of Hilltop heading to the fourth.
McCord started the final stanza with a jumper followed by another Leanna Baker score before a three-point play by Page tied the game 26-26 with 5:50 to go.
With the game now tied at 28-28, the Locos would begin their run with a McCord uncontested breakaway layup and then McCord added a layup off an inbounds play to make it 32-28 at the 3:02 mark.
The run continued with a baseline jumper by Jada Uribes that was answered by a 2/2 trip to the charity stripe by Libbie Baker to close the Hilltop deficit to 34-30 with 1:14 left in the game.
The Locos sealed the game at that point with a bucket by Page, Kelsie Bumb was 1/2 at the line and McCord was 2/2 to close out the win.
Montpelier (15-3, 5-0 BBC) went 7/8 from the field in the fourth quarter to finish the game 15/42 (35%) shooting with McCord netting a game-high 16 points (8 in the final quarter).
Leanna Baker was the lone Cadet (11-6, 4-1 BBC) to reach double figures with 10.
HILLTOP    4  11  9  6 –  30
M'PELIER  9   5  7  15 – 39
JUNIOR VARSITY: Montpelier, 36-19
Nate can be reached at sports@thevillagereporter.com
---