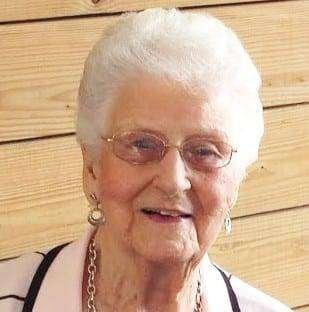 Betty Domeck, age 90, of Wauseon passed away two days short of her 91st birthday on Thursday June 15, 2017 in her home following a brief illness.
Prior to her retirement she had been a Home Economics Teacher in the Wauseon School District.
Mrs. Domeck was born on June 17, 1926, the daughter of the late Millard and the late Florence (Lutz) Lange. Until the age of 10 she grew up on Kelley's Island, later moving to the Port Clinton area. A graduate of Oak Harbor High School, she received a Bachelor of Science Degree in Home Economics Education from Bowling Green State University. While there she met the love of her life, Gordon Domeck. They married in 1949 and would have celebrated their 68th anniversary this month. She was a longtime member of the First Christian Church in Wauseon where she had been active in many facets of the church over the years, as a faithful member of the choir, CWF, and the CWF quilting group. Her passion for quilting, sewing, knitting, and needlework provided her family and friends with many useful and cherished keepsakes. Betty also donated her handiwork to various charitable causes. She played an active role in the Wauseon Garden Club, Janus CCL, Meals-on-Wheels, Fulton County Health Center Auxiliary, and enjoyed participating at the FCHC Rehab Center and FC Senior Center.
Surviving besides her husband Gordon are three daughters; Joyce (Doug) Oyer of Wauseon, Karen (Doug) Vollmer of Wauseon and Lenore (Craig) Peterson of Sylvania. Also surviving are grandchildren: Jeremy (Melissa) Oyer, Joshua (Ashley) Oyer, Joellyn Oyer (Jesse) Quinones, Jennifer Vollmer (Sean) Clarke, Dan (Nancy) Vollmer, Geoffrey (Jackie) Vollmer, and Gordon (Nicole) Peterson; great-grandchildren: Ava and Mason Oyer, Grady and Logan Oyer, Mila Quinones, Alex and Emma Clarke, Carson Vollmer, Ellie and Baby Vollmer; and sister Audrey Karshuk of Port Clinton, Ohio. Preceding her in death besides her parents were grandson Jonathan Oyer and great-grandson Michael Vollmer.
Fund. Online condolences may be made to the family at www.GrisierFH.com. The Edgar-Grisier Funeral Home in Wauseon has been entrusted with arrangements.