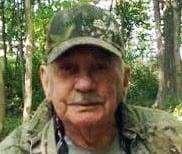 Buddy LeRoy Canfield, 80, of Fayette, died Monday, November 6, 2017, at the University of Toledo Medical Center.
He was born September 12, 1937, in Webster Springs, WV, to the late Ernest Lee and Iva Freda (Anderson) Canfield.
Buddy was a local self-employed carpenter, and did most of his work for rental units owned by DeeAnn and the late Harvey Potter. An avid outdoorsman, he loved hunting all types of game and enjoyed fishing. He also enjoyed lovingly teasing his grandchildren. He loved his family and will be missed by many who were lucky to call him a friend.
Surviving are six children, Susan, Karen, Iva, Howard, Angela, and Craig; a brother, Cliff; two sisters, Carol and Kathy; and numerous grandchildren, great-grandchildren, and extended family members. In addition to his parents, he was preceded in death by a son, Charles "Chuck", and three brothers, Kenny, Bob, and Jim.
In accordance with Buddy's final wishes, cremation will take place and no public services will be planned. Arrangements were handled by the Eagle Funeral Home in Fayette.
Memorial contributions in honor of Buddy are suggested to his family (c/o Eagle Funeral Home) to assist with final expenses. Friends can share memories and words of comfort with the family online at www.eaglefuneralhomes.com.