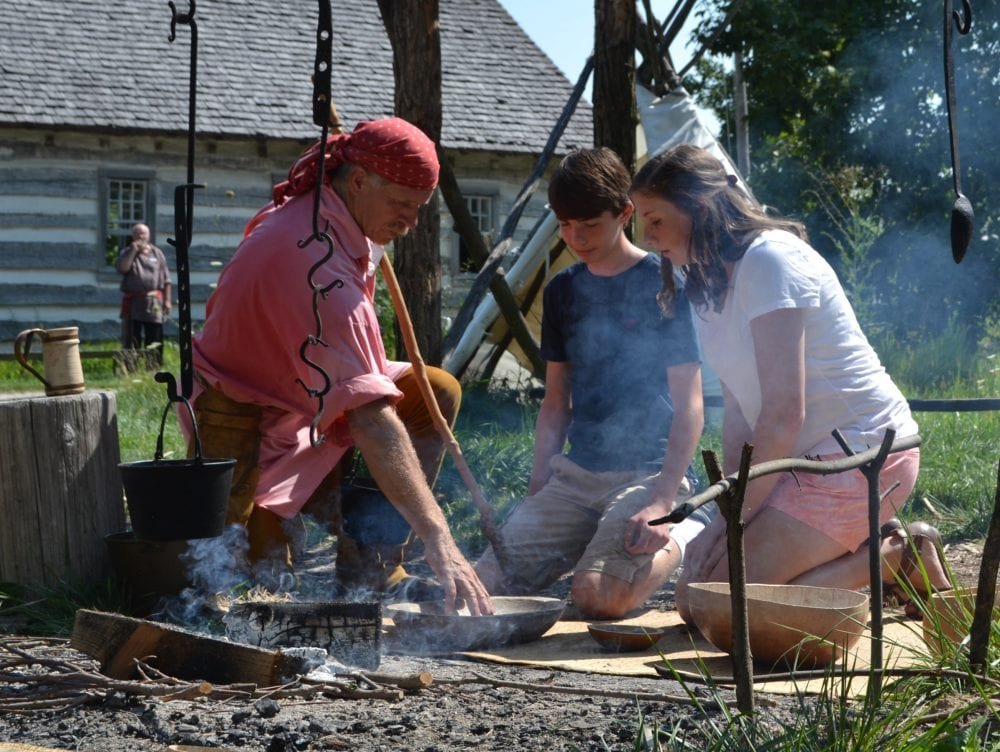 Archbold, OH – From shelling corn, washing clothes and decorating pumpkins to pressing cider, digging potatoes, churning butter and exploring a straw tunnel, Fall on the Farm promises to be a wonderful day for families to create special memories at Sauder Village. On Saturday, October 8 a full day of engaging activities will allow guests to experience what life was like on an Ohio farm more than 100 years ago! October 8 is also Scout Day with free admission for Boy and Girl Scouts visiting Sauder Village for this special event.
"Fall on the Farm is a fun day for parents, grandparents and children to create special memories together while experiencing life in rural northwest Ohio many years ago," shared Kim Krieger, PR/Media Relations. "As guests get involved with traditional fall activities they will gain a better understanding of how our ancestors lived while having a lot of fun at the same time!"
Throughout the day, guests will be encouraged to try many traditional, hands-on activities. Children will have an opportunity to wash clothes, grate soap, beat rugs, shell beans, make butter and press cider. Guests can also make yarn dolls, play with paper dolls, dig potatoes, shell sunflower seeds and make leaf rubbings. There will be many pumpkin-themed activities including pumpkin rolling races, pumpkin ring toss and pumpkin decorating. Children will also enjoy exploring the always-popular straw maze in the Stuckey Barn.
In addition to the many hands-on activities, guests can also watch fall-themed demonstrations throughout the Village including roasting a bird over an open fire at Natives and Newcomers, making parched corn and other cooking demonstrations. There will be a special "making vegetable soup" story time for young guests and a new dancing corn science experiment for all ages to enjoy! Throughout the day a Harvest Home Service will be held in the Village Church to celebrate the bounty of the harvest.
As part of this fun-filled day, Sauder Village is also recognizing the accomplishments of Boy Scouts and Girl Scouts. To honor local Scouts, Girl and Boy Scouts will receive free admission on Saturday, October 8. (Scout must be in uniform or present their Scout card).
Historic Sauder Village is open Tuesday through Friday from 10:00 a.m.-3:30 p.m., Saturday from 10:00 a.m. – 5:00 p.m. and each Sunday afternoon from noon-4:00 p.m.
The Historic Village is closed on Mondays, except holidays. Admission is $16.00 for adults and $10.00 for students ages 6-16. Children 5 and under are always free with family and Sauder Village members receive free admission to the Historic Village for an entire year. Senior, Military and AAA discounts are also available. And again this year, children 16 and under are free every Sunday this season! For more information phone 1-800-590-9755, visit www.saudervillage.org, like Sauder Village on Facebook or follow us on Twitter and Instagram.
INFORMATION PROVIDED