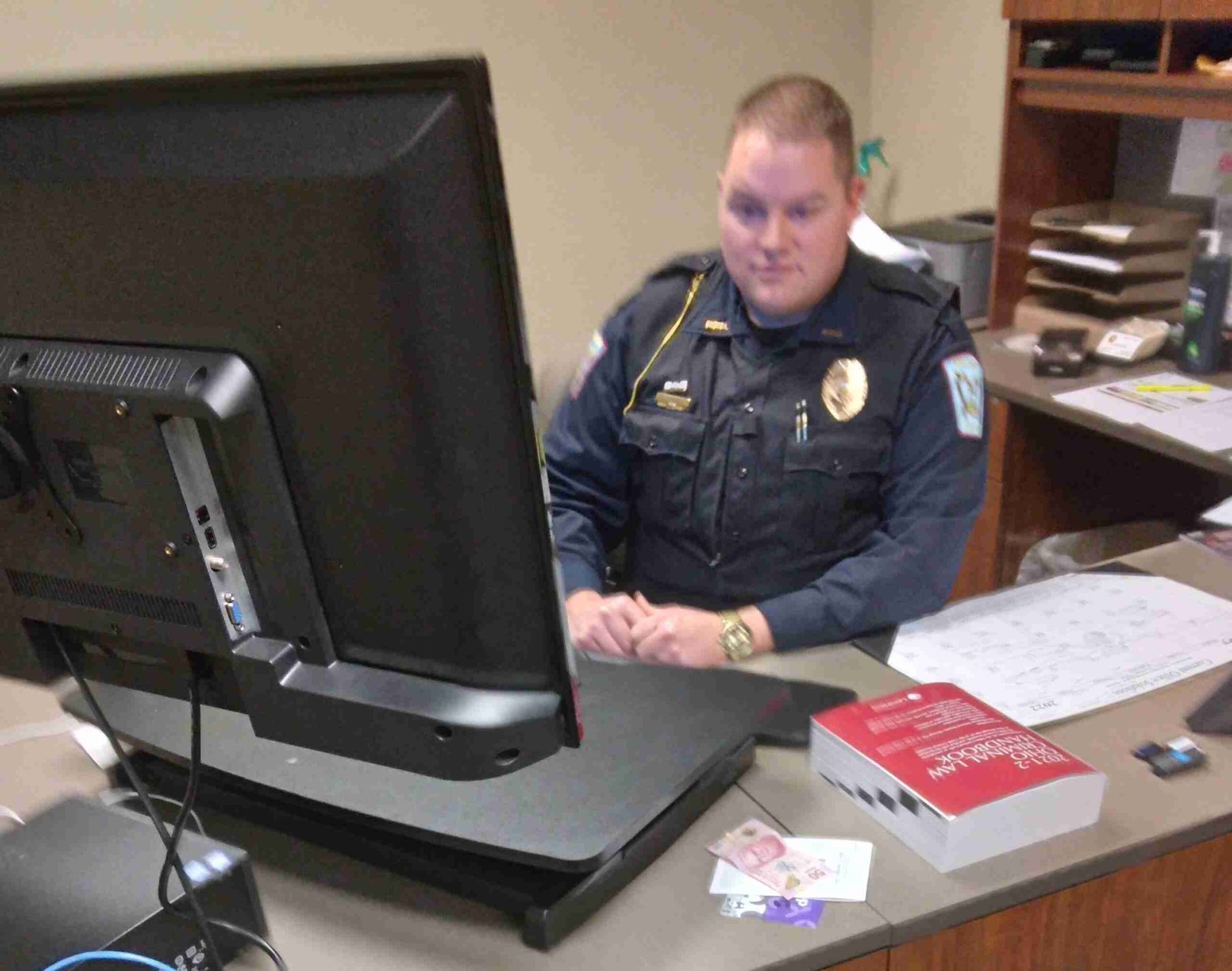 BRYAN POLICE CHIEF GREG RUSKEY (PHOTOS BY DANIEL COOLEY, STAFF)
---
By: Daniel Cooley
Greg Ruskey is the new police chief in Bryan and it has been a whirlwind trip to the top, to say the least. Ruskey came to Bryan from the Williams County Sheriff's Department in the fall of 2020, when he became the captain of the Bryan police force.
"A captain's position came open, I applied and then accepted the position," Ruskey stated. Then, just over one year later, on December 27, 2021, Bryan Mayor Carrie Schlade appointed Ruskey as the new Bryan police chief.
"It was a busy year and getting hired was pretty quick, but it didn't take me long at all to say yes," Ruskey said. Ruskey's career in law enforcement began in 2001, when he graduated from the Ohio Highway Patrol Academy.
He started out with the Defiance Police Force. Then, after serving just under one year there, Ruskey joined the Williams County Sheriff's Department in April 2002.
With the quick change, Ruskey is not out to make any quick changes himself, with the police department.
"Nothing really stands out, I'd just like to continue on with the course we are going already," Ruskey said. "I'm trying to build up the staff more, as we are four or five spots short on full time."
Also, there is a need for more part time dispatchers. Ruskey, age 42, has a wife and two boys.
---
BRYAN FIRE CHIEF DOUG POOL
---
Doug Pool, Bryan's new fire chief, was appointed by Mayor Carrie Schlade, to the position on January 1, 2022. Given Pool's long history with the Bryan Fire Department at 27 years, it seems only fitting that he would be the man for the new position.
"I took the position upon Chief (Bruce) Sider's retirement on December 31, 2021," Pool said. "I was eligible to retire, but I chose not to. I never looked to find this spot, but I've always been of the mindset that as you train up one, you train the person below you. Chief Siders was very good about giving me the insight to get ready for this position."
Pool has a wife and two children, a boy and a girl and three grandchildren, all who live in Bryan.
Pool has always been about firefighting. After graduation from Bryan High in 1982, Pool went right into the military and was in firefighting from the start.
He started out in Marquette, Michigan in 1984 and later, served in Germany for four years. Pool also served at the Hanscom Air Force Base for one year, before eventually making it back to Bryan.
Pool started out as a volunteer with the Bryan Fire Department in 1995, but after a few months, was hired on as full time staff. In 2000, Pool was promoted to captain and became assistant fire chief in 2006.
Since Pool has been with the Bryan Fire Department for 27 years and given that he graduated from high school here, Pool knows a lot of history about the area, too.
"This new building, built 10 years ago, is a combination police and fire building, but the fire department has been at this corner (of North Beech and West High Streets) since 1863," Pool said.
"Some bricks and the bell are in the new building. Actually, all the service positions, including mayor, were in the old building at one time or another. All of them moved out except for the police and fire, when the new building was constructed."
Of course, with his long history in the fire department, Pool has many stories. "There are some dark moments that tend to stick with you, but the good ones are the ones you like to remember and talk about," Pool said.
"One I remember is when we pulled the occupant out in a trailer park fire. She spent a few months in the hospital, but ended up recovering nicely. Then there are the strange ones, like a kid getting his fingers stuck in a desk at school. But you get them through it, nothing too serious."
Now in the position of fire chief, Pool does not expect to make any sweeping changes.
"This department has been around for 165 years, since December of 1857," Pool said. "If I can leave it in a better place, I'll be happy."
Pool would like to hire more people, though. Pool said that every fire department in the country is looking to hire, as there has been a decrease of 30% of firefighters nationally.
"We rely heavily on volunteers, we train everyone here and we will be training this spring," Pool said. "There are some requirements, though. It's not like the old days, where you just give them a helmet. But if you're interested get a hold of us.
One can do that by coming to the building, check the city website or call, at 419-633-6080.
Dan can be reached at publisher@thevillagereporter.com
---