By: Forrest R. Church, Publisher
THE VILLAGE REPORTER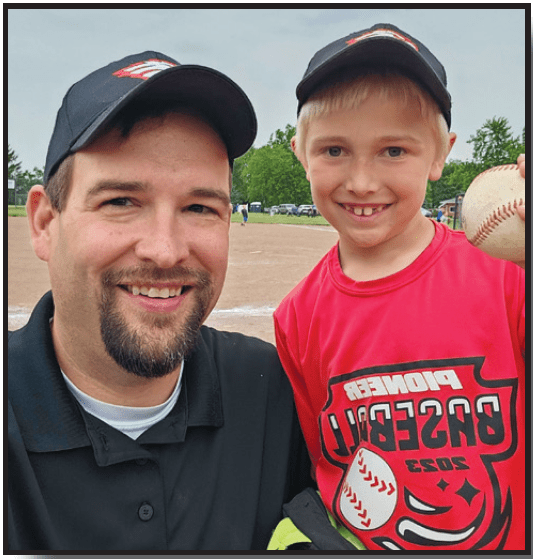 We successfully navigated the busiest time of the year at the newspaper, which spanned from mid-May to mid-June. During this period, we focused on publishing graduation previews, covering graduations, reporting on Memorial Day Services, and providing coverage of the Spring Sports Season. Additionally, we published essential information about year-end academic scholarships and school end-of-the-year wrap-ups. These tasks required longer workweeks than usual, and our team worked tirelessly to deliver high-quality content.
As we transition into summer, I find solace in the slower pace it brings. It offers our hardworking team an opportunity to regroup, take some well-deserved time away from the newspaper, and recharge both mentally and physically. However, some team members have noticed that this year has not slowed down much during what are typically lighter summer weeks. Nevertheless, I want to express my heartfelt gratitude to each member of our team for their dedication and effort.
I couldn't help but notice the exceptional achievement we accomplished last month, and I hope it's okay to share a bit of pride in a humble manner. The Village Reporter reached an astonishing 92 pages in a single edition, surpassing our previous record of 74 pages. Breaking the 90-page mark was truly surprising and speaks volumes about the commitment and passion driving our team. The editions published before and after the 92-page issue were also substantial.
I also hope everyone is enjoying the full-color photos that we aim to make a permanent addition. Although these thicker editions cost more than the $2 we charge subscribers for mailing and printing (resulting in a loss for our operation), I want to express my gratitude to our advertisers who support us and enable us to provide extensive local news coverage.
---
Since my last column, I have been contemplating several topics that I believe are worth discussing. However, finding the time to sit down and write about them has been challenging due to our demanding schedule in recent times.
Finally, last Friday, I seized the opportunity to gather my thoughts and address a subject I have touched upon before but feel compelled to revisit—handing over our lives and businesses to social media.
I must admit that I have a complex relationship with social media, particularly Facebook and Twitter, both in my personal life and professional capacity. While I try not to focus solely on the negative aspects in my columns, as they tend to dominate much of the content produced by media outlets in general, I feel compelled to address a growing concern that has caught my attention and provide a warning to those reading my thoughts. Apologies if there is a somewhat negative tone—it is what it is, and I'm aware that I use that phrase too often.
---
FACEBOOK EVENT INVITES:
Facebook continues to face ongoing issues. Recently, I noticed problems with personal event invites from the past few months, which are usually a valuable feature provided by META. When they work, I appreciate receiving these invitations. However, I began to question whether they work consistently and whether sending invites for personal or professional gatherings through this platform is the best approach.
Surprisingly, I received zero notifications concerning event invites in recent months when viewing Facebook through a web browser or my smartphone apps. It was only when I manually navigated to the Event Section that the invites appeared as they should. In the past, I would rely on notifications, as Facebook has consistently provided them to users over the years. For example, when invited to a birthday party, a notification would appear within the social media platform, and Facebook used to send an email with event details, although that feature hasn't worked for me in a long time. Now, I am receiving nothing.
While the lack of event invite notifications doesn't seem to be a widespread issue among social media users (I must be blessed with this unique problem), online complaints about messed up or missing notifications are prevalent. These invites included a range of community events related to the newspaper, and as a result, we missed out on covering them unless we were aware of them through non-social media means. Additionally, personal graduations, birthdays, and other occasions were also missed.
If we think back twenty years ago, would we have been offended if not invited to a loved one's graduation party? Such oversights could have permanently changed relationships. Why do we now seem to care less if it happens?
Despite my efforts to research and modify notification settings, I have found no restrictions that would prevent me from receiving notifications. As for the results of submitting a ticket to Facebook, I might get a quicker response from the drywall in the room you're sitting in.
In the past, it was nearly impossible to reach a human at either Facebook or Twitter when they were fully staffed. Both platforms have recently eliminated a large portion of their staff, and there has been no improvement in support—whether they can even be considered support is questionable.
These platforms now rely on AI and other computer programs that I don't even want to pretend to understand in order to assist users. All I know is that they are not human, and if you ever have a serious problem that requires immediate attention, good luck.
This raises the question: Why do we entrust our personal lives and important matters, such as event invites, solely to social media platforms?
If we take the time to type a few lines inviting family and friends to a graduation party and send invites through a social media event, maybe we should consider using the copy/paste feature to send a phone text invite as well? With just a few more clicks, it wouldn't be that hard to also send an email invite. Now, I know I'm going to sound old-fashioned, but what about sending a paper invite in the mail, as humanity has done for a long time? I better not mention the concept of picking up the phone and making a call; I might be seen as an extremist if I suggest that human-to-human, first-person (over the phone) interaction should even be considered. If just one or two of the above additional suggestions were implemented, how much time would it really take to ensure that 100% of intended invites were successfully received? Something to consider.
While I may have more background knowledge of social media disruptions due to my recent battles with these platforms, I believe most users are aware that if they exclusively invite 100 family and friends through social media to a graduation party, a significant percentage may not even see the invite. At the end of the day, is that good enough?
Despite the fact that I am constantly on social media due to my job, and many people are also frequently engrossed in these platforms, a significant portion of society either doesn't have social media accounts or only checks them a few times a month.
Survey numbers vary, but it is safe to say that around 60% of Americans have a Facebook account. Are we content with only inviting 60% of our list, knowing that the majority of those not being invited are from older generations? Only around 20% of Americans have a Twitter account.
Having an account doesn't guarantee that users receive notifications or are actively engaged with social media; most people check in occasionally.
Honestly, sometimes I wish I could be in that category myself.
I kindly request that those inviting the newspaper to local coverage events take an extra step and ensure they contact us (via email or our online contact forms). It deeply troubles me to discover that we missed items, whether they are professionally or personally relevant.
Communication is a crucial element for success in life. A good marriage depends on it, relationships with children of all ages require its value to be understood, and happiness and success in life often depend heavily on healthy communication. Since social media has made communication easier than ever before, I challenge the notion that the health of human communication with one another is at an all-time low.
To avoid writing a book, which I'm known for, I will address social media concerns over a few columns. Event Invites can now be checked off. In my next column, I will share how Twitter recently suspended our thirteen-year-old account out of the blue, for no reason, along with Facebook deleting past newspaper posts that we paid to boost and depend on for archival purposes.
It's interesting to note that in recent days, although I haven't confirmed this to be true (but if it's on the internet, it must be right, as the joke goes), users are reporting that their photos from the past are disappearing. This is something I warned about in previous columns. Would you be upset if your family's memory chest was lost in a tornado or fire? I've cautioned that relying solely on social media for preserving your precious memories is dangerous and more likely to happen than losing your house to the aforementioned disasters.
In my next column(s), I also hope to touch on how local organizations are losing support due to the ease of using social media, which likely does not produce the desired level of results for police departments, churches, and civic clubs. In my opinion, the aforementioned "social media ease" is contributing to a mass decline in healthy communication. With a few more mouse clicks, these organizations can return to "old-school" practices that I believe would be beneficial.
Until then…
I'd love to hear from you. As always, feel free to reach out to me at publisher@thevillagereporter.com or via mail at 115 Broad Street, Montpelier, Ohio 43543.
---