---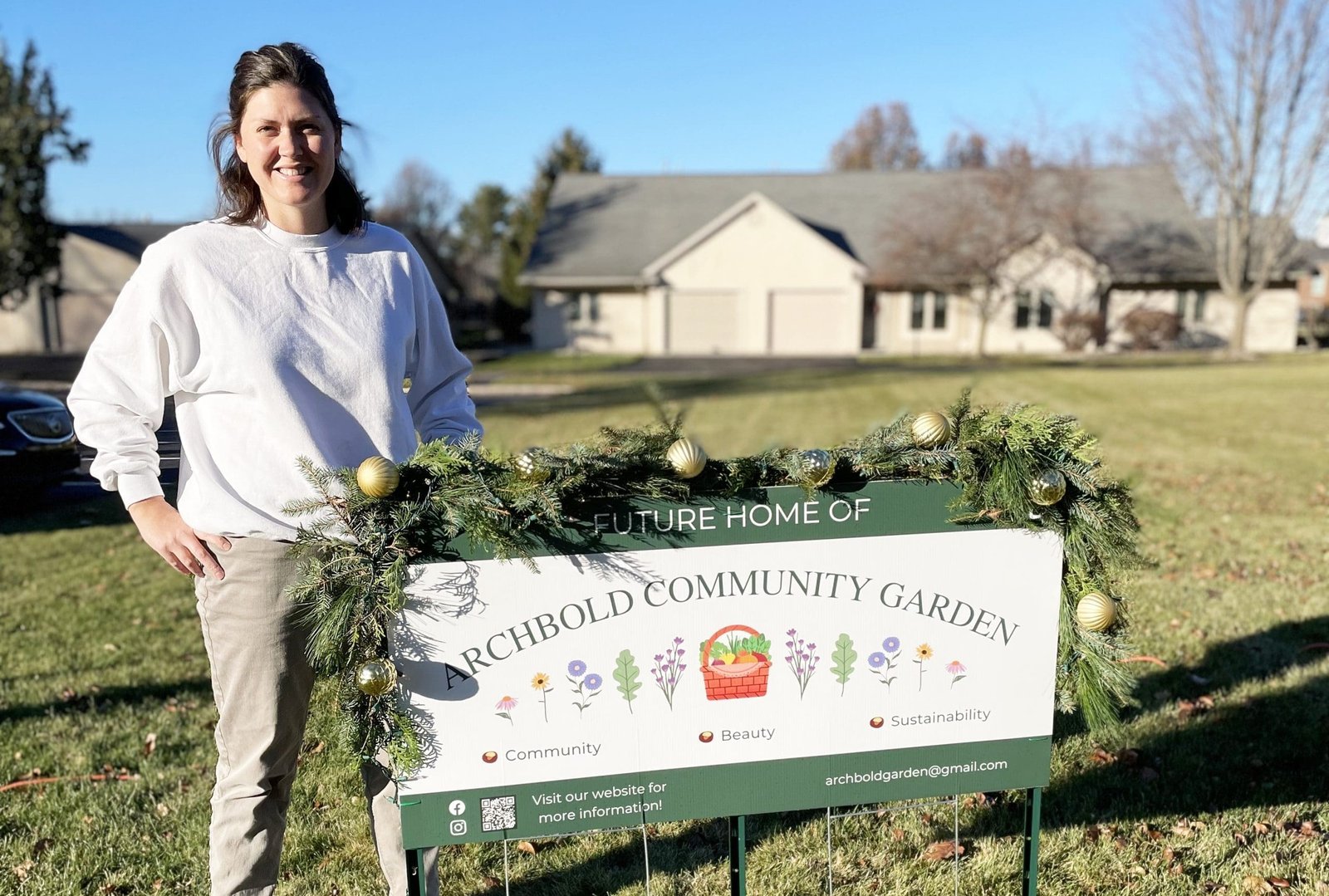 FUTURE HOME … Abby Pennington stands in front of a sign showing the future home of the Archbold Community Garden. (PHOTOS PROVIDED)
---
By: Jacob Kessler
A new community garden has set up roots in the Village of Archbold. The new garden is located at 200 West Williams Street.
Located at Ruihley Park and provided by the village through the Parks and Rec department, the 0.4 acres of land will be perfect beginnings for the new garden.
The idea itself to place a community garden was created by Abby Pennington. She explained that she had been wanting to get something gardening related started for years.
So, this past summer she spoke with the Missions and Service Committee at the Zion Mennonite Church for guidance on how to get started.
She was told about a grant that was available through the Ohio Mennonite Conference. She was able to apply for it and received a little over $3,500 that could be used to get the ball rolling.
The original plan was to place the garden at the East Garden Community Apartments on East Lutz Road.
This however was short lived due to the area being government owned which leads to a lot of hoops having to be crossed over.
It was then that Archbold Mayor Brad Grime and his wife attended one of the first meetings held for the new organization made to create the garden.
"I thought that it was a pretty big deal. We made contact last year and we showed up at the first organized event she held for it."
"We got to talking and I told her that if she wants to take on the project, I would strongly support her. The project is supposed to be a beautiful project."
"There are a lot of plans in the works for it and I am hoping the idea can showcase how beautiful a garden can be," said Mayor Grime.
With the garden location being nailed down, the goal now is to get everything in place to start growing.
This is accomplished through getting as many people involved in the project as possible. So far, the garden is seeing a very good amount of people show up to their meetings and offer their time to volunteer."
"There are always of course openings for anyone that would like to participate with the garden, as its whole entire purpose is community driven.
With it being a community-based garden, the plan is to offer the fresh produce to residents, while also holding events that help to educate people about topics such as gardening, canning, co-planting, permaculture and horticulture techniques, and more.
More information about these classes can be found by going to the group's website at archboldcommunitygarden.org.
Most classes will be put on for free, with a small portion of classes requiring a small fee just to pay for materials.
With spring time just coming into bloom now, the garden will see many changes take place within just this year alone.
This year will start the first part of cooperative gardening where anyone will be welcome. The goal is to be able to have produce picked directly from the garden by people who are then able to hopefully give back in some way.
Examples of giving back could be picking weeds, tending the plants or being involved in committees just to name a few.
What people do not take will be donated in some way, used in classes, given to the schools, or maybe used for a farm stand.
The garden itself and the produce from it will provide many opportunities for people in the community.
"It is going to be a great addition to the community. Our goal is to get as many people involved as possible."
"It will be nice to see people walking or riding their bikes through the property. Taking nature walks and passing through to look at everything."
"We have put a lot of time and planning into this in order to make sure it is done right. We are slowly getting the word out for this, and more and more people are getting involved which is fantastic," said Abby Pennington.
Jacob can be reached at jacob@thevillagereporter.com
---