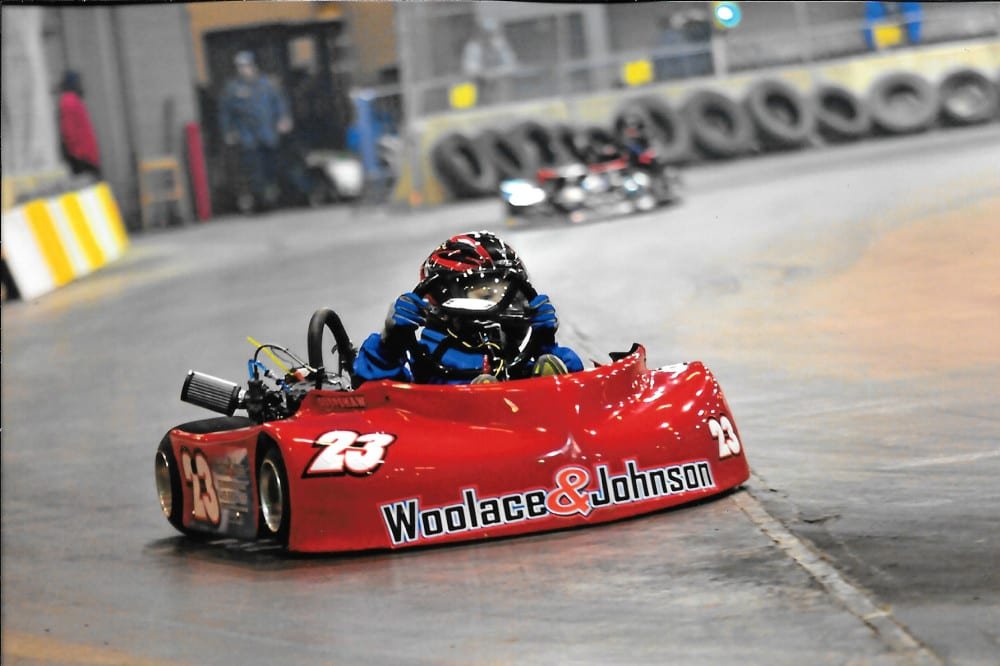 Driving down State Route 34 toward the Ohio/Indiana state line in the fall affords a classic northwest Ohio scene. The rich, vivid greens of corn fields are stacked on both sides of the road surrounding you with a feeling of familiarity and home. Turning off of the state highway onto the stone road of 1-50, still surrounded by fields of corn, and going up and over a set of railroad tracks you will find the home of Stateline Speedway.
After finding a place to park and before even getting out of the vehicle, the sound of the roar of engines on the tracks where several karts are running laps around the track. The closer you get to the track you can breathe in the smell of the engines and feel the dirt and wind kick up as the karts speed by. The trial runs have begun. One particular #23 kart running trial laps is driven by nine year old, Brandon Coopshaw.
Brandon has been racing Junior 1 (8-12 year old) karts for about nine months now. He is already showing natural driving ability at a very young age. He won first place in his Feature Race last weekend at the Bruce Aldrich Memorial Weekend at Stateline Speedway in Edon, OH. Also, in only his second time in the seat of his cage kart, he place third. Over the summer, he also won three additional Feature races. He has also raced in the Michigan and Ohio Indoor Racing Series never finishing out of the top 5 except for one time. (Due to a drive line breakage)
Brandon says he began racing because, "My dad and I thought it'd be cool and thought I would like it. And I do! I love racing," Brandon stated, "I love going fast! And when I am not racing, I'm thinking about racing." Brandon is a thrill seeker and also enjoy riding his bicycle around town; jumping curbs and launching himself and his bike over dirt hills. He also plays basketball and soccer.
Brandon attends Pettisville Elementary School and is in the 4th grade. He shares his days with his mom, Becky, who lives in Wauseon and his dad, Tim, who lives in Stryker. He has two older siblings: Brett and Paris. Racing is a family affair for the Coopshaw's. His dad, grandpa, and brother, Brett, spend countless hours working and wrenching on the karts to get them to perform to maximum capacity. Brandon's grandmothers and mother offer their moral support, while his sister races with him in the same class and runs very competitively, but has just started. She finished second place in her Feature just weeks ago.
Brandon would like to thank his family, friends, and fans who come out and support him. He also said, "I am thankful to my sponsor, Woolace & Johnson: Plumbing, Heating, and Air Conditioning. Without their support, I would not be able to do what I love most, which is racing." A special thanks it to his sister, Paris, because even when he finishes ahead of her, she is always encouraging him and his dream of racing. A final thanks to John Huffman, of Archbold, for all his continuing help and support.
Brandon says he will be at the Fulton County Fair and Williams County Fair with his kart on display. "Stop by and see me the Woolace & Johnson booth. You can see one of my karts and I will be handing out my own hero card. And if any kid wants to sit in my kart and get a picture with me that would be awesome!"
Name: Brandon Coopshaw
Class of karts he races: Junior 1 Flat, ages 8-12 and Junior 2 Cage Kart, ages 8-14
Parents: Tim & Becky Coopshaw
Age: 9
Division: Junior 1 and Junior 2
Tracks run: Stateline Speedway, Fremont Speedway, Michigan and Ohio Indoor Racing Series
Future runs: Lil Eldoria and I68
Records:Heat wins-8; Starts-12; Feature wins: 4; Feature top five: 7; DNF-1 (kart failure)
INFORMATION PROVIDED