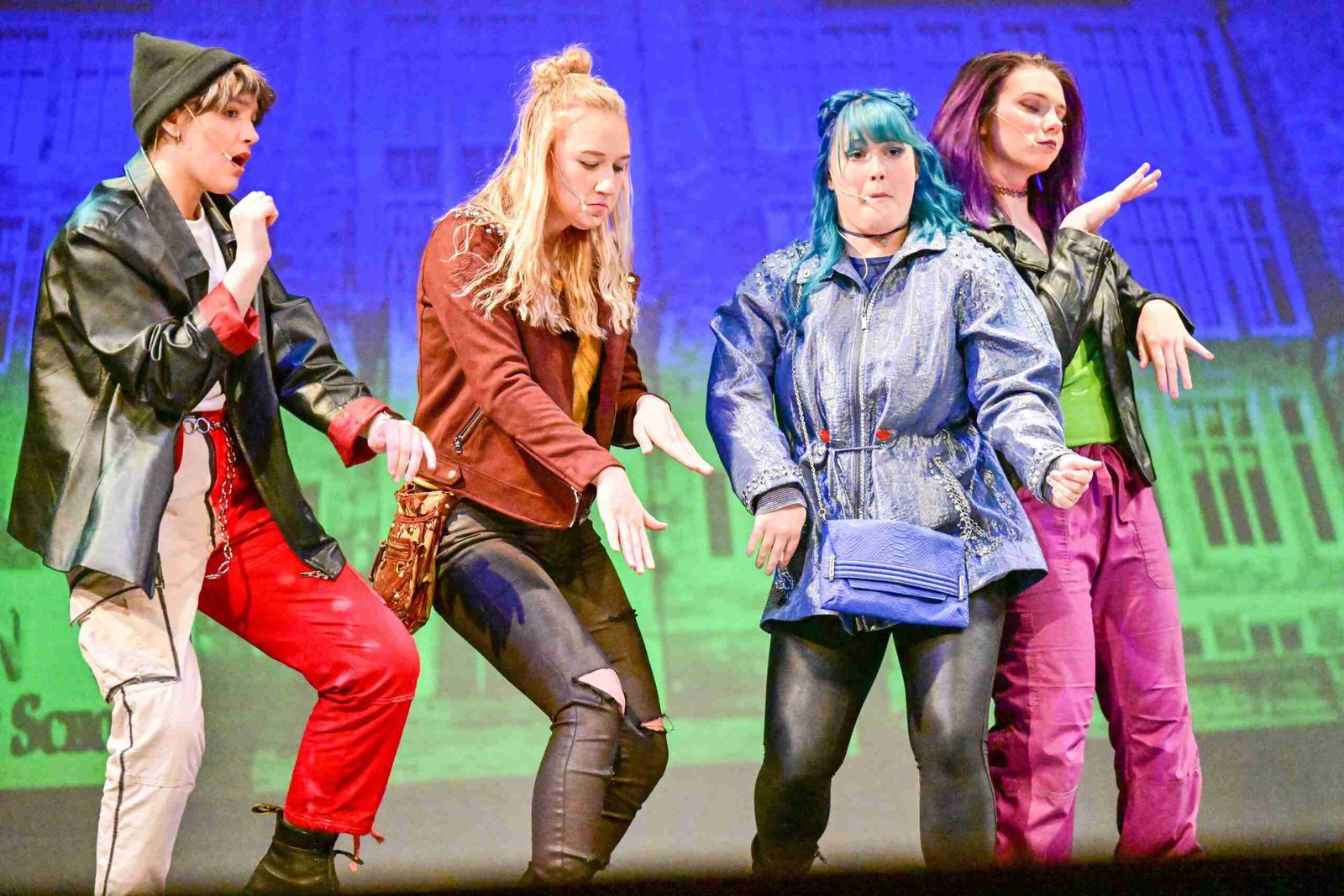 BE OUR GUEST… Carlos, Evie, Jay and Mal enter through the portal to Auradon and here a song performed by the school choir. (PHOTOS BY JACOB KESSLER, STAFF)
---
By: Jacob Kessler
The Delta High School presented Descendants The Musical over the weekend. Performances were held on April 1st and 2nd at 7:30 p.m. with a show on the 3rd taking place at 3:00 p.m.
The musical is based off of the Disney Channel Original Movies of the same name. The production put on by the Delta High School features characters from the tv movies as well as their original songs. The synopsis of the musical is as follows.
Ben, King Beast and Queen Belle's son, is about to be crowned king of Auradon, and he has finally decided on his first official decree: he wants to open the portal between Auradon and the Isle of the Lost.
The villains of many of our most cherished Disney stories have been banished to the Isle for years. Mal, Evie, Jay and Carlos are the four students Prince Ben has chosen to test the theory that "Good is the New Bad".
Their parents-Maleficent, Queen Grimhilde (from Snow White), Jafar and Cruella–have other plans for their children's' stay in Auradon: steal Fairy Godmother's magic wand and take over the kingdom of Auradon.
Mal and the other "evils" navigate parental pressures, peer cruelties, and–of course, a little fairy tale romance to decide whether they are "Better Together" with the Auradonians or if they should stick to all the "Ways to be Wicked" that they know.
The performances followed the movie well with familiar songs "Rotten to the Core, Evil Like Me, and Chillin' Like A Villain" being sung by the cast.
The performances were done well with an enthusiastic audience making sure that their talent was known. Magic was in the air during this performance that needed no spell to keep everyone entertained.
Programs were given out to each member of the audience who wanted one. At the end of the program a message from the Delta Music Boosters read: "Mirror, Mirror on the wall… You're The Best Cast & Crew Of All!"
Jacob can be reached at jacob@thevillagereporter.com
---
DANCE… Mal and Ben dance together during the song Ridiculous, while Mal tries to escape.
TOURNEY FIELD… Jay and Carlos play sports at the Tourney Field with Chad played by Caden Leonard and Ben, played by Wesley Dunford.
MUSEUM… Carlos, Mal, Jay and Evie break into the museum in an attempt to steal the wand.
BE GOOD… Jafar, played by Kris Burns, stands with "daughter" Jay after hearing of the invitation to Auradon and talking about the people who reside there.
---